Women's golf ties for fifth at Northrop Grumman Regional Challenge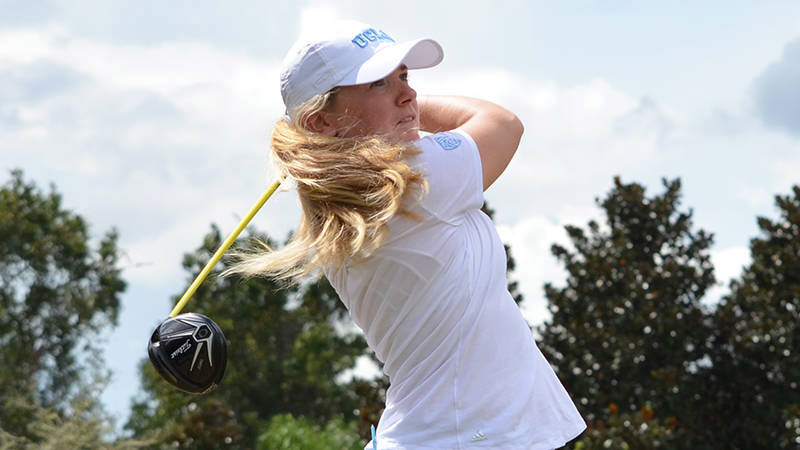 Junior Bronte Law finished 1-over par at the Northrop Grumman Regional Challenge, the best performance on the Bruins. (Courtesy of UCLA Athletics)
UCLA women's golf finished tied for fifth place Tuesday at the Northrop Grumman Regional Challenge in Palos Verdes, where a familiar Southern California setting was of no help to the Bruins.
The No. 3 UCLA women's golf team looked to build upon a strong first-place showing at the Pac-12 Preview last fall to start off its spring campaign, but despite strong performances from junior Bronte Law and freshman Bethany Wu, the team finished tied fifth with Duke at 26-over par – 20 shots behind tournament winner Washington with 6-over par.
Law tied for fourth overall individually and posted a 1-over par score to lead the team. The junior's consistent play throughout the tournament and throughout her last few outings has placed her third in college golf, including being the reigning Pac-12 Women's Golfer of the Year.
"I think to be consistent, you've got to be able to do everything well, " Law said. "You need to be able to play well in all areas; it's something I've tried to work very hard at because I think when you're able to perform consistently in all areas, your margin for error becomes a lot bigger and you can make it up in other areas. "
Law led the team for the third time in a row after finishing first at the Stanford Intercollegiate in October and leading her team to victory at the Pac-12 Preview in November. Still, Law said there is a lot to be worked on as a team.
"As long as we work on our weaknesses, and our individual weaknesses, we can do really well as a team this year," Law said. "This is a difficult tournament – the first one of the spring always is – and it's a good event to play in because it's really a good test of golf."
Wu also impressed in Palos Verdes, finishing 3-over par and tied for 10th overall – her strongest showing to date in her first year at UCLA.
"I think we all just need to sharpen our edges, it was an OK tournament but we all know we can play better," Wu said. "We didn't play our best combo and we still finished toward the top of the leaderboard. It shows we have so much potential for the rest of the season."
Law and Wu managed to piece together their performances despite the struggles of readjusting to competition after a long hiatus, said coach Carrie Forsyth.
"I was really pleased with the way Bethany and Bronte played, this course is tough and they did very well," Forsyth said. "The rest of the team; not so good, there's a lot of room for improvement. You know it was definitely the type of golf course where you sort of get exposed if you have weaknesses in your game."
The Bruins will next compete at the Allstate Sugar Bowl Intercollegiate Golf Championship in New Orleans on Feb. 21.