UCLA assistant sociology professor breaks new ground in Iranian studies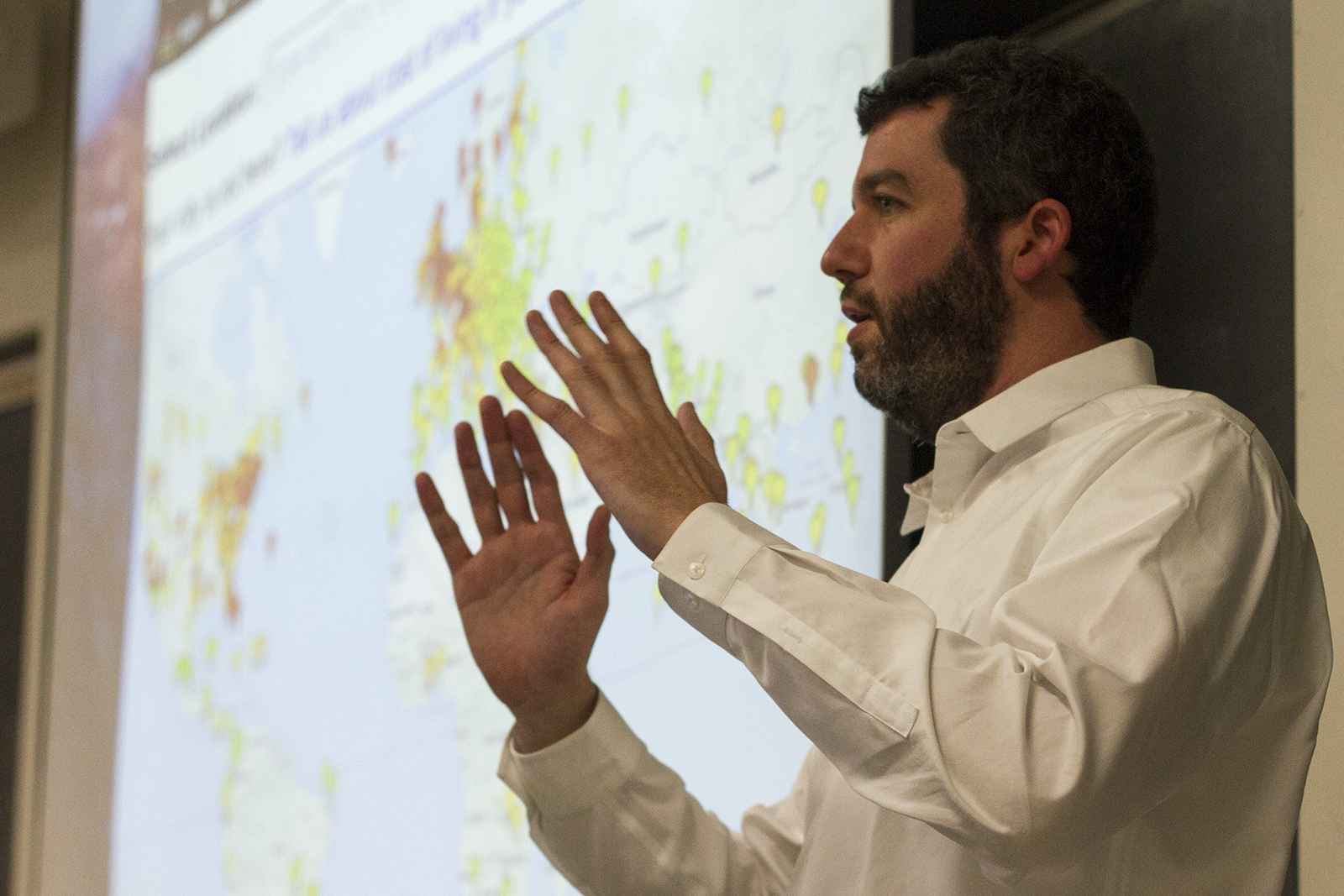 Sociology assistant professor Kevan Harris is working on a social survey in Iran that will focus on social mobility. (Kira VandenBrande/Daily Bruin)
Kevan Harris thought his undergraduate sociology classes were dull, until he took a class that covered social and historical revolutions from a sociological perspective.
"I thought the Russian Revolution and the French Revolution were about politics," said Harris, an assistant professor in sociology. "It was only until I was a senior in college that I saw sociology as a discipline that lets you work on a variety of subjects and areas."
Harris is now working on a social survey in Iran that will focus on social mobility over three generations and examine the impact of Iran's 1979 revolution. Harris said his survey will be first to examine historical change though a large-scale social survey in a Middle Eastern country.
He added he hopes the project will provide historical data that can replace unrepresentative, anecdotal evidence.
"Anecdotal evidence from single individuals or journalists can raise interesting questions, but social science takes a more systematic approach by using multiple sources of data, different perspectives and a healthy dose of skepticism about the common wisdom," Harris said.
Harris received both his masters and doctoral degrees in sociology from Johns Hopkins University. He said he originally intended to study political movements and elections in Latin American countries, but chose to study in Iran when he heard there were almost no social scientists conducting fieldwork there.
Harris, who is Iranian himself, said he did not learn much about Iran while growing up. Instead, most of his knowledge comes from studying and living in the country.
"The benefit of … not growing up in a densely Iranian immigrant ​community is I didn't see Iran the way people ​might have ​told me I should," Harris said. "​This helped me come at things with a new perspective."
His doctoral dissertation, which will be published as a book by the University of California Press, analyzes the relationship between Iranian politics and welfare policy.
Harris was appointed to the UCLA International Institute in the fall, when he joined the UCLA staff. The institute aims to support multidisciplinary research on global issues, according to its website.
Christopher Erickson, director of the UCLA International Institute, said in an email statement Harris was appointed to the institute to increase UCLA's strength in international and area studies.
Harris, who was a postdoctoral research fellow at Princeton University in 2012, helped create programming and research initiatives for the Sharmin and Bijan Mossavar-Rahmani Center for Iran and Persian Gulf Studies ​in 2014. One of the center's projects funds the translation of social science texts into Persian.
John Haldon, director of the center, said Harris helped him run the program and connect with Iranian scholars in the U.S. and Iran. He added Harris helped him set up the center's research programs and those projects are running to this day.
"(Harris) always had excellent idea proposals for development of our own research, as well as (how) the center should expand and resolve," Haldon said.
Haldon added he thinks Harris will be a helpful addition to UCLA's faculty because of his ability to develop and manage new research projects.
"His knowledge of the sources and the language (combined with) his imaginative capacity make him good at thinking of new ways to employ resources," Haldon said.
Harris said he thinks UCLA's sociology department is a good fit for him because it allows him to shape the curriculum he teaches.
He added he pulled ideas from different disciplines when teaching an international development studies class this year, and shared ideas from political science and economics, among other fields, to show students they can view the world from multiple perspectives.
"You don't always know what a social scientist is going to say, and that's exciting," Harris said.