Senior guard propels women's basketball to late comeback over Utah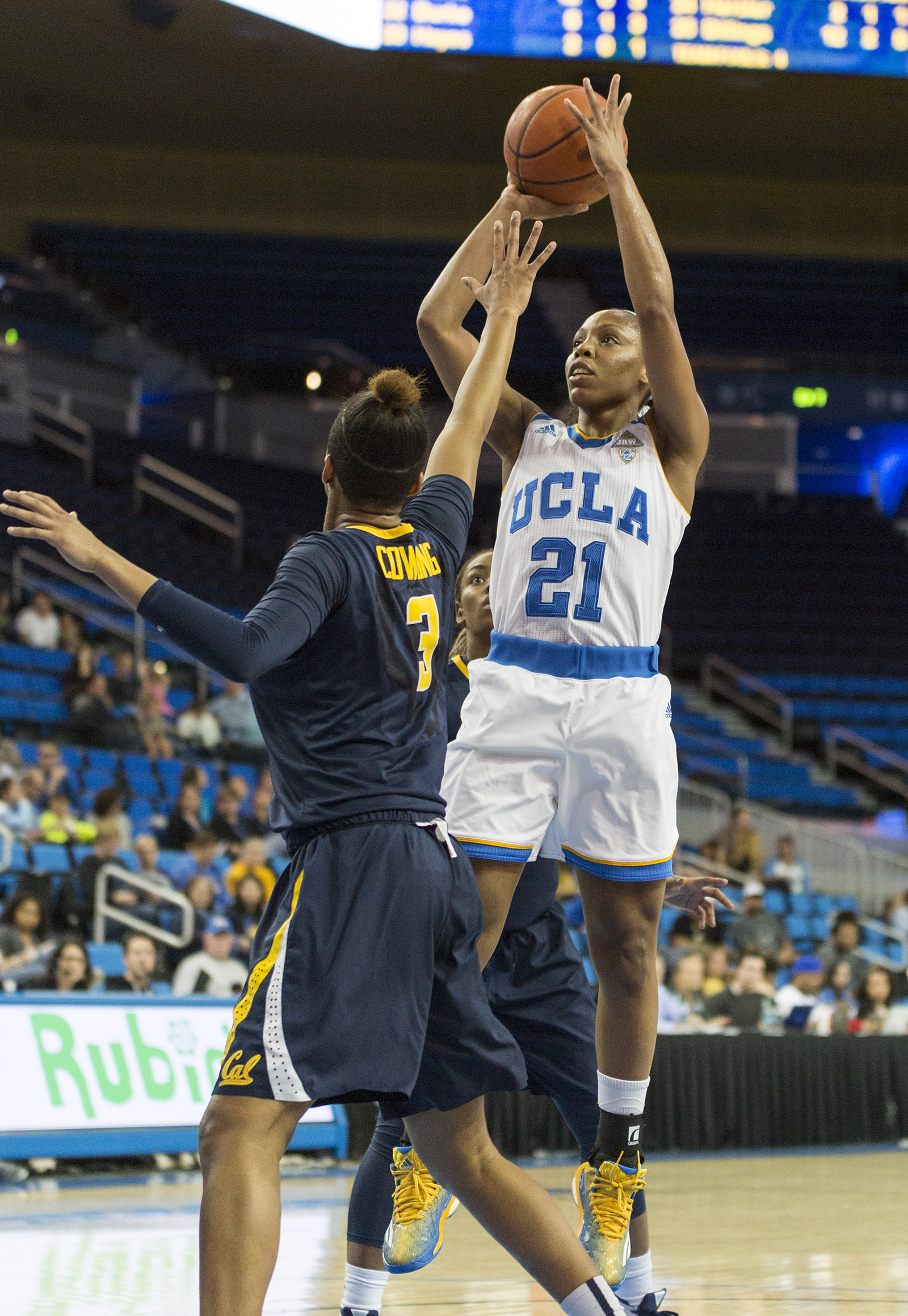 Senior guard Nirra Fields was back in familiar territory Sunday, tasked with leading UCLA's offensive production as her backcourt teammate Jordin Canada sat out with an injury. (Keila Mayberry/Daily Bruin staff)
Two years ago, when sophomore guard Jordin Canada was still at Windward High School, the UCLA women's basketball team still functioned. It was largely a different group of players – only three remain on the team today. One of them was a young sophomore guard from Montreal named Nirra Fields.
Fast forward two years and the Bruins are without Canada once again. The guard is currently sitting out with an undisclosed injury and the burden is back on the now-senior Fields. With a 17-point fourth quarter that pushed No. 15 UCLA (16-5, 8-2 Pac-12) to a 69-63 win over Utah (12-9, 4-6) on Sunday afternoon, it was a burden she more than shouldered.
"She took the game over, I mean she took the game over on both ends of the floor," said coach Cori Close."It was great that she took over the game in the fourth quarter but what was even better from my perspective as a coach was the mental toughness she showed to play (with) pressure and to keep her eyes forward even when she was having a rough start."
The 17-point tear on which Fields ended the game was the polar opposite of how things started. She went 0-for-8 to begin the game and was not getting to the free-throw line at the rate she was accustomed to.
"I felt like they weren't going to call (fouls at the basket), so I either had to make them call it or make the shot," said Fields. "(The comeback) was just a push. It wasn't something that was different, that we never had to do before, so just had to push through it."
The team had gone into the fourth quarter down 51-43 after having trailed most of the game. The offense had not functioned as efficiently as it usually does, and its perimeter defense did not seem as quick. The Bruins were down by 15 at one point in the third, at a moment that looked like the Utes would pull off the upset.
"It's definitely frustrating to be down by that much when we felt that we were the better team," said junior guard Kari Korver. "But we also believed that we could come back and we can score quickly – we can score points super fast, we just push it in transition – so we were able to do that and Nirra hit a lot of shots, so we were able to come back and just win it."
It was not the first game Fields had looked dominant in this season, but probably the first to look like it was not going to happen. The team had trailed throughout, and with Canada on the bench, a road loss could almost have been excusable. Fields, however, did not let the Canada-void cost them a victory.
"Nirra did a really good job stepping up and being that backup point guard and trying to be vocal and she took good shots for herself," Korver said, "We were able to run probably the same plays that we would have if we had Jordin, but kept it simple and pushed in transition."
The victory was one of the biggest in Fields' career. Carrying an undermanned team with lofty aspirations to a win on the road did not look easy, but Fields made it doable.
"Fields has grown in her leadership, she's grown in her ability to run a team, she's grown in her defense, she's grown in her mental toughness, she's just different," Close said. "When you look back over her career, she's just put major building blocks into her arsenal every single year."
The win puts the team at 8-2 in the conference, and the winners of five games in a row. Canada should return shortly, making the team the force that it has proven to be this season. As much as the team will appreciate having both of their stars again, sometimes, one is enough.
MacDonald joined the Bruin as a sophomore in 2015 and contributed until he graduated in 2018. He spent time on the women's basketball, women's soccer and rowing beats.
MacDonald joined the Bruin as a sophomore in 2015 and contributed until he graduated in 2018. He spent time on the women's basketball, women's soccer and rowing beats.