Shani Shahmoon: Neighborhood council impedes Westwood Boulevard's potential revival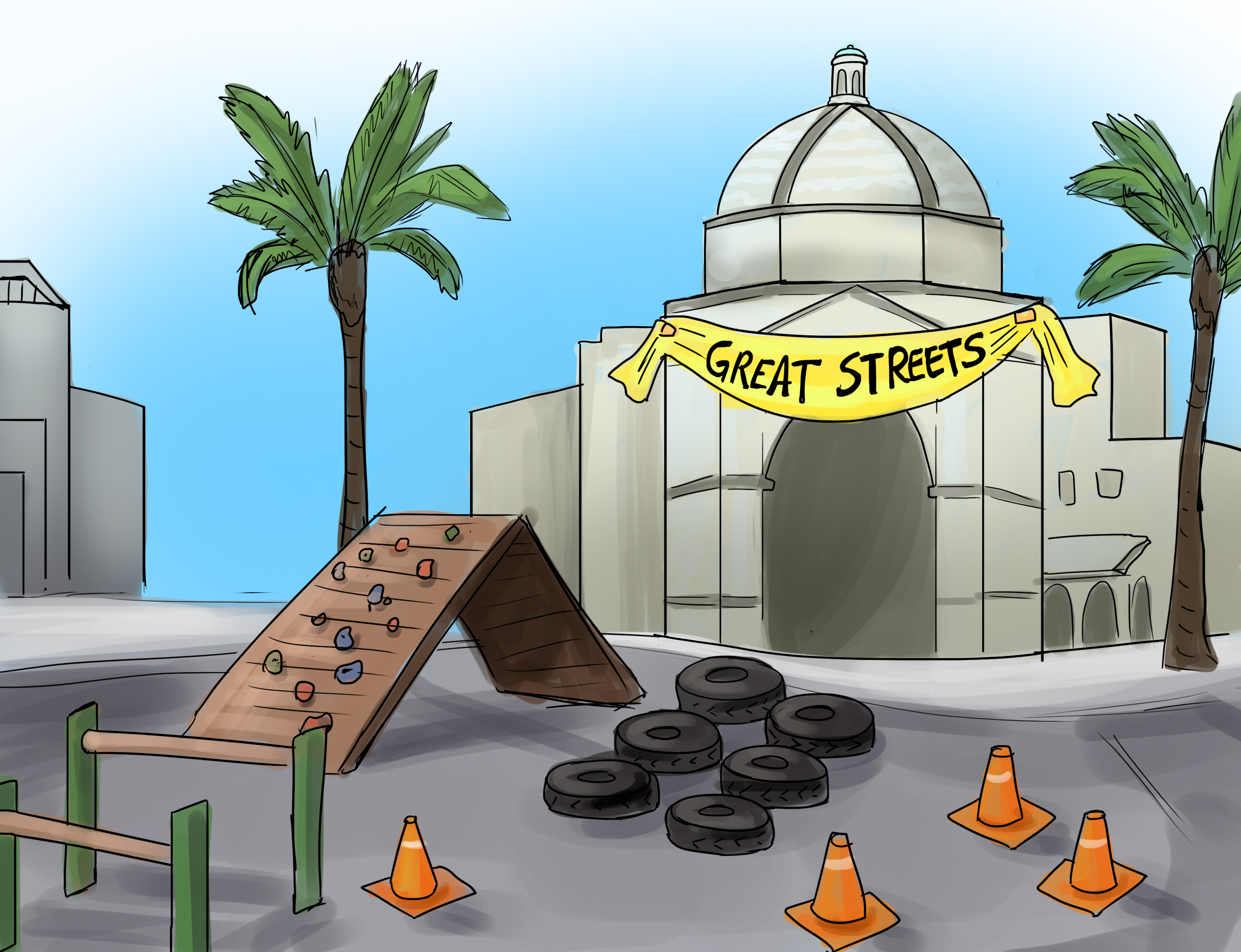 (Kelly Brennan/Daily Bruin senior staff)
Westwood Boulevard 2.0: where bicyclists ride in their own lane beside wide and smooth sidewalks, shaded outdoor patios surround fully occupied restaurants and shops, and exercise stations, small library stands and charging docks stand on street corners.
This upgrade is possible. Mayor Eric Garcetti put in place the "Great Streets" program in order to recreate and take advantage of an often-underrated asset in Los Angeles, our streets. In April 2014, Westwood Boulevard was one of the first 15 streets chosen to receive grant opportunities and access to different resources through the mayor's office in order to get quick improvement results. The opportunities are smaller in nature — like free-standing exercise stations or parklets — but ultimately do contribute to a street's overall appeal.
But these projects are set back and held off because different departments involved do not list Westwood Village as a priority. This is especially true of two institutions: the Westwood Neighborhood Council and the Westwood Village Improvement Association, also known as BID.
Currently, BID is working with the WWNC in bringing to life an up-to-date boulevard central to their community, but the latter is holding the former back and not aiming to reimagine a better Westwood.
The "Great Streets" program is not being taken advantage of as it should be. Westwood community leaders are hindering improvements that could potentially revive the Village. These institutions should work to find compromises that could recreate Westwood Boulevard as a distinct street in Los Angeles.
Westwood Village used to be the go-to spot after dark, with its numerous theaters, playhouses, restaurants and shops. Today, locals dressed for a night on the town would trip and fall on their walks down the dimly lit and cracked Westwood sidewalks. The bar scene is weak, with Santa Monica and West Hollywood grabbing all the limelight. And vacancies line the streets, with homeless individuals using the abandoned storefronts' roof for shelter.
Yet even given this, some are hesitant to change. Jerry Brown, president of the WWNC, said that he does not think that Westwood Boulevard should have been chosen as a "great street" and that the council does not have any specific proposals with regards to making a better boulevard, besides basic upkeep such as fixing sidewalks and tending to the vacancy issue.
This means that BID is limited to practical plans due to the WWNC rejecting its more creative ideas. While the plans do address specific issues on the boulevard such as these cracks and vacancies, these plans do not reimagine it into the one-of-a-kind boulevard that it could be.
Instead of shutting down these ideas, WWNC should be open-minded to the idea of temporary implementation of the projects, so that they can later be assessed as successful or not.
And this isn't something new. In the past, WWNC rejected BID's proposal for a bike lane, even when presented in the context of this initiative, on account of traffic and safety concerns. Additionally, it rejected a compromise for share arrows, in which signs would be put up to remind drivers and bicyclists to share the road.
Addressing maintenance, as the WWNC wants to do, is only part of the problem. Westwood Boulevard is the gateway to what used to be a popular Mediterranean-themed village. The goal of any Westwood officials should be to bring back the city to what it used to be.
To deny Westwood Village's heyday period and not aim to go above and beyond in restoring such a history is unfair to the citizens who elect these leading officials, as well as the students who live within and around the village itself.
The effects of the "Great Streets" program peek in and out of Westwood Boulevard's image, between Wilshire Boulevard and Le Conte Avenue. A solar-powered bus bench with a USB charging station, newly painted crosswalks and installed parking meters for bikes were all added with the help of the program and the mayor's office.
This initiative is an opportunity to breathe new light into Westwood Boulevard, and possibly, the entire Village.
Shani Shahmoon is an opinion columnist and a member of the Daily Bruin Editorial Board. She writes about student activism, the Israeli-Palestinian conflict and mental health issues.
Shani Shahmoon is an opinion columnist and a member of the Daily Bruin Editorial Board. She writes about student activism, the Israeli-Palestinian conflict and mental health issues.