UCLA women's basketball shuts down No. 12 Stanford 56-36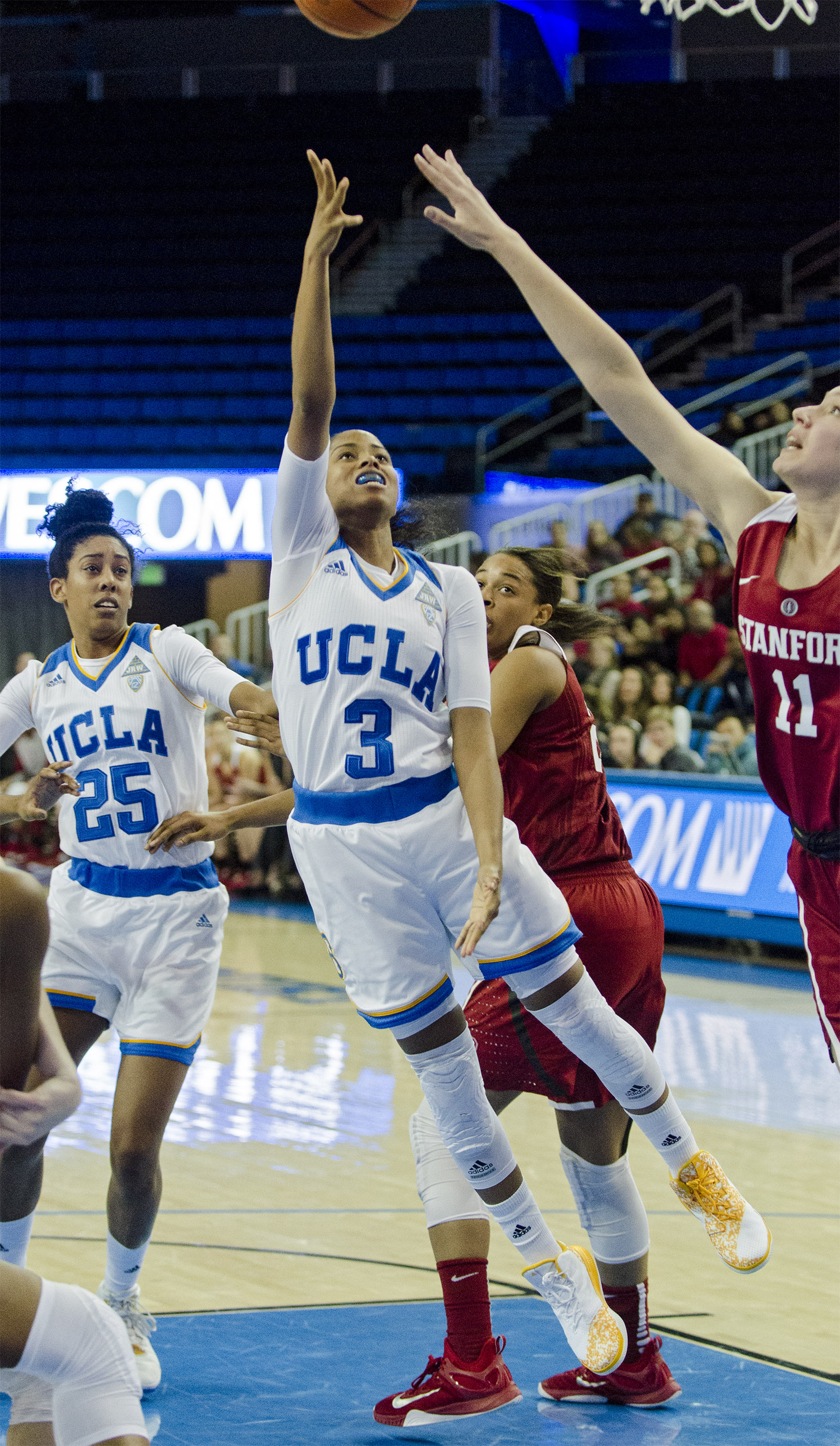 Sophomore guard Jordin Canada helped UCLA shut down Stanford's offense, anticipating the Cardinal passing game and forcing turnovers.(Tehya Faulk/Daily Bruin)
Women's basketball
---
| | |
| --- | --- |
| No. 12 Stanford | 36 |
| No. 20 UCLA | 56 |
Stanford women's basketball has a signature style of play.
The Cardinal teams are slow, deliberate, systematic and fundamentally sound. They wear teams down with their consistency and make the opposition play their style for 40 minutes. This is what Stanford generally does and Stanford does it very well – the Cardinal had only lost four times this season.
Against the Bruins however, they did not look systematic or fundamentally sound. They just looked slow.
No. 20 UCLA's (14-5, 6-2 Pac-12) 56-36 win over No. 12 Stanford Sunday night, the Bruins' first win over the Cardinal since 2008, was a defensive showcase.
Stanford (15-5, 5-3), who was hounded all night, committed 17 turnovers that included four shot-clock violations. Sophomore guard Jordin Canada and senior guard Nirra Fields anticipated every Stanford pass. When the Cardinal did get looks, they still couldn't convert – going 10-for-49 from the field. They were constantly trapped and bothered by a Bruin defense that appeared almost bored by the Stanford offense.
"There isn't a mismatch (on defense). If anything we're the mismatch," Fields said. "I just feel like every individual player on defense can either guard their own (player) or when someone gets beat there's always help. So it's just that constant teamwork and communication. Our athleticism puts us over the top with every team."
READ MORE: UCLA's 19-point win over California earlier in the weekend.
The Cardinal offensive struggles were epitomized in the second quarter, where the team only scored four points – their lowest mark of the season. The length of freshman guard Kennedy Burke gave Stanford problems finding passing lanes and the Bruin backcourt played an aggressive, in-your-face style that did not let up the entire game. UCLA had an answer for everything Stanford was trying to do, a testament to the team's preparation and scouting.
"I honestly have felt pretty good about our scouts all the way through, but it's these players, they've bought into the scouting report. I could've told you yesterday after practice that we were going to win this game. We prepared," said coach Cori Close, "(John Wooden) used to always say 'failure to prepare is preparing to fail' and we prepared."
The Bruins did what they had to do on offense. Sophomore forward Monique Billings finished with 12 points and three offensive rebounds while junior guard Kari Korver added 11 points on five shots, her 30th consecutive game with a 3-pointer. It was not one of the team's better performances on that end of the floor, but it didn't need to be.
"In the past if we were doing poorly on offense then we would kind of let go on defense but today I thought we were just super consistent," Korver said. "We were just committed to the defense today and that's something we have to keep up."
It was a win reminiscent of UCLA's 71-51 victory over then-No. 11 Oregon State, when the Bruins made the reigning Pac-12 champs look flat-footed. The Stanford win makes UCLA 6-2 in conference play, ahead of Stanford, who has dominated the conference – and the Bruins – for decades.
"It definitely made it that much sweeter to finally take them down," said senior forward Kacy Swain. "But like what Cori (Close) said, we were just focusing on our game plan and what we had to do and it was just the next game in front of us."
It was a game that Stanford will want to forget. Some games nothing comes easy. Other games, nothing really comes at all.
MacDonald joined the Bruin as a sophomore in 2015 and contributed until he graduated in 2018. He spent time on the women's basketball, women's soccer and rowing beats.
MacDonald joined the Bruin as a sophomore in 2015 and contributed until he graduated in 2018. He spent time on the women's basketball, women's soccer and rowing beats.