Women's basketball rebounds from previous Cal game with 75-56 win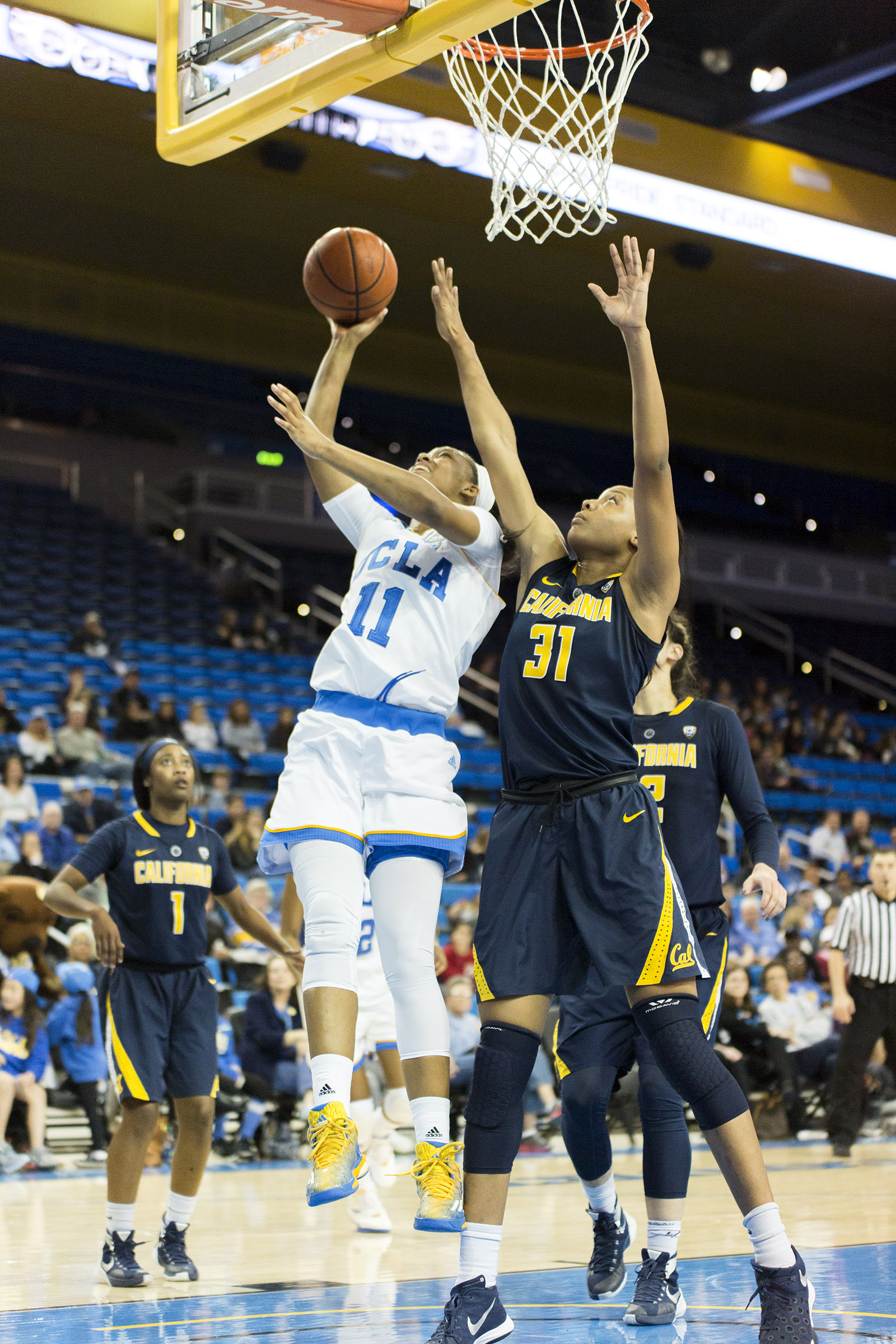 Sophomore forward Lajahna Drummer boarded 12 rebounds and posted eight points in UCLA's blowout over California. (Keila Mayberry/Daily Bruin staff)
Women's basketball
---
| | |
| --- | --- |
| California | 56 |
| No. 20 UCLA | 75 |
December's matchup between UCLA women's basketball and California was tightly contested, reaching double overtime before the Golden Bears emerged with a 108-104 home victory.
In a rematch last Friday night at Pauley Pavilion, the No. 20 Bruins (13-5, 5-2 Pac-12) asserted themselves early, outscoring the visitors in each of the first three quarters on their way to a 75-56 bludgeoning of the Bears (10-8, 1-6 Pac-12).
UCLA took control of the game on the glass, out-rebounding Cal 49-37, as sophomore forwards Lajahna Drummer and Monique Billings combined for 21 boards.
"Defensive rebounds have been our focus for the whole week so we put a lot of emphasis on that and that was just something that we needed to grow," Billings said. "We're one of the lowest teams in the Pac-12 with defensive rebounds so we just had a determination to get up on that and that was definitely key."
Although the Bruins lead the conference in offensive rebounding percentage, they are just ninth in defensive rebounding percentage. On Friday, the Bruins controlled both ends, adding a whopping 24 offensive rebounds.
"Sustainably, they got offensive rebounds," said Cal coach Lindsay Gottlieb. "They scored and transitioned, and we didn't get enough stops and we weren't counterpunching as much as we were back in the Bay. We were in control of that game in the Bay and this game I feel like we never had control."
UCLA was also able to take advantage of Cal's poor ball handling, scoring 23 points off of the Bears' 20 turnovers. The Bruins' 12 steals helped spur several big runs throughout the game.
"We have to get stops. You have to play the whole 94 feet. You have to go and play strategically, be involved, communicate together," said UCLA coach Cori Close. "We went on an 8-0 run (and) we got eight straight stops after that so offense becomes easier when you get stops and you don't have to take the ball out of the net. And we're hard to stop in transition."
Senior guard Nirra Fields said the team's communication was a major factor in the win.
"Pretty much we decided as a team to really talk," Fields said. "We know that going into the Pac-12 tournament and the conference that us as a team is going to be something that makes us better. Individually we're pretty good but we wanted to get to the next level, and teamwork is the thing most important to us."
Close noted the Bruins' abundance of "passion plays," her moniker for all the key plays that don't get noticed in the stat sheet.
"We've been really focusing on our passion plays," Close said. "We've never lost a game where we had 65 passion plays or above and we had 66 and I think that's the difference."
Whatever the difference, the Bruins looked much improved from their performance back in December. They'll take on the Stanford Cardinal on Sunday evening.
Patton joined the Bruin in 2015 and contributed until she graduated in 2017. She spent time on the men's golf and women's golf beats.
Patton joined the Bruin in 2015 and contributed until she graduated in 2017. She spent time on the men's golf and women's golf beats.