Gymnast doesn't let fall throw game off balance, leads UCLA to win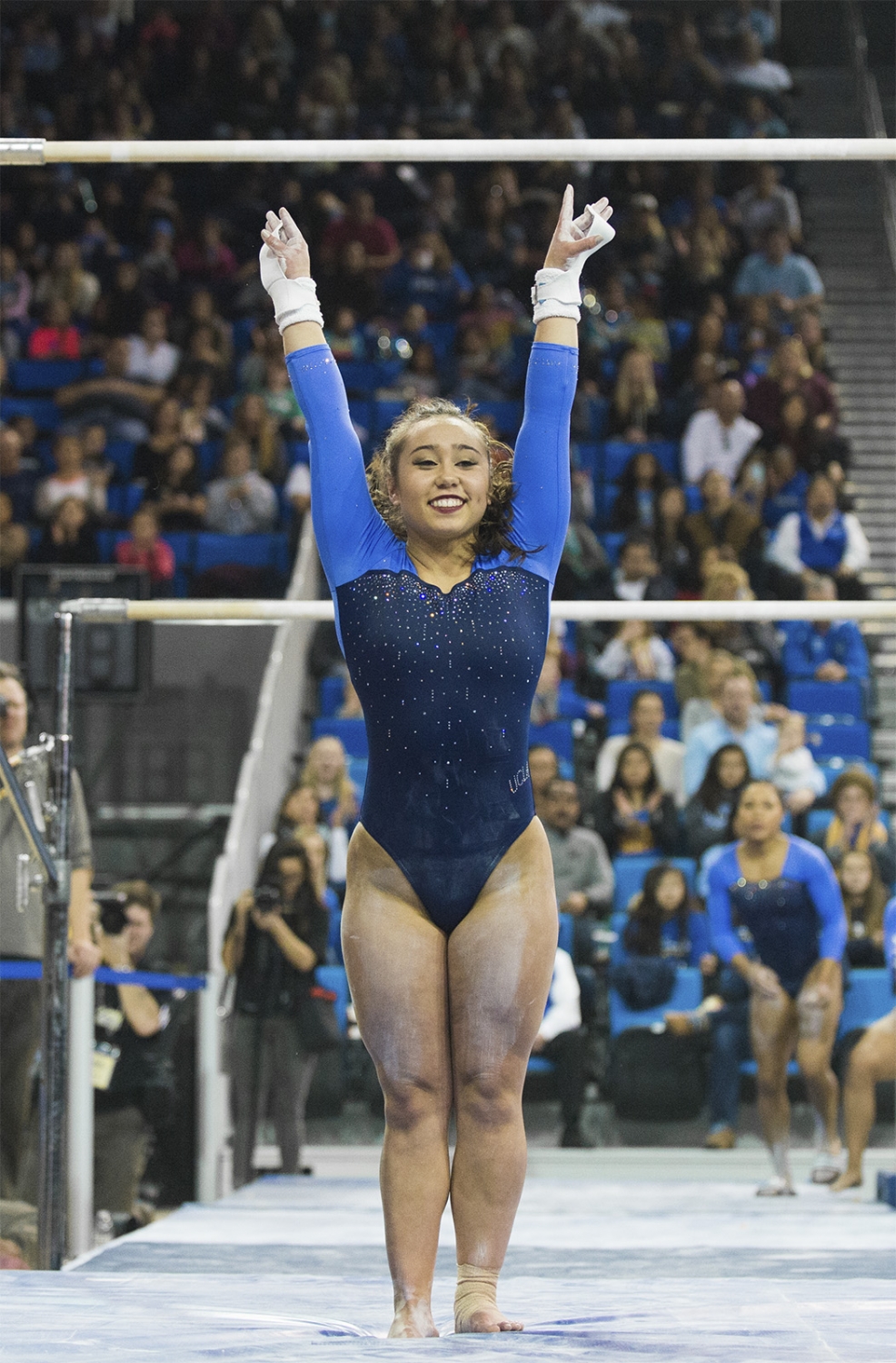 Freshman Katelyn Ohashi scored a career-high 9.825 on the beam, to add to her individual total of 39.375. (Angie Wang/Daily Bruin senior staff)
Gymnastics
---
| | |
| --- | --- |
| No. 4 UCLA | 196.800 |
| No. 20 Arizona | 196.475 |
UCLA freshman Katelyn Ohashi stood tiptoe on the balance beam in Arizona's McKale Center. With one more dismount, her debut as an all-around competitor in college gymnastics would be complete.
A veteran of elite gymnastics, Ohashi has done it a thousand times. And it was for that very reason that no one in the stadium could foresee what happened next – least of all the girl on the beam.
In the blink of an eye, Ohashi fell to the floor on all fours, despite making a reassuring arc through the air before the fall.
The incident took place during the No. 4 Bruins' 196.800-196.475 away win on Saturday against the No. 20 Wildcats in Tucson, Arizona, that marked the beginning of UCLA's campaign in Pac-12 play this season.
"The end of the beam came off," said coach Valorie Kondos Field. "Her foot stepped on that, and (she) had a very scary fall, landing on her neck."
Kondos Field was the first to sprint towards Ohashi, not caring for her own ankles as the slits between the mats caught her high heels along the short journey. She said she was most worried for the freshman's neck.
Given that career-ending neck injuries resulting from accidental falls are not unheard of in the sport, Kondos Field's concern was not unwarranted.
Ohashi, though, was quick to stand on her feet again and Kondos Field said afterward that the freshman was uninjured.
The judge panel ruled that the failed dismount was caused by an equipment malfunction and, to ensure fairness of play, Ohashi was allowed another go on the beam.
"I was definitely not expecting that at all," Ohashi said. "But they asked me if I wanted to do it again. And I was like, yeah, of course."
Kondos Field was not enthusiastic about pushing the freshman to the front line. She told Ohashi that she didn't have to go and that she could also do an easier dismount. But Ohashi refused both offers, insisting on completing a full routine.
"Katelyn is so strong. She was laughing (it) off and she has amazing character," said redshirt junior Peng-Peng Lee. "She was very inspirational today to everyone else on the team."
Ohashi didn't flinch as she mounted the beam for the second time, rounding off the routine with a strong landing. Her teammates rushed to congratulate her as the entire stadium roared with applause.
The judges gave Ohashi a 9.825 – a new career best for the freshman. The beam score was added into the individual total of 39.375 that won Ohashi the all-around meet.
"She had years of international competitive experience. She's competed a lot. She's competed in the biggest meets in the world, beside the Olympic games," Kondos Field said. "She knows how to handle pressure. She loves pressure. She does best under pressure."