Survey finds parking permit shortage affects student experiences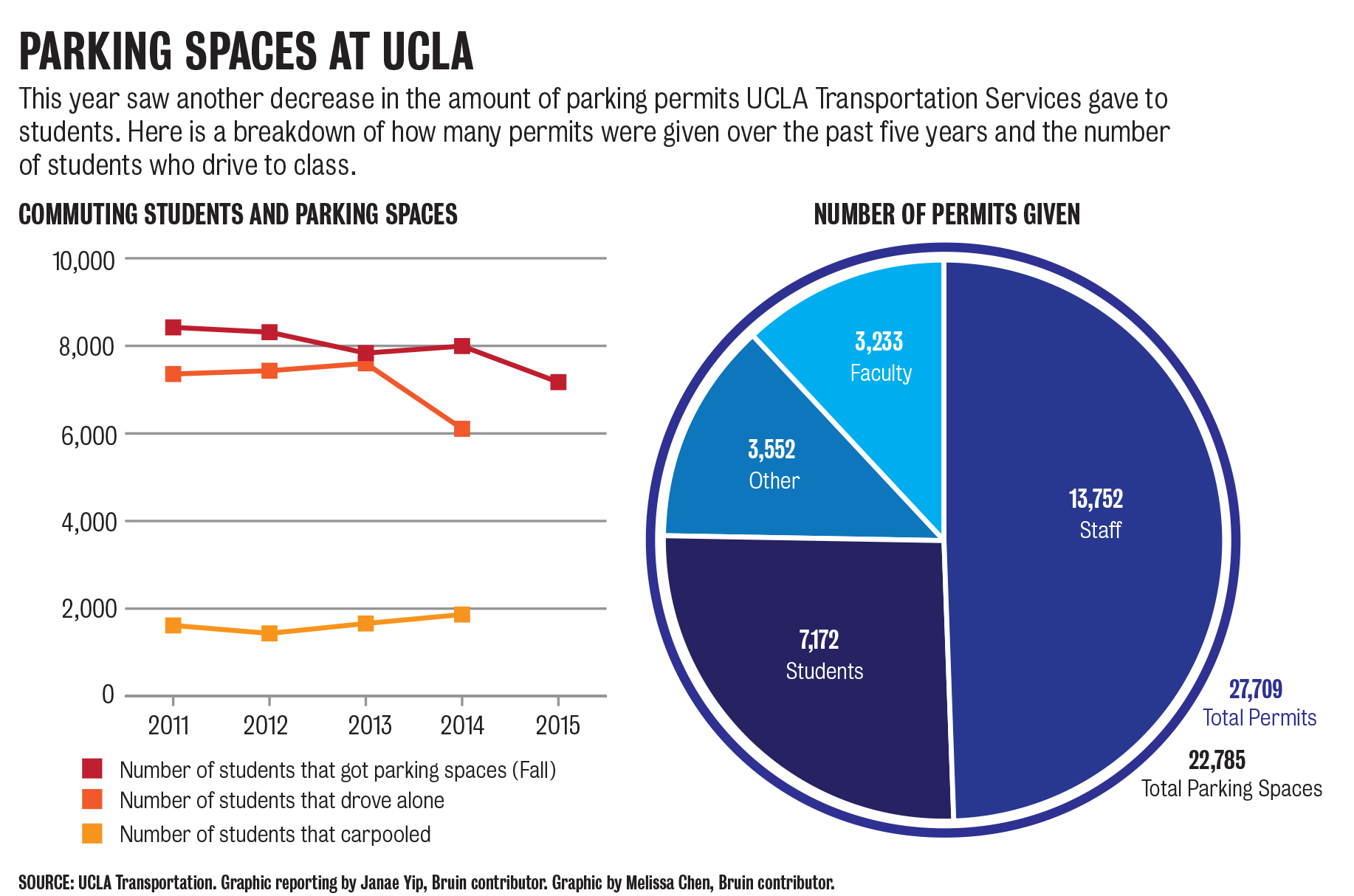 Last quarter, Ani Mamikonyan paid more than $700 for parking.
Mamikonyan, one of 984 students unable to obtain a parking permit this quarter, makes her hourlong commute from North Hollywood five days per week. She then scours visitor parking lots for a place to park before hurrying to class.
"There have been countless occasions when the visitor parking is full, and the permit parking is empty," said Mamikonyan, a third-year psychology student.
This quarter, the UCLA Transfer Student Leadership Coalition is conducting a poll through social media to gather information from transfer students who do not have parking spaces this quarter.
Lisa Koerbling, director of parking services for UCLA Transportation, said spaces for transfer students have decreased because construction projects have reduced the number of available parking spaces, and more spaces have been allocated for staff and campus visitors.
The student-initiated survey asks about students' academic standing, their experiences with the parking permit application and alternate transportation methods.
As of Tuesday, 82 students, mostly commuters, have responded. About 86 percent of students surveyed said they would accept a permit for an undesirable parking spot if given the option, and 69 percent felt not obtaining a parking permit negatively affected their academic experiences.
Koerbling said UCLA Transportation officials decided in 2013 to distribute parking permits based on seniority, rather than their proximity to campus. Officials implemented the change to avoid having to conduct extensive audits to combat false information.
Christina Springer, a fourth-year political science student, said she thinks this change heavily disadvantages transfer students.
"A lot of commuter students have told us not having a parking permit has negatively impacted them financially and mentally," Springer said. "The situation is much worse this quarter than it was in the fall."
Half of the students who responded to the survey said they were refused parking permits last quarter, and three-fourths of the students surveyed have been unable to secure parking permits this quarter, Springer said.
Springer added non-traditional students, who have children, elder care or other commitments, can ask for a exemption, but thinks UCLA Transportation officials should better inform students about it.
Last October, about 7,200 of about 23,000 parking spaces were reserved for students, down from about 8,000 in fall 2014 and about 8,400 in 2011, according to UCLA Transportation.
Koerbling said UCLA does not plan to construct new parking structures because it would cost them more to create new spaces than it would to subsidize public transportation options. She added building structures would also increase permit prices.
UCLA officials have opened up housing options and subsidized alternative transportation to help students who couldn't get permits, Koerbling said. UCLA subsidizes 50 percent of the cost of six bus lines, and everyone who applies for a parking permit is guaranteed at least a carpool permit.
Springer said the coalition hopes to discuss the data with UCLA Transportation and show officials how the newly implemented distribution system negatively impacts students.
"We would really like to see transportation officials address this issue, one we feel is unfair and discriminatory," Springer said. "It's become too hard to ignore."
Janae Yip is currently a news contributor covering Westwood, transportation and Los Angeles.
Janae Yip is currently a news contributor covering Westwood, transportation and Los Angeles.