Teaching fellow explores identity through language, literature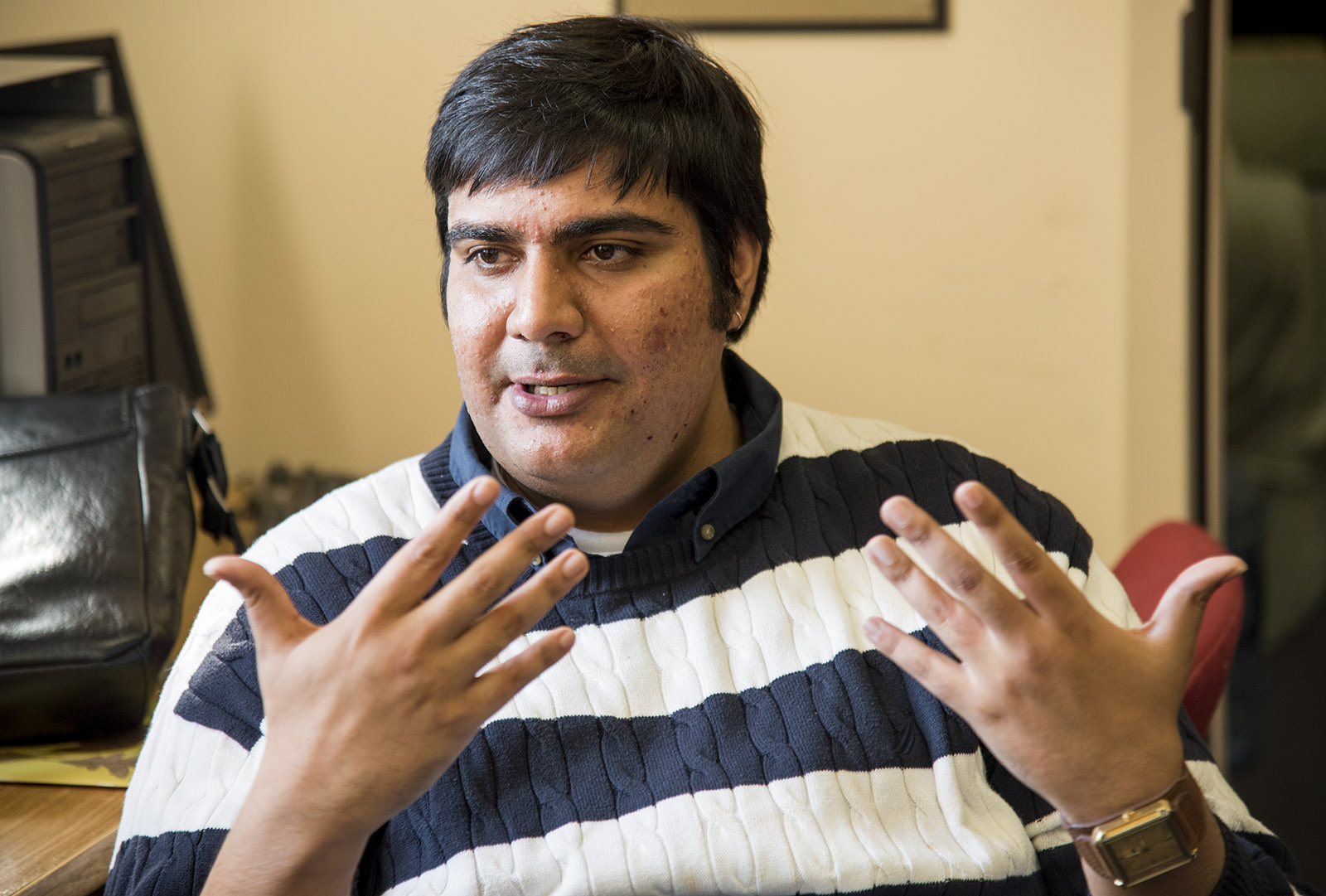 Malik Chaudhary is a teaching fellow and doctoral student at UCLA in the comparative literature department. (Mackenzie Possee/Daily Bruin)
Malik Chaudhary's contradictory upbringing led him to question everything.
Chaudhary was born to immigrant parents, grew up gay in a traditional Muslim household and attended a Catholic high school. His parents are from India and Pakistan, countries that have historically been at odds.
Amid conflicting cultures, Chaudhary, a teaching fellow and doctoral student at UCLA, said he found his refuge in language and literature.
"(My upbringing) made me sensitive to differences," he said.
Chaudhary, a native speaker of English and Punjabi, began to learn French in the first grade. He has since become fluent in Arabic and Urdu, the official language of Pakistan.
"He has an affinity for language," said Amna Chaudhary, Malik Chaudhary's sister. "Books are a big part of who he is."
Chaudhary said his identity is an intersection of his Sikh mother and Muslim father's roots. His parents are from Punjab, an area split between present-day India and Pakistan after the partition of British India in 1947. He added his parents' experiences have encouraged him to study post-colonial texts.
Chaudhary said he attempts to use literature to explore regional differences. As an undergraduate, he studied the history between Europe and its colonies. Chaudhary graduated from UCLA in 2007 and is now pursuing his doctoral degree in comparative literature. He said he aims to link North African and South Asian colonial histories, drawing from Franco-Arabic, Hindi, Urdu and Punjabi texts in his research.
Shad Naved, a liberal studies professor at Ambedkar University in New Delhi who has known Chaudhary since 2007, said he thinks Chaudhary's work will be the first of its kind in postcolonial studies.
"His intimacy with these writings is attested by his meticulous translations from French to Arabic – of migrant and minority writers in particular – and from Urdu to English," Naved said in an email.
Chaudhary, who is Indian-Pakistani by heritage, Canadian by birth and American by citizenship, said his work reflects the many facets of his identity.
"Nationalism as a concept has to be questioned," he said. "I have received so much contradictory information – who is right?"
Chaudhary said it was difficult growing up as a gay Muslim because he was worried his conservative family members would not accept him. In high school, he listened to "qawwalis," a form of musical poetry that is popular in North India, because he was drawn to its emotional power.
"Whenever I was in extreme emotional pain and I didn't know what to do with it, listening to qawwalis gave me the first sense of catharsis and relief," Chaudhary said. "I didn't have a vocabulary for my pain, and qawwalis gave me a vocabulary."
In his fall 2015 class Comparative Literature 4DW, called "Literature and Writing: Great Books from the World at Large," Chaudhary taught texts in various languages. He said the readings examined the contours of a contemporary world rooted in the history of colonialism.
"(The objective) isn't to cruise through the world – you don't take stops and say 'And to your right is a brown person,'" Chaudhary said. "The objective is to encourage critical consciousness in undergraduates."
In the Writing II class, Chaudhary emphasized the importance of the learning experience by creating an environment in which students can engage in thought for the sake of thought.
"Students said they weren't interested in the class initially, but it was their favorite class by the end of (the quarter)," Chaudhary said. "I might be an optimist, but I find that students are interested in learning. Students can be responsive in the right space."
Chaudhary said he recognizes the rigor of writing courses, so he carefully selects diverse readings he thinks will engage students.
"I select texts that will speak to students," Chaudhary said. "I have to begin with solid content – texts that carry weight."
Lara Jhaveri, a third-year global studies and French student who took Chaudhary's class in fall quarter, said she was drawn to the class' varied content.
"It was a difficult class, but I became interested in works from all over the world that aren't covered in most other literature classes," she said.
Chaudhary said he thinks some UCLA professors are too focused on making it difficult for students to earn good grades.
"Making it hard to get grades is not a marker of quality," he said.
Last fall, he cancelled his class' midterm to show and discuss relevant films.
"Frankly, I got bored (during the exams) when instead, we could be talking," Chaudhary said.
Chaudhary said he uses anecdotes to help students relate to material that spans more than 100 years of history.
"Discussion of literature leads to the discussion of life," he said.
Chaudhary's students said they value his distinctive teaching style.
"He was different (from other teaching assistants) because he didn't stress grades," Jhaveri said. "He was concerned with the students being challenged."
Chaudhary said he hopes he can encourage students to question assumptions.
"Don't believe in everything you think," he said.