Anastasia Lukianchikov: Student voices must drive ethical licensing, consumerism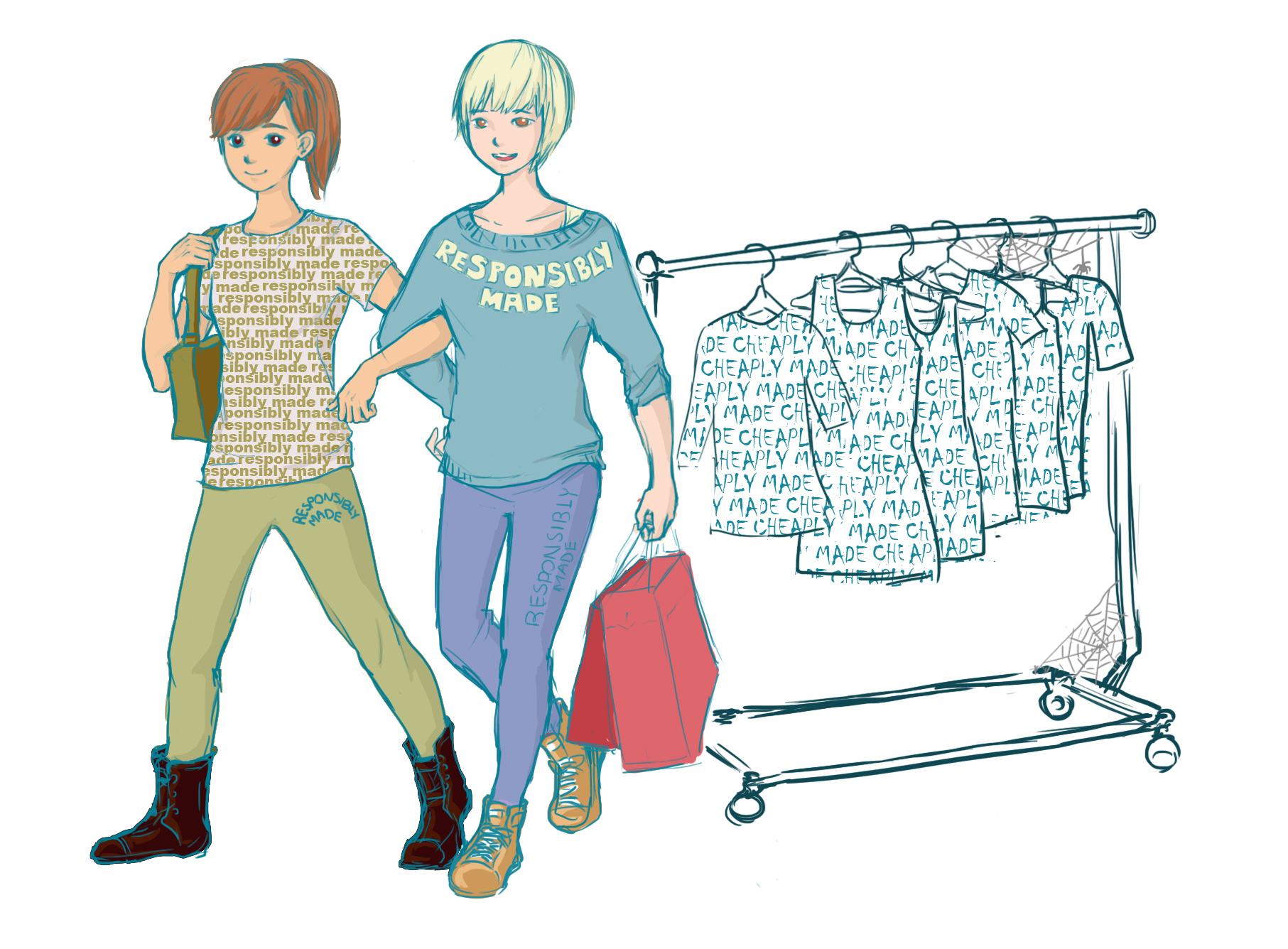 (Victoria Chang/Daily Bruin senior staff)
When it comes to consumerism, the ethical standards of UCLA may be higher than those of its own students.
In the past two weeks I have written columns exploring UCLA's licensing agreements and the labor violations behind these licensed apparel companies. The garment industry has a rampant history of worker rights infringements – incidents that still persist today. In past years, UCLA has continuously worked with these companies to hold them to higher moral standards and labor codes.
The difficulty is that the university relies on energy from student campaigns to enforce these ethical commitments. Student indifference restricts the school's negotiating power.
READ MORE: All three columns in "Labor Intensive"
Universities are an exhibition of many businesses which depend upon direction from consumers. Among these many businesses are partnerships with many apparel licensees. And while we are students, we are also consumers.

Socially responsible behavior is an economic imperative in our globalized reality. The fate of the college marketplace lies in the decisions of students. As inconsequential as a single consumer may seem, consciously ethical consumers are collectively very powerful.
Students are the momentum behind pushing collegiate companies towards ethical commitment. We control the fading or reification of morality. And more importantly, this student energy is necessary to elicit change. In order to make it easier for universities to hold companies accountable, students need to enhance their own accountability by being more ethical consumers.
Student fervor has been very effective in past campaign events. This past summer, students at UCSB affiliated with United Students Against Sweatshops successfully pushed the school to drop JanSport products from the bookstore. In 2013, international pressure from numerous universities led to a successful campaign for Adidas to compensate a group of unpaid workers. And in 2010, students with USAS helped lead a successful campaign against Nike to meet worker demands.
The link with students is clear: Every national campaign against apparel companies has begun with, or been strengthened by, the efforts of ethically conscious students. Students are an instrumental part of initiating change – especially because of how UCLA chooses to partner with apparel companies.
As a university, it is more worthwhile to work with licensees to incrementally increase their ethical commitment. Over time, this relationship builds to accommodate higher university standards while still keeping business. This is an admirable leadership quality, though it is often hard to see its workings because of the slow process.
It is also better than alternative choices like cutting ties with apparel companies or forcing their hand.
"The knee-jerk reaction of licensees is to cut and run from factories," said Cynthia Holmes, director of UCLA Trademarks and Licensing. "But for us it needs to be about intense communication and corrective action. We are not so much measuring noncompliance but whether licensees are demonstrating administrative control and corrective action."
Holmes said this approach has increased over the past four years and has enabled administrators to get a much clearer profile of the companies they work with. And it is evident in the number of licensees: Over the last four years, UCLA has cut licensee numbers from over 300 to around 170.
But while university efforts may persist, student and societal energy toward apparel issues seems to be waning. Because the issues endure, they have lost the initial glam of the 1990s. We no longer despair at a status quo – and this hinders the types of mindsets we want consumers and companies to adopt.
"The pressure needs to be kept up," said Holmes. "This is not an isolated trademark licensing office issue."
Holmes said companies are conditioned with a "gotcha" mentality that makes it even more difficult to actively work to address the real ethical issues, let alone without student effort. What we need is an open dialogue that provides room for change and learning – not senseless penalization.
Students can drive momentum for universities to practice better ethical consumerism. And only then can universities effectively apply pressure to licensed apparel companies. But the enhanced negotiating power of the university only comes when students are more socially responsible.
Most of the time, we just react to headline news or isolated media stories about ethical violations. But if progress with collegiate apparel companies is to move faster than at glacial pace, it needs fervor from students.
"There's a common outlook that the only problems that exist are those that make headline news," said Holmes.
The challenge lies in teaching students, and consumers, to build a consistent attention and commitment to ethical consumerism – within and without the apparel industry.
The solution is both simple and elusive: Change our behavior.
If we keep a fixed mindset about the ethical issues within industries, then they are all the less likely to change – because of us. Change occurs incrementally and collectively, but the first step in practicing ethical consumerism lies in changing the mindsets of isolated individuals.
So begin with listening to the narrative of everyday products and paying attention to the businesses on this campus. If we expect high moral standards from UCLA, then we must provide the pressure for doing so. That provision is on us.
Think globally, but act locally. Always.
Anastasia Lukianchikov is an opinion columnist. She writes about diversity and being a responsible consumer. She also writes for Fem magazine.
Anastasia Lukianchikov is an opinion columnist. She writes about diversity and being a responsible consumer. She also writes for Fem magazine.