Women's basketball regroups for Washington road trip after USC loss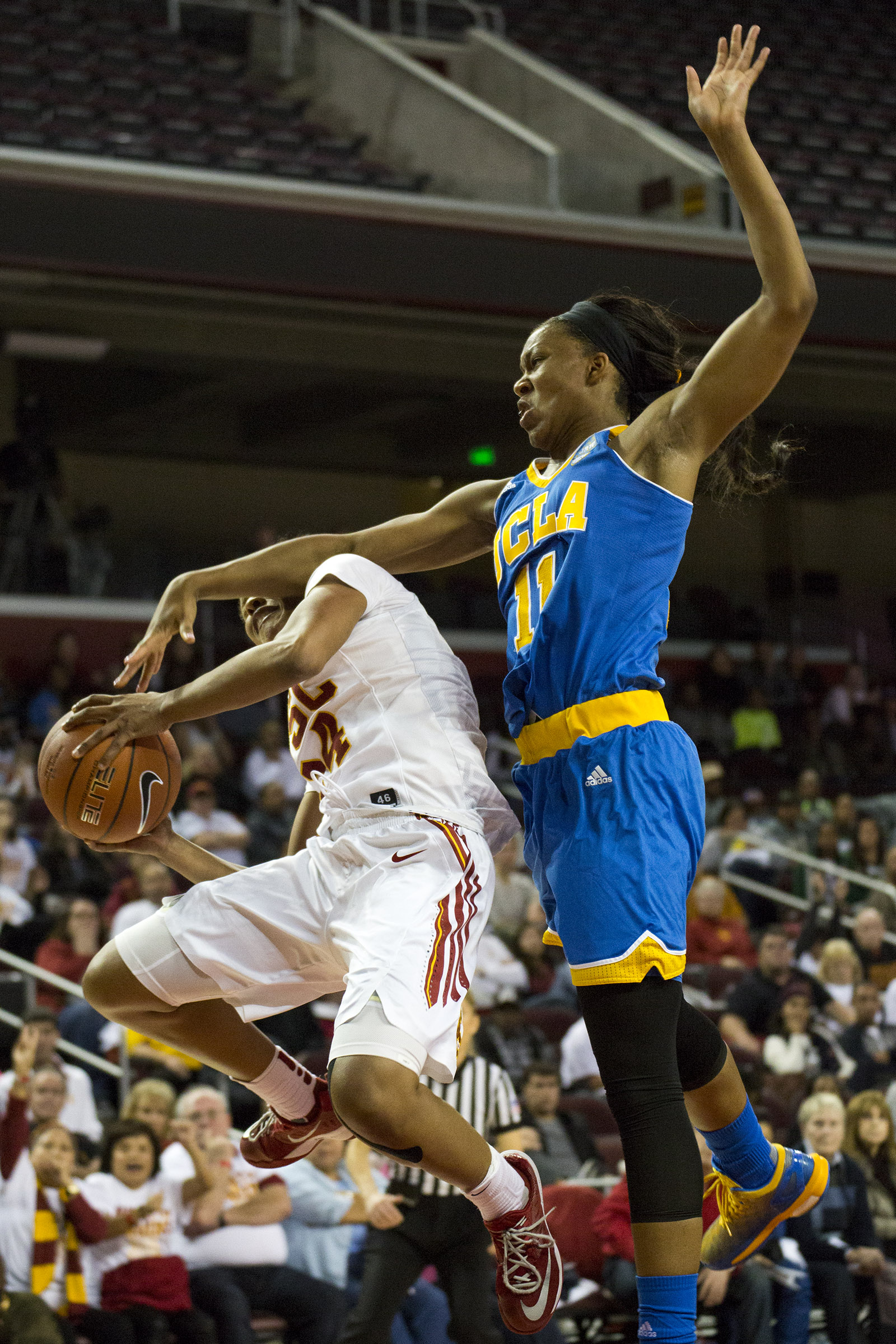 Coach Cori Close said the Bruins lacked intensity against the Trojans last Sunday, allowing USC to outrebound UCLA 51-45. (Tehya Faulk/Daily Bruin)
By
Daily Bruin Staff
Jan. 15, 2016 1:03 a.m.
The UCLA women's basketball team is prepared to redeem themselves.
After being out-rebounded and losing by three points against the USC Trojans on Sunday, the No. 17 Bruins go on a three day road trip to take on Washington and Washington State.
UCLA was timid and lacked energy at USC. It took watching the game footage for them to see that the Trojans "took it to them," instead of the Bruins bringing the aggression.
"We have to bring our intensity from the very beginning of the game, we cannot let the game come to us and I think that was one of our biggest problems (against USC). It was a good lesson for us and we learned it and we are ready to move on from there," said sophomore forward Lajahna Drummer.
Although the team is confident going into this weekend, they are well aware of the challenges they will face playing these 11- and 12-win teams. Washington (12-4), for instance, has the conference leading scorer, a two-time All-Pac-12 team member Kelsey Plum who averages 27.3 points per game.

"Plum is one of the most deceptive high-level players in the whole country. She's a phenomenal passer, really versatile, strong, confident and is just downright effective so we have to control the pace of the game and be able to attack before they have a chance to set up their defense," said coach Cori Close. "We're going to their gym and that's no joke – we better play if we want the win."
Washington State (11-5) on the other hand poses tough defense as they lead the conference in steals and are No. 3 in turnover margin.
Leading to these face-offs, the Bruins are focused on being completely mentally engaged in practice and taking responsibility for their own improvement. Close said she is trying to emphasize to her players that they must focus on the process of what it takes to be great in order to play their best.
"This weekend are two good games to get our energy and roll back before our games against Stanford and Cal," said senior forward Kacy Swain. "I am expecting them to really come aggressive at us. We do have a target on our back."
The team got a little too comfortable with their 3-0 conference start prior to losing to the Trojans. However, Close said that if the Bruins focus on small possessions, not allowing their offensive shots to predict their defense and staying aggressive throughout the entirety of their games, they will have all the pieces to win the Pac-12 conference.
"It's the grind, it's the blood, sweat and tears," Close said. "That's why there aren't many great teams because not many are willing to make the uncommon beyond choices it really takes. I know this team has it, we just need to do it on a consistent basis."
With contributing reports by Logan Patton, Bruin Sports contributor.