Student leaders recommend changes to Statement of Principles Against Intolerance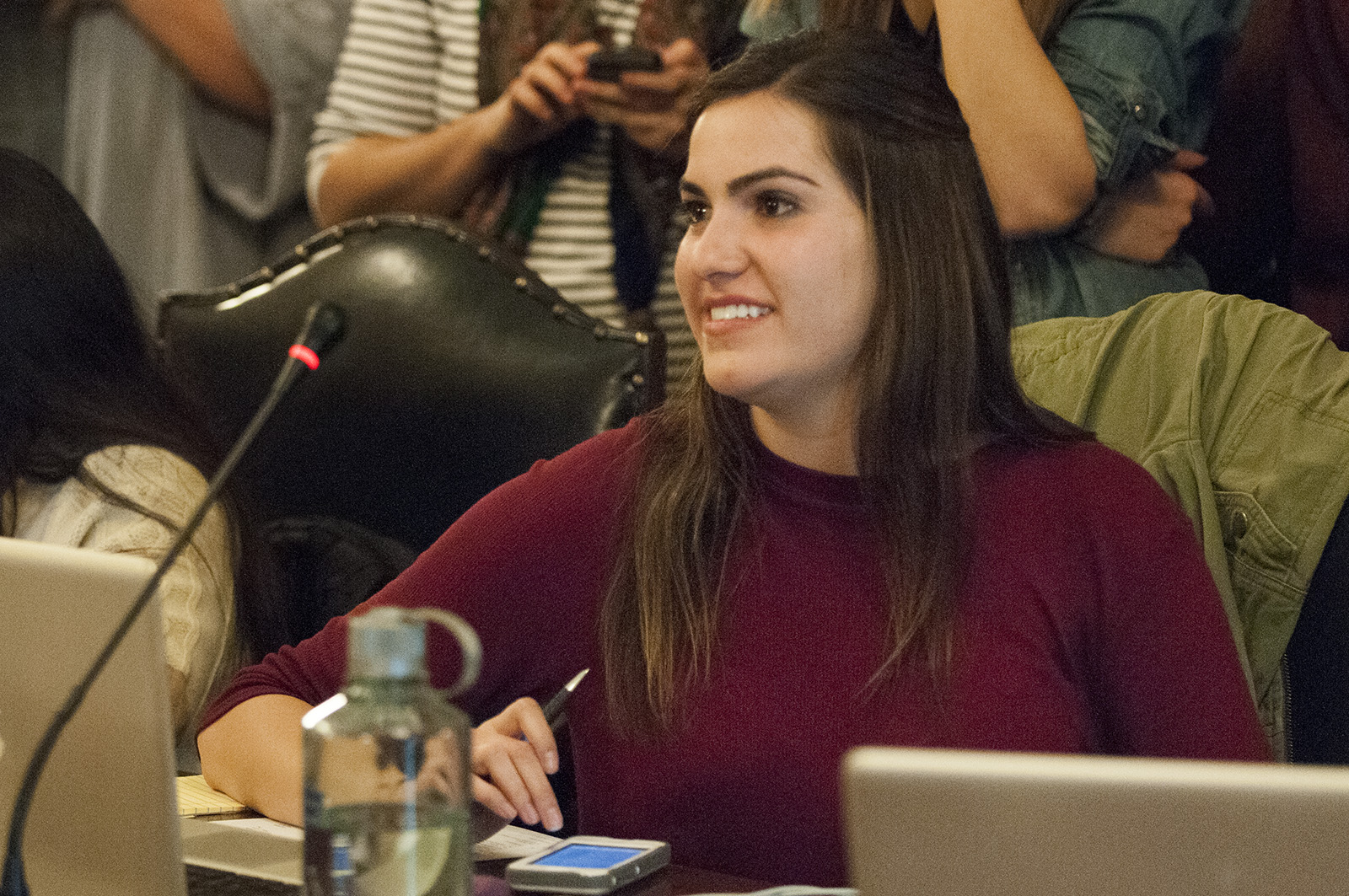 Heather Rosen – president of the undergraduate student government – and a group of student leaders released a list of recommendations to modify the University of California's Statement of Principles Against Intolerance. (Julie Hanash/Daily Bruin)
A group of student leaders released a list of recommendations Friday that call on the University of California Board of Regents to promise more cultural and supportive services for marginalized groups as a modification to the UC's Statement of Principles Against Intolerance.
The UC Council of Student Body Presidents, Student Regent Avi Oved and Student Regent-designate Marcela Ramirez did not have specific recommendations for support and cultural programs in mind.
The Statement of Principles Against Intolerance dictates the UC is dedicated to upholding respect, inclusiveness and academic freedom, among other principles. In September, the UC regents created a working group composed of regents, students and faculty, to discuss changes to the statement.
The regents established the working group after some members of the Jewish community said they were concerned the statement did not do enough to condemn anti-Semitism, and called for the adoption of the U.S. Department of State's definition. Some academics have said adopting the state department's definition of anti-Semitism, which includes acts that demonize, delegitimize or hold Israel to a double standard, would infringe on academic freedom and prevent any criticism of Israel.
Student leaders also recommended the regents prioritize the continued diversification of students, staff and faculty in the updated statement. According to the recommendation, doing so would reduce feelings of isolation and improve cross-cultural understanding.
In the recommendation letter, members of the council wrote they don't think maintaining academic freedom and freedom of speech should get in the way of fostering an inclusive university environment without fear and intimidation.
Heather Rosen, president of the undergraduate student government and undergraduate chair of the UC Council of Student Body Presidents, said student government leaders from each campus suggested recommendations at their student senate and council meetings over the past few months.
Rosen added the council wants to ensure the Statement of Principles Against Intolerance isn't too broad and can address the needs of each campus' students by including more specific language.
"We want to make sure that the (statement) isn't just 'don't do this' or 'don't do that'," Rosen said. "We want to make sure it includes the narratives and experiences of students, that it shows a concern for students at the community level."
Rosen also said she wants the language in the statement to ensure University administrators consistently respond to acts of intolerance by mandating a response within a certain time period.
The working group is still working to modify the language of the statement.
Compiled by Ryan Leou, Bruin contributor.