Q&A: UCLA Title IX officer talks new model to investigate sexual assault reports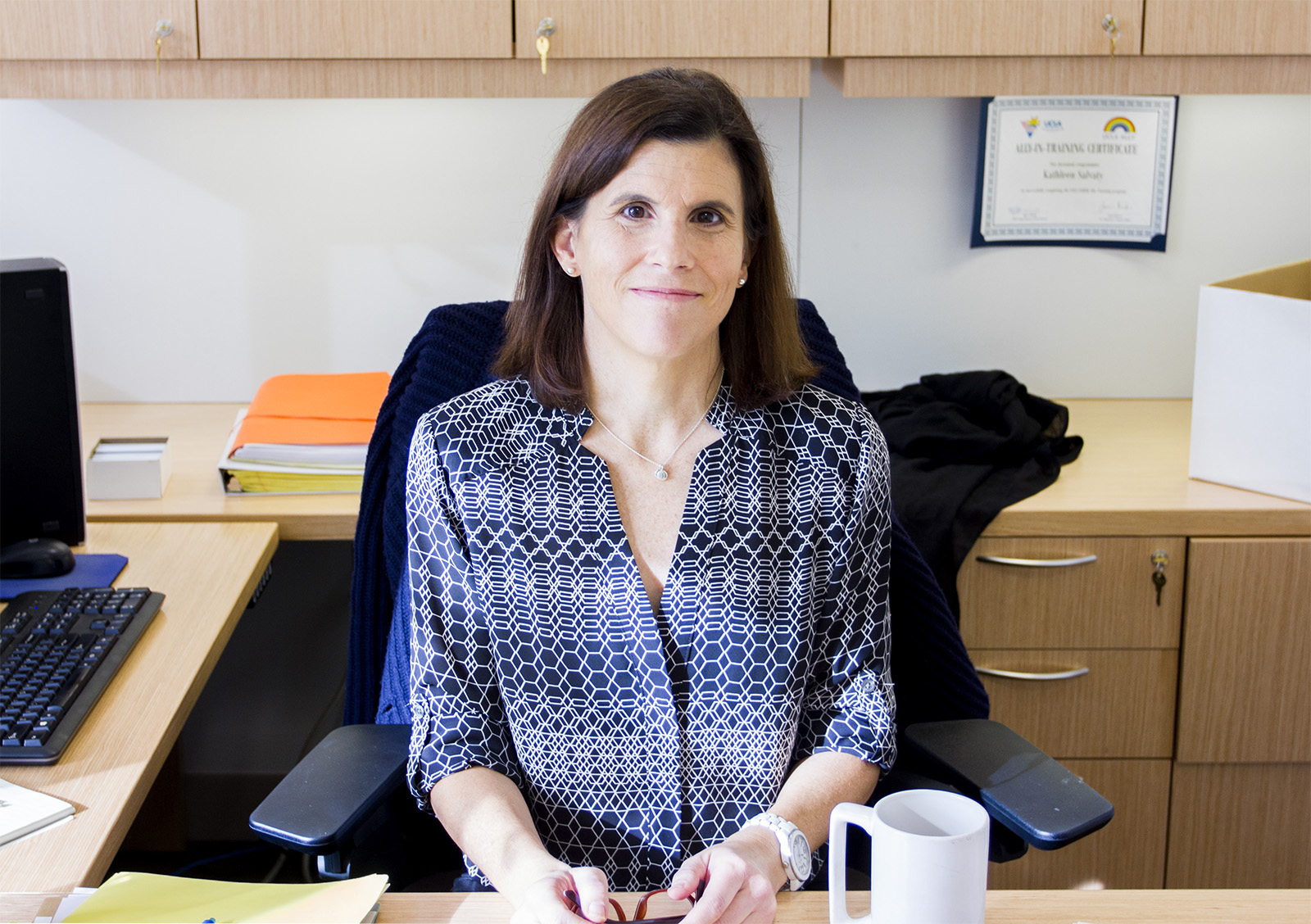 The Daily Bruin spoke to Kathleen Salvaty, UCLA's Title IX officer, about the University of California's new policy for investigating reports of sexual assault. (Anisha Joshi/Daily Bruin)
On Jan. 1, the University of California implemented a new systemwide procedure that requires Title IX offices, rather than dean of students offices, to investigate reports of sexual assault.
UC President Janet Napolitano's Task Force on Preventing and Responding to Sexual Violence and Sexual Assault suggested changes to existing procedures, which contributed to the new policy.
Title IX prohibits discrimination on the basis of gender in educational programs and activities that receive federal financial assistance. Title IX offices are responsible for adhering to the policies and procedures intended to prevent and respond to gender discrimination, sexual harassment and sexual violence.
The Daily Bruin's Kat Bocanegra Speed spoke with Kathleen Salvaty, UCLA's Title IX officer, about how UCLA will implement the new procedure.
DB: What are the main differences between the previous model and the new model?
KS: Previously, the dean of students office would would collect information about reports and send it to a student conduct committee, so the framework was similar to other conduct violations, such as plagiarism and alcohol violations. Now, the Title IX office will investigate complaints against students. The investigator makes their findings and tells the dean whether they think the code of conduct was violated. The dean will decide whether there was a violation of policy and will issue the punishment (as needed). There is still an appeal option, which (allows) for a hearing.
DB: What new offices or positions will be created as a result of the new model?
KS: The appeal body positions are being appointed by the provost, and we will also be appointing an appeal body chair who reviews the appeal to see if there are grounds for it. My office has hired one investigator and I am looking to hire two more to handle sexual harassment and assault investigations.
DB: Is this model identical across all UC campuses?
KS: The framework – that Title IX conducts the investigation, the creation of the appeal board and the mandatory minimum sanctions – is a systemwide framework, but each campus was asked to come up with local implementing procedures. Napolitano's goal is for any UC student to get the same process and treatment, no matter what campus they are on.
DB: How has the reporting changed?
KS: Before, the report would be made to the dean of students. I encourage any student who wants to report to come to the Title IX office directly and make that report. That said, we do have a deputy Title IX officer in the dean's office so there is someone there to take that report.
DB: How has the sanctioning process changed?
KS: The president has mandated there are certain minimum sanctions that depend on the offense. The definitions for conduct are more specific in the new procedure, (but there is a minimum two-year sanction in most cases). All sanctions can range to expulsion.
Aggravated conduct is sexual assault, domestic violence or stalking, in which at least one of the following factors is present: use of force, causing or taking advantage of incapacitation or recording or showing sexual images without consent.
For nonaggravated sexual assault, there could be an exceptional case where it would be less than two years for assault, stalking or dating violence. Other sexual contact, such as fondling or groping, have a minimum sanction of one year, absent exceptional circumstances.
DB: How has the hearing process changed?
KS: In a student conduct model, the burden is more on the student to come to a hearing, present evidence and then the body makes the finding. Now it is on the investigator and the university to conduct a thorough and fair investigation to make those findings. Then the student can appeal and have an in-person hearing.
We are designating a smaller pool of appeal body members, and they are going to be thoroughly trained. If the respondent challenges the decision made following the investigation, the appeal body will then hold an appeal hearing to determine whether to uphold the decision, modify it, vacate and enter a new finding or vacate and send the matter back to the Title IX office.
DB: What do you think are the benefits of the changes?
KS: One of the main benefits of having an investigator do the work, as opposed to a student conduct model of a hearing, is it's intended to take some of the burden off the students, both complainant and respondent.
Our legal obligation is to conduct a thorough, prompt and fair investigation. An investigator who understands that obligation and affirmatively works to gather all information to make their finds achieves that. Investigators are thoroughly trained and experienced, and work solely in this space.
I think it has been challenging for the dean of students to handle these kinds of unique, really challenging cases along with their other more traditional student conduct matters. That is what this office does, (it handles cases of) gender discrimination, sexual violence and harassment. Everyone is trained in the space, and the same with those appeal board members.
Compiled by Kat Bocanegra Speed, Bruin contributor.