Alum uses mentorship to translate medicine across cultures, classes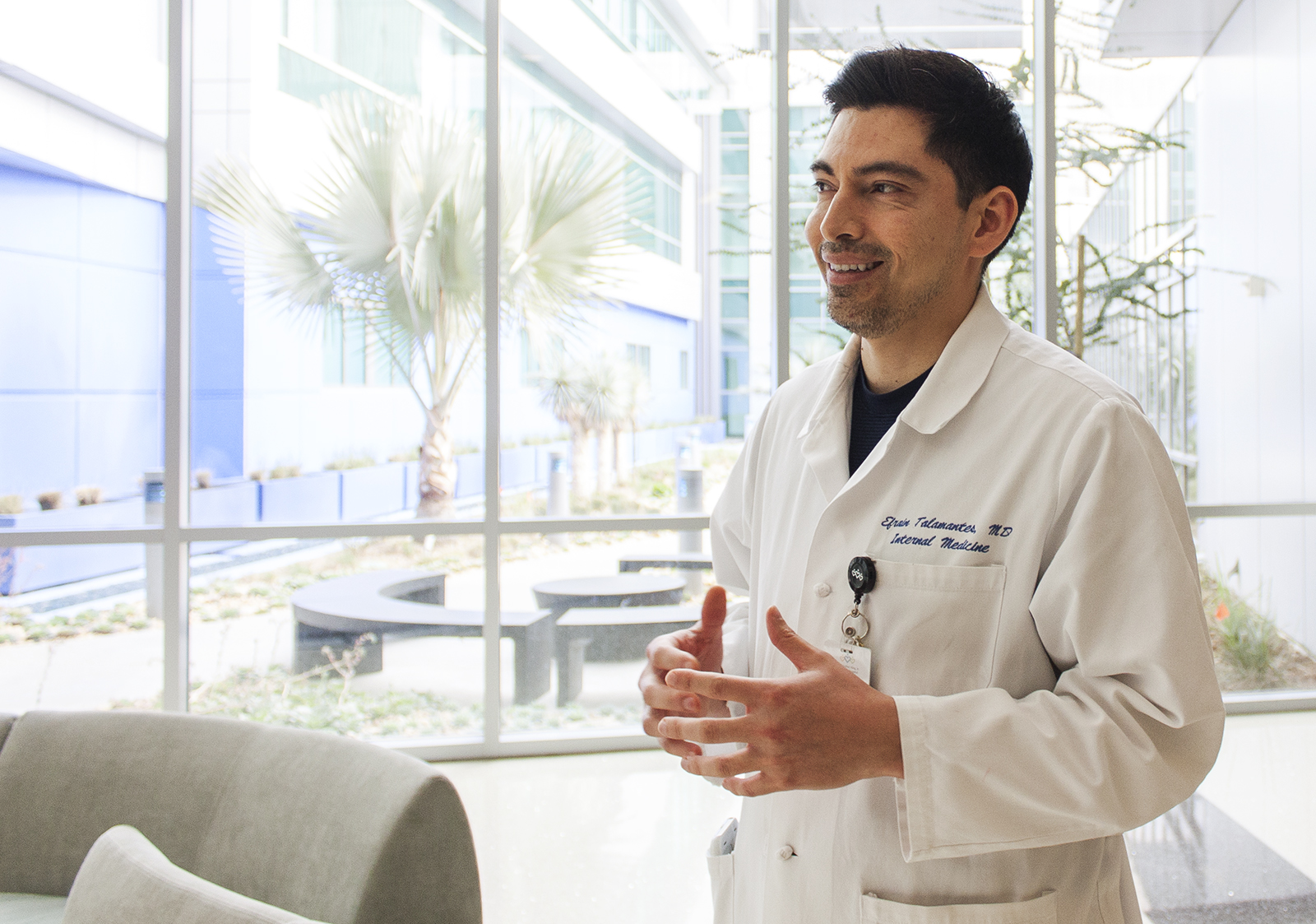 Efrain Talamantes' responsibilities as medical director include checking on overnight patients, looking up test results and discussing them with about 25 patients every day. (Kathy Chen/Daily Bruin)
By
Daily Bruin Staff
Jan. 11, 2016 7:46 a.m.
When Efrain Talamantes was young, his mother was sidelined from her job for months because she couldn't explain her arm injury to a doctor who didn't speak Spanish. So when Talamantes turned 10, he became his family's medical translator.
Now, Talamantes, a UCLA alumnus, arrives at the Martin Luther King, Jr. Community Hospital every morning at 7 to begin his work as the hospital's medical director. His responsibilities include checking on overnight patients, reviewing test results and discussing them with about 25 patients every day.
Talamantes' parents worked at a dry cleaning shop in Norwalk, California, after emigrating from Jalisco, Mexico. He said he grew up in a two-bedroom house with 15 relatives, and watched a language barrier keep his Spanish-speaking parents from receiving health care on several occasions.
When Talamantes was deciding a career path, he chose one – medicine – that allowed him to help families like his.
"It is too easy to rely on the children of immigrants to translate … but that shouldn't be the only resource that helps patients," Talamantes said.
While he was an undergraduate student at UCLA, Talamantes joined Chicanos/Latinos for Community Medicine, or CCM – a group that provides academic support to aspiring health care providers through education and volunteer opportunities in order to increase health care access to underserved communities. Talamantes said he was able to use what was familiar to him, language and culture, to help patients.
Through volunteering, Talamantes said he saw a way to help communities similar to those in Norwalk by obtaining an education.
"Many of us (at CCM) were the first in our families to even think about a career in medicine," Talamantes said.
Talamantes eventually took his first executive leadership position in CCM as Black/Latino AIDS project director. During his tenure, he taught high school students about sexual and reproductive health to help reduce the spread of HIV in minority communities.
Now, Talamantes often returns to UCLA to speak with CCM about his experiences growing up in a multicultural city.
"As a physician, I recognize the need for more individuals who not only are immigrants themselves or speak different languages, but who truly appreciate that immigrant and multicultural experience in a community," Talamantes said.

Talamantes said he thinks low-income students don't apply to medical school because they think they don't have high enough grades or MCAT scores.
"The type of students who apply to medical school, by far, don't come from those communities," Talamantes said.
UCLA alumna Vanessa Rangel met Talamantes through CCM. She said her friend, a first-year student at the Charles R. Drew University of Medicine and Science, was afraid to apply to medical school because she felt her MCAT score and grades were low. She said Talamantes encouraged her friend to apply and reminded them test scores do not define a medical student.
"Sometimes it just takes that one person to say, 'l believe in your success,'" Rangel said. "He truly takes notice of others, even if they've had struggles in the past."
Edgar Corona, a second-year student at UCLA PRIME medical school program at the David Geffen School of Medicine, also met Talamantes through CCM. A year ago, he and Talamantes launched a website – a program that connects high school students, undergraduates students, medical students, residents and physicians who mentor each other.
Corona said it was challenging to establish what a viable mentorship would look like and to find enough members to meet the needs of many different participants.
Now, the mentorship website focuses on the power of stories, Corona added. The website allows everyone to share individual experiences that resonate with other students and provide sources of inspiration.
"Even now, as a medical director of (Martin Luther King, Jr. Community Hospital), (Talamantes) is still involved," Corona said. "That is something that medical students need to see. As busy as Dr. Talamantes is, he finds time to support you and this cause."
Talamantes said he chose to work in South Los Angeles, close to where he grew up, because he wants to find realistic ways to treat patients.
"I understand what if feels like not to have enough, to be on a low-budget, rice-and-beans diet," he said. "I know not only how to treat their disease, but also how to design a plan that is going to work for them."