Women's basketball trounces No. 11 Oregon State in 71-51 upset win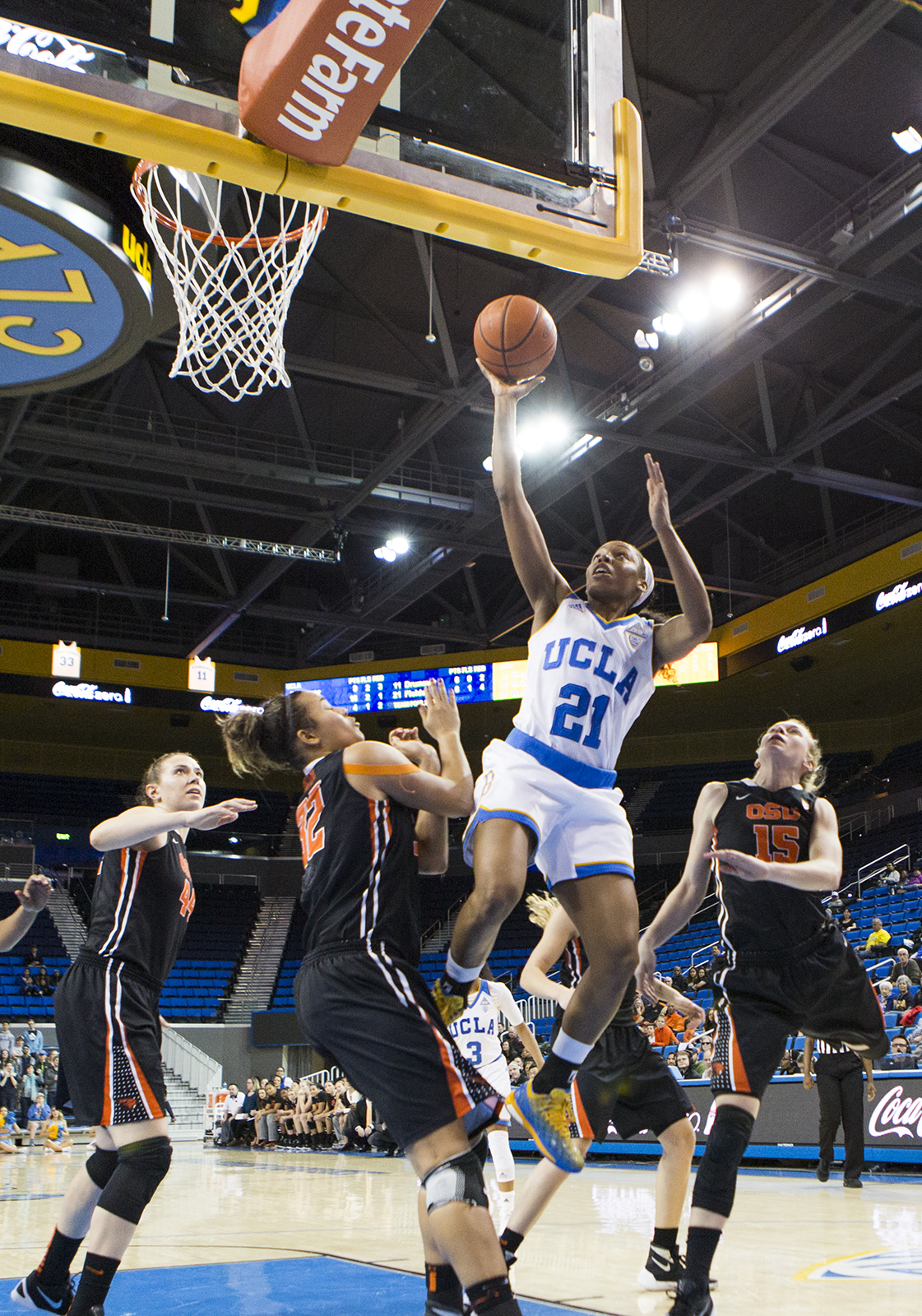 Senior guard Nirra Fields was one of three UCLA women's basketball players with double-digit points. Fields added five rebounds. (Jintak Han/Daily Bruin)
Monday night's game between two top-20 women's basketball teams started as a physical back-and-forth showdown in Pauley Pavilion. But that was the first half.
In the final quarters, No. 15 UCLA women's basketball (11-3, 3-0 Pac-12) used its offensive weapons to pull away from No. 11 Oregon State (10-3, 1-1), gaining its most dominant conference win of the 2015-16 season with a 71-51 upset victory.
The 20-point trouncing marked a drastic change from the teams' first meeting last year, a 65-47 loss for the Bruins.
"I do think last year … it was probably a little too much (pressure) for as young as we were with seven freshmen and nine new players, but I think we are paying the dividends now," said coach Cori Close.
The home team, still undefeated in Pac-12 play, was led offensively by sophomore guard Jordin Canada, whose 24 points were double the next highest Bruin scorer.
The Bruins coupled that offensive outburst with their speed, using 12 steals to earn 23 points off of turnovers. Senior guard Nirra Fields totaled a game-leading four steals and tied senior forward Kacy Swain with a team-high five rebounds to get UCLA into transition.
"I know that when there's two or three people on me that I need to give it to my teammates," Fields said. "I know that I don't have to do everything and that they're capable of scoring when teams are triple- or double-teaming me."
Just as the visiting Beavers brought the pressure, the Bruins countered with an intensity of their own.
"When our guards really commit to really pressuring, then (sophomore forward Lajahna Drummer and Swain) will get up there and help with the traps to create an offense-inspired defense," said junior guard Kari Korver. "We committed to the game plans that the coaches gave us and it worked out."
As a physically large squad, the Bruins met their match with the Beavers, whose team displays the same amount of height and athleticism.
"(Their size and athleticism) changes our game plan. We know how they're going to protect the basket so we really worked on pull-up jumpers and all of our preparation," Close said. "This is our fourth game in eight days and they had that kind of pressure. Our game plan was to pull (senior center) Ruth (Hamblin) away from the basket and to make jumpers."
Hamblin, who averages 11.3 points and 9.4 rebounds per game, was limited to seven points and five rebounds Monday night.
"I think that (fouls) were a huge part of the game," Close said. "When we were able to give (Hamblin) her second foul that early I think that changed the complexity of the game. I was really pleased that we were able to that."
UCLA will travel across the city to face USC on Sunday night in its fourth conference game of the season. The Bruins defeated the Trojans 78-73 on Dec. 30.
Patton joined the Bruin in 2015 and contributed until she graduated in 2017. She spent time on the men's golf and women's golf beats.
Patton joined the Bruin in 2015 and contributed until she graduated in 2017. She spent time on the men's golf and women's golf beats.