Former Ireland president to speak for Luskin Lecture Series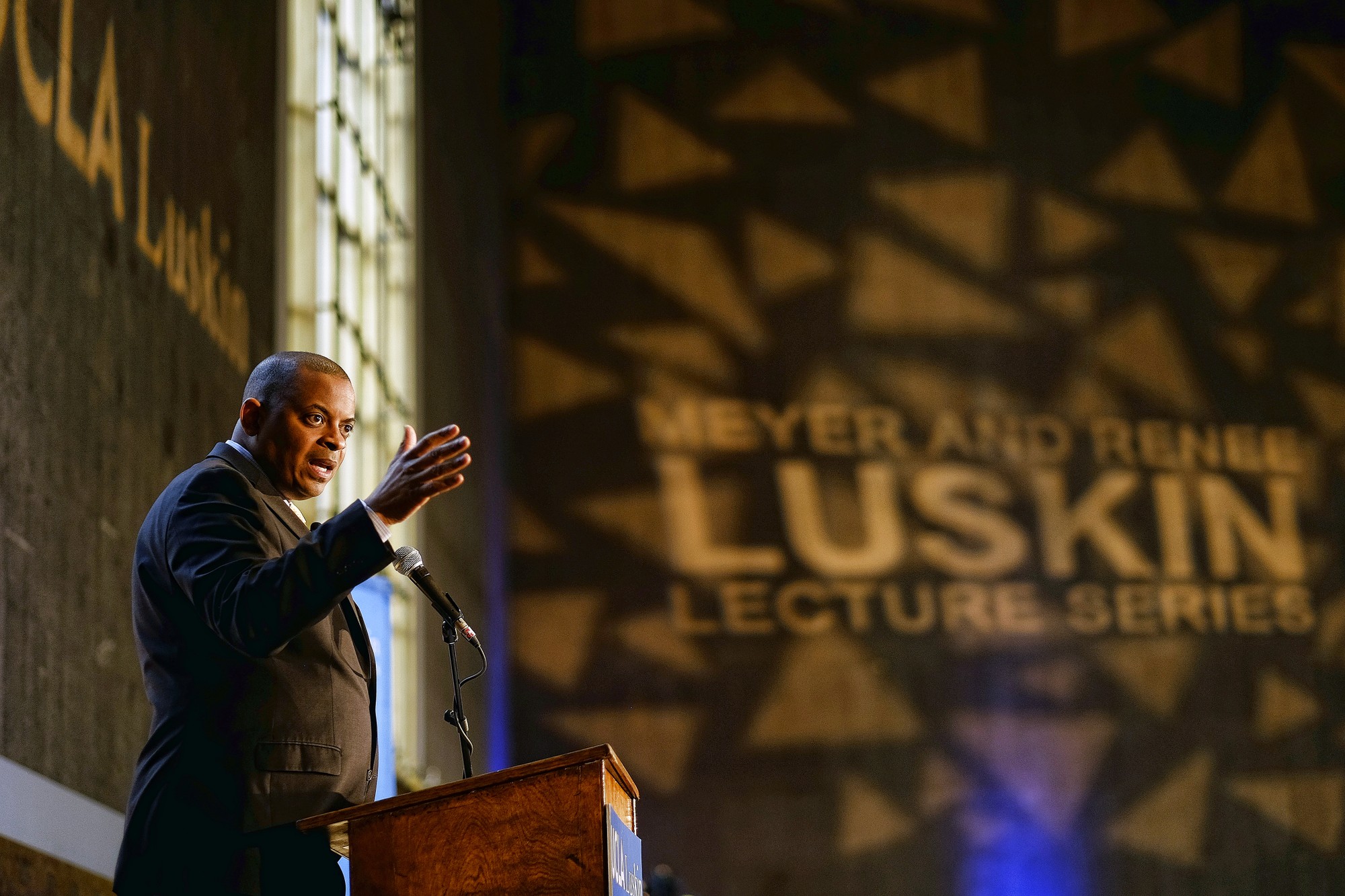 U.S. Transportation Secretary Anthony Foxx spoke in a Luskin Lecture Series event last year. This year Mary Robinson, former president of Ireland, will discuss climate change. (Courtesy of UCLAPubAffairs)
The former president of Ireland will give a lecture on international conflicts resulting from climate change next Tuesday as part of the Luskin Lecture Series.
Mary Robinson will be speaking in Kerckhoff Hall Grand Salon on Jan. 12 about the implications of the December United Nations Climate Change Conference in Paris.
Kate O'Neal, assistant dean for external relations at the UCLA Luskin School of Public Affairs, said the lecture series aims to open a forum for discussion among students, faculty and local activists about public policy issues. The Luskin Lecture Series was established in 2011 with a donation from UCLA alumnus Meyer Luskin and his wife Renee Luskin to bring world leaders to a local stage.
"The (School of Public Affairs) is now focusing on … global conflicts brought out by climate change," O'Neal said. "Robinson's vision for a sustainable green economy and her work in that area relates very much to what we do."
Mary Robinson served as the first female president of Ireland from 1990 to 1997. She is now an international figure and UN representative in climate change discussions, according to the President of Ireland website.
The School of Public Affairs will collaborate with Global Public Affairs, or GPA – a program established within the school in January 2014 – to train students to work internationally, to host the lecture.
Jeremiah Attermann, a second-year social welfare student at the School of Public Affairs, will be one of several students meeting with Robinson for questions before the lecture.
"These large-scale issues have very profound impacts on individuals," Attermann said. "Work in social welfare can't help these individuals unless we look at larger issues such as climate change."
Attermann, who is pursuing the global health and social services certificate in the GPA program, recently worked at child welfare services in South Africa as part of an internship. He said he hopes to take ideas from the lecture with him on his next internship abroad.
Steve Commins, associate director of GPA, said he invited Robinson to speak in an effort to further the climate change discussion at UCLA. He said he thinks she would help the school address more local issues like the drought crisis and its impact on the state of California.
"The state and its people have an important role in addressing the problem," Commins said. "My hope would be that this lecture will generate new interest … and we can come up with new research ideas that look at policy questions."
Commins said he will be teaching a class on climate change and health in the next academic year that will present conflict and human rights issues as discussed in Robinson's lecture.
Robinson's lecture intends to address the topic of global conflict brought about by climate change, said Commins. He explained climate change can create greater instability and insecurity, which can lead to situations of regional or local violence.
"In my view, (conflict) doesn't necessarily mean people start shooting each other," Commins said. "However, it will put pressure on many institutions and how they mediate this conflict. There's an increasing stress on people's survival, which leads to greater conflict over resources."
Attermann said he was looking forward to hearing Robinson talk about climate change issues from a social science perspective.
"From a social worker perspective, you can't help an individual without looking at the surrounding systems," Attermann said. "And climate is one of those systems."
Students and faculty can register until Thursday. Those who cannot be seated at the event can watch a live telecast in the Bruin Reception Room in Ackerman Union.