UCLA professor Patrick Harran loses nomination as AAAS fellow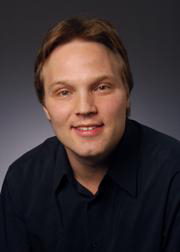 (UCLA Department of Chemistry & Biochemistry)
The American Association for the Advancement of Science, or AAAS, voted Tuesday to rescind UCLA professor Patrick Harran's nomination to be a fellow.
The association rescinded his nomination after learning the Los Angeles District Attorney filed felony charges in 2011 against Harran, a chemistry and biochemistry professor, for labor code violations that led to the death of one of his lab technicians.
Sheharbano "Sheri" Sangji, a research assistant, died in 2009 after using chemical t-butyl lithium, a highly flammable substance, in Harran's lab without proper safety equipment. Sangji suffered second- and third-degree burns and died in the hospital 18 days later from the injuries she sustained.
In the criminal investigation that followed, the California Division of Occupational Safety and Health determined Sangji lacked proper safety training and equipment. Sangji's case was the first official criminal case to involve a laboratory accident.
Sangji's family wrote to the AAAS Council on Dec. 9 to demand the council to withdraw Harran's nomination, alleging Harran's misconduct caused the death of their daughter. In a Dec. 14 statement, AAAS officials said they would reevaluate his nomination after committee members decided not enough of Harran's information was reviewed.
Harran accepted responsibility for Sangji's death in a settlement six years after the accident. As part of the settlement, Harran completed 800 hours of community service and paid a fine of $10,000.
UCLA officials said they are disappointed by AAAS' decision to rescind Harran's nomination in a statement released Tuesday.
"Although all concerned lament the tragic laboratory accident that occurred in 2008, professor Harran's work has important implications for cancer research and deserves recognition," UCLA officials said in the statement.
Harran could not be reached for comment. Colleagues in his department declined to comment.
Compiled by Shweta Chawla and Nicholas Yu, Bruin senior staff.