'Shtick not Shtigma' targets misconceptions about mental illness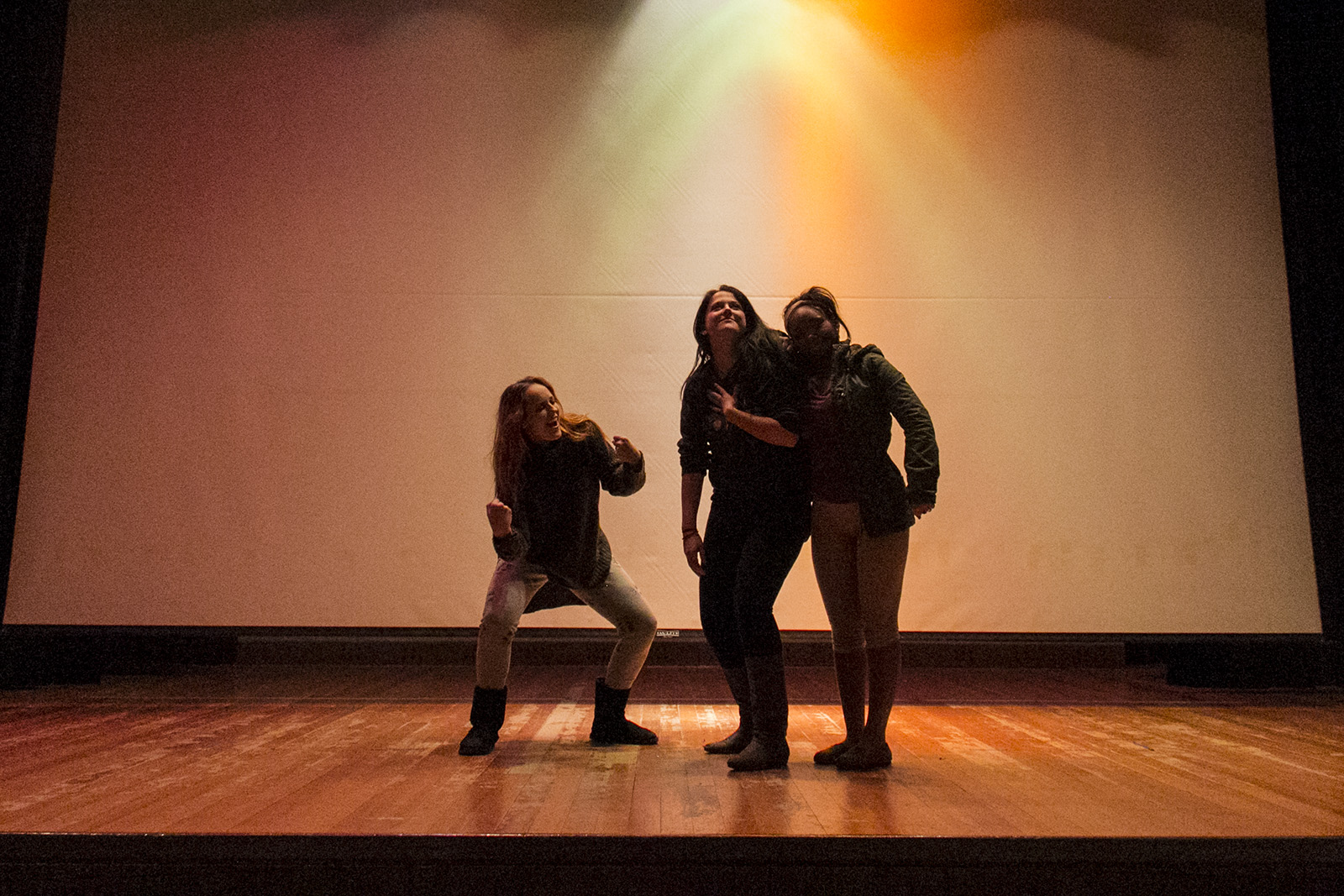 Members of the "Shtick not Shtigma" comedy troupe rehearse for its first improv show, "Joyology," at the Semel Auditorium. (Zinnia Moreno/Daily Bruin)
Charmee Taylor crawled across the Semel Auditorium stage on all fours and noisily slurped up a troop of imaginary ants marching her way as she imitated a depressed aardvark.
Taylor is one of seven actresses in the Semel Institute for Neuroscience and Human Behavior's "Shtick not Shtigma" improvisational comedy troupe, a group of young Los Angeles women united by their shared experiences with mental health illnesses such as depression, anxiety disorders and post-traumatic stress disorder. "Shtick not Shtigma" is the first performance troupe sponsored by Semel Institute's UCLA Center for Social Medicine.
On Thursday afternoon, the troupe will premier its 30-minute show, "Joyology," at the Semel Auditorium. Marcia Meldrum, producer and associate researcher in the History and Social Studies of Medicine group at the Semel Institute, said the school collaborated with the Los Angeles County Department of Mental Health to sponsor the project.
Meldrum put out a casting call for "Shtick not Shtigma" in September. She said she hopes the production will enable people to see mental health patients in an honest light, rather than make common associations between those with mental health illnesses and perpetrators of crime.
"We (want this) project to reduce the stigma surrounding mental health and mental health treatment," she said. "If we can take this show to the community, I hope it can be an educational device."
Meldrum said the performers took it upon themselves to continue the show even after the troupe's original director left the project about a week ago. She added performer Stepy Kamei became the troupe's unofficial director.
Kamei was diagnosed with depression in January 2014 after her weight dropped below 100 pounds and she realized she needed professional help. In the months following her diagnosis, she began a treatment regimen of prescribed medication, exercise and psychological therapy. Later, she also used performing arts to help her cope with her illnesses.
"Comedy is a coping mechanism for people with mental illness," said Kamei, who also battles anxiety, PTSD and obsessive-compulsive disorder. "(The troupe members) think it's a great way to entertain people and have them walk away learning something more about mental health."
Taylor said she also struggled with heavy depression during college, often spending entire days secluded within her dorm room in the dark. Some days, the only thing she looked forward to was watching the comedy TV show "30 Rock" on Netflix.
One day in acting class, Taylor's teacher encouraged her to try comedy. Taylor was surprised when people laughed at her jokes and knew she had unlocked something important.
"(College) was the most depressing time of my life," she recalled. "Now, as I go through my daily life, rehearsal is (always) in the back of my head."
During their shows, troupe members ask the audience to shout out celebrities, animals and emotions to determine topics for various games and skits, Meldrum said. While practicing a game called "Slideshow," three girls threw themselves into wacky, spontaneous poses while Kamei narrated their actions in a gruff voice.
During the "Slideshow" rehearsal, performer Nicole Elliott posed facedown on the floor for over a minute. Elliott, who began acting when she was 4 years old, said performing with "Shtick and Shtigma" has reduced her fear of taking risks.
"(When) I audition for TV, they try to fit you into this exact, perfect little box," said Elliott, who has depression and anxiety. "Here, I can create my own definition of who I am. If I want to be a guy, a dog or a bumblebee, I can."
Taylor said the troupe, which gathers every Wednesday for three-hour rehearsals, has created a safe haven where members can feel accepted and free to be themselves. Early on, Kamei added the performers would sit down during breaks to talk about their life experiences and their excitement to bring the project to life.
"When someone has panic attacks at rehearsals, we say, 'We'll wait until you calm down. What do you need?'" Kamei said. "In other situations, they might've felt embarrassed, (but) on stage, we feel completely okay and honest with each other."
Meldrum said she's excited about Thursday's performance and hopes "Joyology" can give health care professionals new ideas about helping their patients express themselves.
"One of the problems people with mental illness have – in addition to facing stigma – is that they're not confident about themselves," Meldrum said. "They can live restricted lives governed by medication … We need to keep looking for strategies to engage (patients) socially."
L.A. County and California state officials have called for recovery-oriented approaches in mental health treatment, with the passage of the Mental Health Services Act in 2004, Meldrum said. She added professionals continue to search for treatment strategies like comedy that could help people be more open.
Kamei said the experience gives her a strong sense of purpose about dispelling the misconceptions and shame attached to mental illness.
"Some people are starting to associate mental illness with people who are disturbingly violent … We want to normalize mental illness, accept it and understand it's not a threat to society."
After this month's show, the troupe plans to stage monthly performances through summer of 2016, Kamei said. The troupe is planning to schedule performances at venues such as the Los Angeles Central Library and the Los Angeles County Museum of Art.