A look back at UCLA's storied history of perfection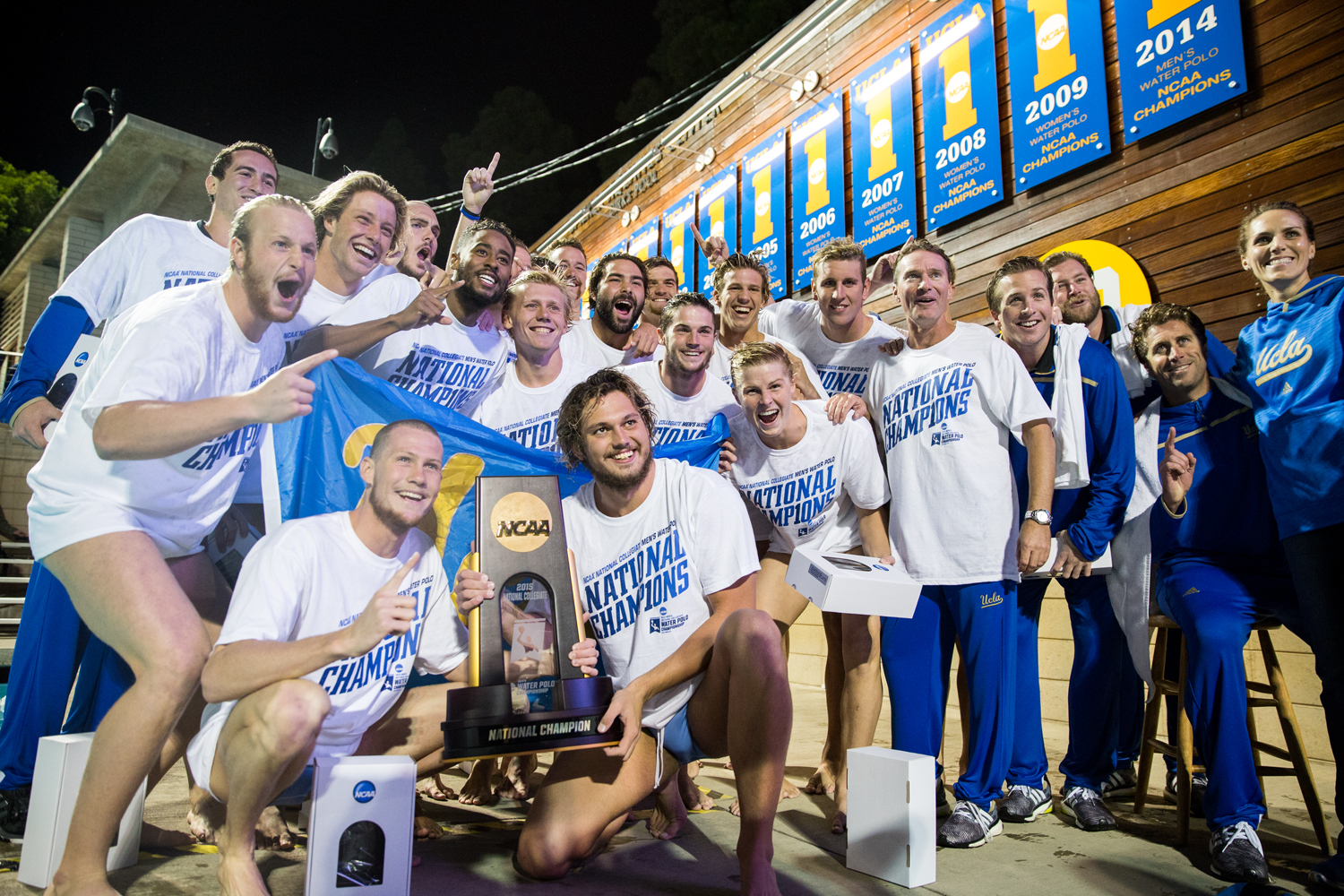 The 2015 UCLA men's water polo team claimed its second NCAA championship in as many years Sunday evening at Spieker Aquatics Center. (Aubrey Yeo/Daily Bruin senior staff)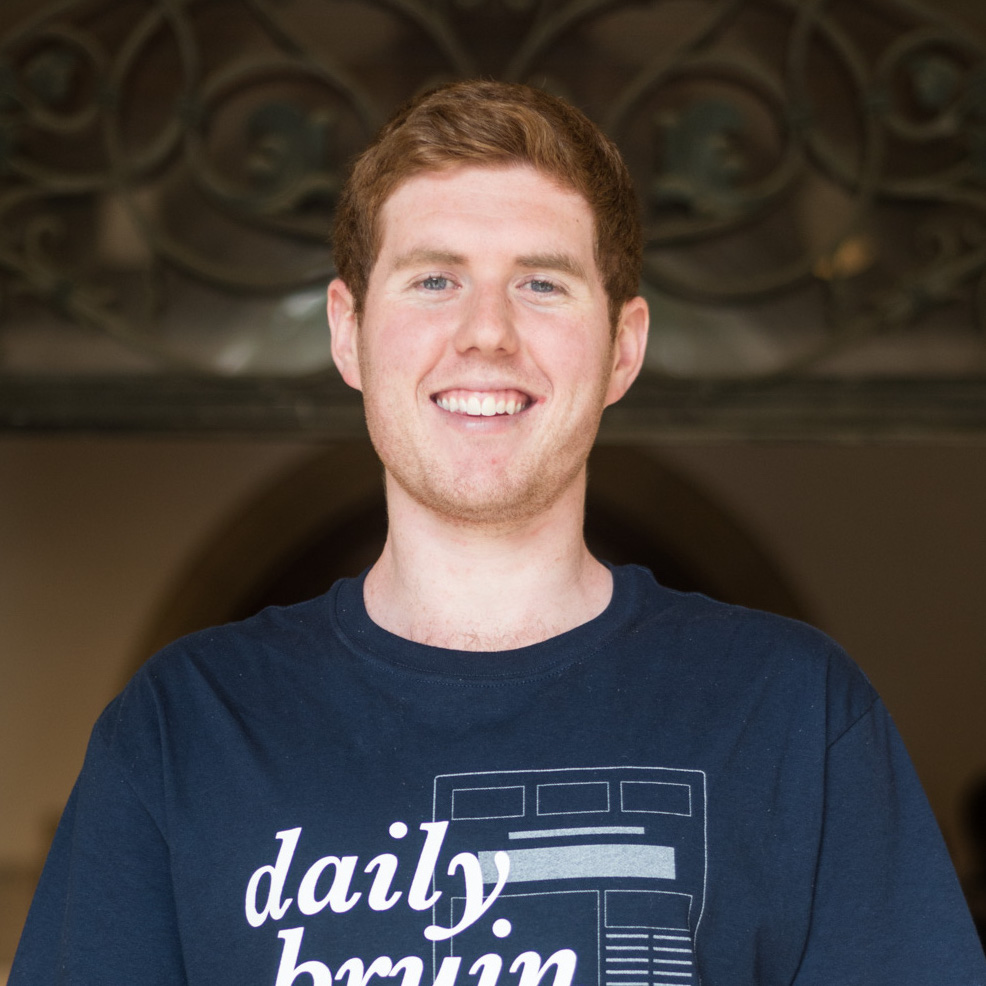 It's important to distinguish two important adjectives that have often been attached to the 2015 UCLA men's water polo team before we can truly appreciate its dazzling 30-0 record.
Undefeated versus perfect.
In general, a perfect team is guaranteed to be undefeated, but an undefeated squad? Sometimes far from perfect.
Just look at the 1939 UCLA football team – a group that featured historic figures in Jackie Robinson and Kenny Washington. The Bruins never lost in their 10 games, but four ties kept them from perfection, as they drew nearly as many times as they won.
Sure, the distinction is a bit particular, but don't worry, it only gets more confusing.
For instance, do you need to be a national champion to gain perfection?
The 1972 UCLA women's tennis team finished 8-0 – years before a conference tournament was set up and a whole decade before a NCAA Tournament was instituted. Sixteen years later, the 1988 women's gymnastics team completed its first undefeated regular season but only managed third place in the national meet.
So, within the realm of perfection, there's a purer, more true form of perfect: A team that runs the gauntlet – the whole gauntlet – and becomes a champion.
In the recorded history of UCLA Athletics, there have only been 17 such teams, and one of them completed its historic run Sunday evening at Spieker Aquatics Center.
With a 10-7 victory over the rival USC Trojans, the 2015 men's water polo team secured its place among Bruin legends, joining a short list highlighted by the golden years of the Wooden era, J.D. Morgan-led tennis squads and Al Scates' strongest volleyball teams.
Here's a look back at the complex and star-studded history of perfection-seeking UCLA teams.
Football
To start, we have to rewind over 60 years to 1954. This may be the lone controversial selection of all 17 perfect UCLA teams because the '54 Bruins never became true national champions; instead, they were co-champions with the Ohio State Buckeyes.
How did that happen to a 9-0 team that stomped its way through the Pacific Coast Conference? It happened because of a now-archaic "no repeat" rule that kept teams from playing in the same bowl in consecutive seasons.
The year prior, UCLA lost to Michigan State in its first Rose Bowl appearance since 1946. With the ban in place, the Bruins were prohibited from competing in the season finale, and the rival Trojans – who UCLA had already defeated 34-0 – took their place.
USC would go on to lose to the Buckeyes, and UCLA would be rewarded with the national co-championship. The Bruins were never given a fair chance to take the title, so the shared honors allow 1954 to be considered a perfect season. It's as perfect of a year as the football program has ever had.
Men's tennis
That same year, the men's tennis team won its third national title in a row, achieving its first perfect season along the way. The dominant dual play would continue for over another decade with coach Morgan, as the team won four more championships – two of which were perfect in '61 and '65. The 1965 team, featuring Arthur Ashe, became the first Bruin team to clinch perfection in Westwood, with UCLA hosting the national championship that spring.
The Bruins could have had another in a 9-0 1958 season, but a three-year ineligibility ban cut their championship hopes short. The ban was the byproduct of a five-year investigation by the Pacific Coast Conference that accused UCLA and other rival schools of booster misconduct – alleged payments to student-athletes. The PCC imposed heavy sanctions that, ultimately, led to the downfall of the entire league.
Glenn Bassett became coach at the end of the '60s, and would help the program tack on another two perfect seasons – 1971 and 1975 – within the first decade of his 27 years of coaching the Bruins. The 1975 team included singles champion Billy Martin, UCLA's current head coach.
Men's basketball
Of course, no discussion about perfection can go without recognizing John Wooden's quartet of undefeated teams. Those four championship squads may easily be the most famous and recognizable examples of perfection in all of collegiate athletics, and with good reason.
Starting with 1964, Wooden's 16th season as UCLA's coach and his first national championship, the Bruins would unleash a decade of dominance. Like each of the four perfect years, the 1964 title team – powered by senior guard Walt Hazzard – finished with a clean 30 victories.
1967 starred Lew Alcindor, known later as Kareem Abdul-Jabbar. 1972 and 1973 brought Bill Walton. All of them were courtesy of Coach.
And, if not for Alcindor's scratched cornea nearly 47 years ago, the list might be one season longer. But the Game of the Century happened and the 1968 UCLA team could only manage a 29-1 record to go with another national title, thus leaving the men's basketball program with a mere four perfect seasons.
Men's volleyball
The men's volleyball program roared onto the scene in the 1970s and '80s, as the Bruins began their reign over the world of collegiate volleyball. In 1979, Al Scates' team won its seventh title in 10 years, going 30-0 and taking the championship in front of the home crowd at Pauley Pavilion.

The '79 team was the first in collegiate men's volleyball history to achieve perfection, and it wouldn't be the last for Scates. Within six years, he would add two more perfect seasons and four total NCAA championships, including another at Pauley Pavilion.
Scates would ultimately lead UCLA to 19 titles in his 50-year coaching career, retiring in 2012, with the 1984 team representing his third and final season of perfection.
Women's water polo
A 20-year drought ended in the Adam Krikorian era of dominant women's water polo teams. The 2005 and 2008 squads combined to go 66-0, accounting for two of the five consecutive national titles the Bruins would win.

The perfect seasons were capped off by victories over USC and bookended the collegiate careers of five seniors from the 2005 freshman class. Those five players were the first female athletes in UCLA history to capture four NCAA titles in their four years of competition.
Men's water polo
Before Sunday, the sole perfect season for UCLA men's water polo occurred more than 45 years ago. The 1969 squad, coached by Bob Horn, went 19-0 to become the first NCAA champions in the history of the sport. The Bruins had previously gone 50-0 during a five year stretch – 1964-1968 – with three undefeated seasons sandwiched in between, but the sport wasn't sponsored by the NCAA so there was no national championship.
The 2015 squad's current streak of 33 wins is second only to the Bruins' pre-NCAA dominance.
Near misses
Countless UCLA teams have come ever-so-close to perfection, grasping the fringes of glory but falling just shy.
Neither soccer program, two of the strongest in collegiate history, has been able to pull off the feat. The men went 14-1-0 and 16-1-0 in 1969 and 1970, respectively, yet that's as close as they've ever gotten. On the women's side, the Bruins have had six seasons in the past decade alone where they've lost no more than two games but perfection still eludes them.
In the 45-year history of UCLA women's volleyball, the Bruins have finished five seasons with only one loss, yet no team has been able to achieve a perfect record.
Softball, a sport with so many games that it would be near impossible to go undefeated, had its best season in 1992 with a 54-2 record. The Bruins would win the NCAA championship and still hold the record for fewest losses for a softball champion.
It seems hard to include women's basketball, a program that amassed three losses in its best season 35 years ago. There have been so many three-loss teams in the history of UCLA's almost-perfect teams that the feat – while impressive – remains far from perfect in the relative terms of Bruin sports.
2015
Sunday's championship was historic but, clearly, not unprecedented. This was a team that cruised its way to the final, a poised group that had been to the top before and knew how to get it done.
In four months, the 2015 men's water polo team sailed through 30 games on its way to history and, with just two graduating seniors, the question now is whether the team will be able to continue its winning ways in 2016.
No matter how far the Bruins go, though, one thing is for sure: They have joined rare company, right up there with some of the greatest sports figures in UCLA history who have managed to survive a season undefeated.
Undefeated and, yes, perfect.
Walters joined the Bruin as a freshman in 2014 and contributed until he graduated in 2018. He was the Alumni director for the 2017-2018 academic year, Editor in Chief for the 2016-2017 academic year and an assistant Sports editor for the 2015-2016 academic year. Walter spent time on the football, men's basketball, men's volleyball, men's soccer, men's water polo and rowing beats.
Walters joined the Bruin as a freshman in 2014 and contributed until he graduated in 2018. He was the Alumni director for the 2017-2018 academic year, Editor in Chief for the 2016-2017 academic year and an assistant Sports editor for the 2015-2016 academic year. Walter spent time on the football, men's basketball, men's volleyball, men's soccer, men's water polo and rowing beats.