UCLA officials plan to shut down white student union Facebook page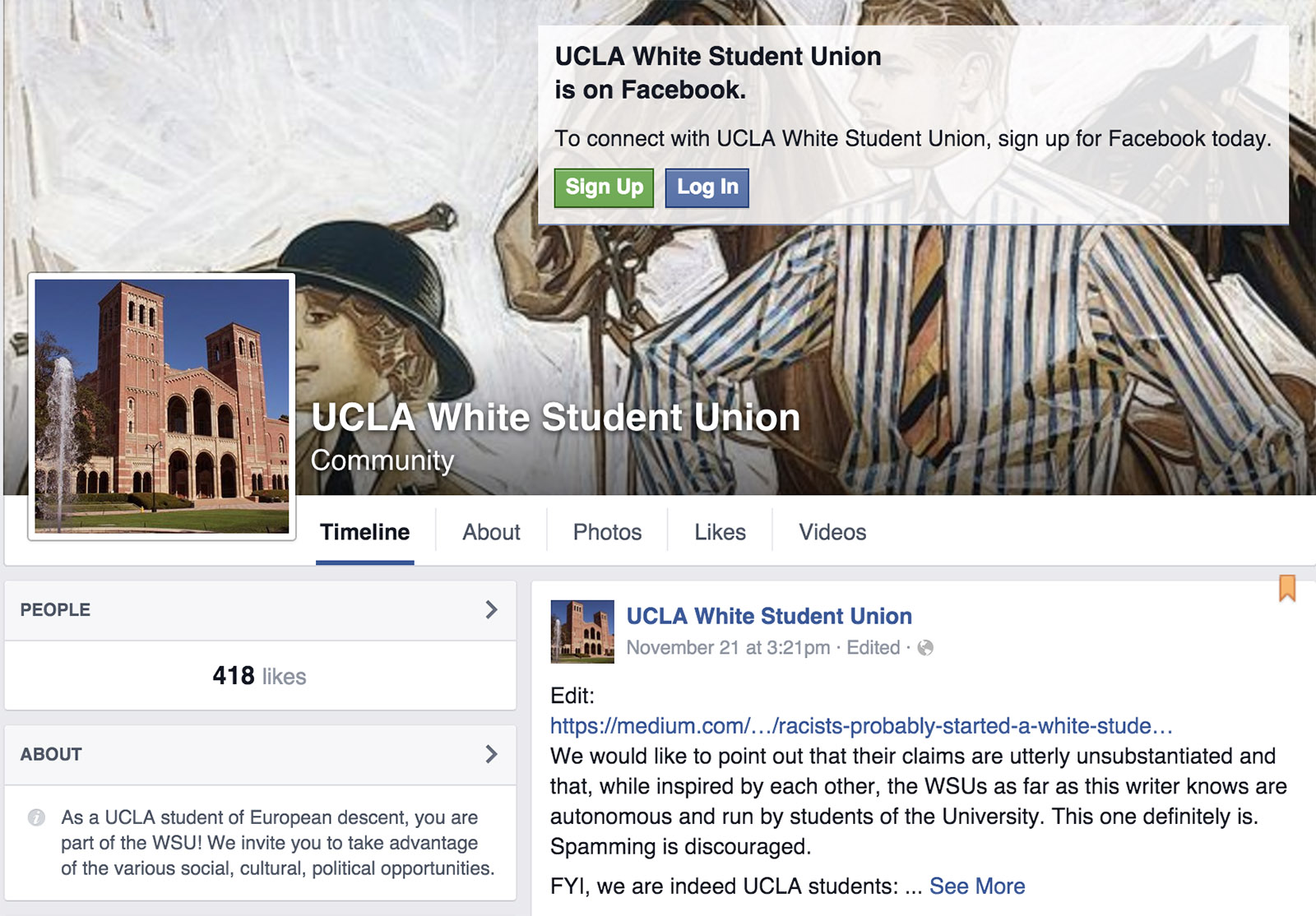 UCLA administrators will shut down the White Student Union Facebook page, which has a description claiming it was created by UCLA students. (Screenshot of UCLA White Student Union Facebook page)
UCLA administrators said they intend to shut down the UCLA White Student Union Facebook page, in a statement released Tuesday to some student organization leaders.
Officials said in the statement they think the page misrepresents UCLA and could mock student groups that advocate for equity. The page was created several weeks after the Afrikan Student Union protested against what they called a lack of administration action to improve the campus climate.
The UCLA White Student Union Facebook page, which was created on Nov. 20, invited students of European descent to join the group and take advantage of privileges afforded to people of their culture, according to the page.
Janina Montero, vice chancellor of student affairs, said in an email statement that people unaffiliated with UCLA probably manage the Facebook group. Montero added identical Facebook groups have surfaced at other universities, such as UC Berkeley.
Those who post as the page's owners shared a photo of a student BruinCard in an attempt to verify they are UCLA students.
Starting mid-November, posts on social media encouraged people to create white student unions for different universities, regardless of whether they attend the school. At least 30 white student unions affiliated with universities have been created as of Tuesday, according to the Washington Post.
UCLA spokesperson Rebecca Kendall said in an email she thinks the page is intended to provoke students rather than to promote healthy dialogue on campus issues. Kendall added UCLA supports students' First Amendment rights, but does not support efforts that ridicule the work of student activists.
Those who post as the UCLA White Student Union declined to comment.
UCLA officials said they are working with Facebook representatives to take down the page, but did not specify a course of action.
Compiled by Nicholas Yu, Bruin senior staff.