USC creates own luck to stage comeback victory over UCLA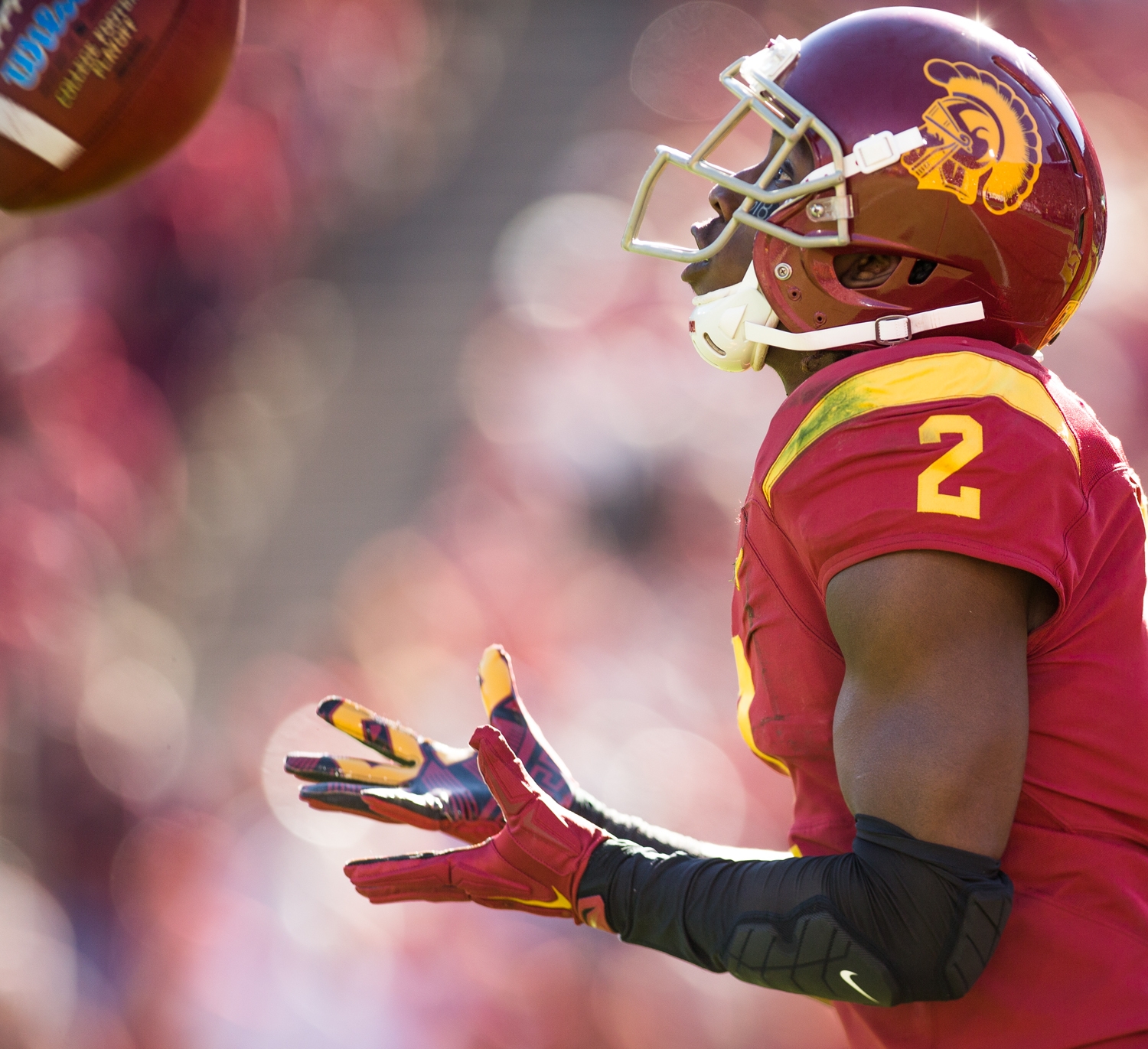 USC cornerback Adoree Jackson zeroes in on a kick return. Jackson staged a 42-yard punt return in the second quarter that culminated in a touchdown. (Aubrey Yeo/Daily Bruin senior staff)
It was an opportunistic team performance that allowed USC to stun its crosstown rivals Saturday afternoon. The Trojans created their luck, with defense and special teams forcing Bruin mistakes at key moments and the offense capitalizing when it mattered.
Twice this game the USC unhorsed UCLA just as the Bruins were gathering momentum, seizing the reins and reversing the course to its advantage. Two crucial Trojan counterattacks – one on either side of halftime – floored the Bruins and spurred the Trojans to victory.
"It's just frustrating when you can look back on specific moments and say 'that's when we could have been better,'" freshman quarterback Josh Rosen said. "There's a lot of plays I wish I could have back."
USC first struck with two minutes left in the first half, just after a long drive cut UCLA's lead to 14-13. The Trojan defense harried Rosen on the third down, sacking him deep in his own territory. The ensuing punt was poor and Trojan sophomore Adoree' Jackson made the Bruins pay, the dangerous returner taking the ball 40 yards down the left sideline for a go-ahead touchdown.
"We tried to keep it away from (Jackson) or make him move to catch it," said coach Jim Mora. "The more times that guy touches (the ball), it's playing with poison. We did a good job except for that play. Those 'except for' plays are certainly a difference."
UCLA managed to pick itself up from that blow, scoring on its second drive of the third quarter to once again regain the lead, 21-20. The Bruins looked poised to extend their advantage as they forced a USC three-and-out on the next possession.
But the Trojans countered again, dropping the Bruins to the ground once more – this time with a knockout blow.
First came a sack of Rosen, whose attempt to throw the ball away was stripped. The ball bounced into the hands of defensive lineman Rasheem Green, who galloped into the end zone for a touchdown that sent the Bruins reeling.
But USC wasn't done yet. On the very next possession, the Trojans pressured Rosen into a weak third-down throw that was intercepted by cornerback Iman Marshall. Eight plays later, the Trojans slammed the door with a touchdown that put them up by 12 points heading into the fourth quarter.
From there, all the offense had to do was run UCLA into the ground, veritably steamrolling the Bruin run defense for the rest of the game. The team racked up 118 rushing yards in the second half, eating up the clock and icing the game.
Before it turned into the blowout reflected on the scoreboard, this game hinged on a few key moments. And it was USC's jiu-jitsu, its ability to turn unfavorable positions into small victories, that defined the night.
"This was a total team victory," said interim USC coach Clay Helton. "It was a great defensive effort, great ability to run special teams and to run the football. … I am so proud and am a little bit lost for words."