How the new $650M USC Village stacks up against Westwood Village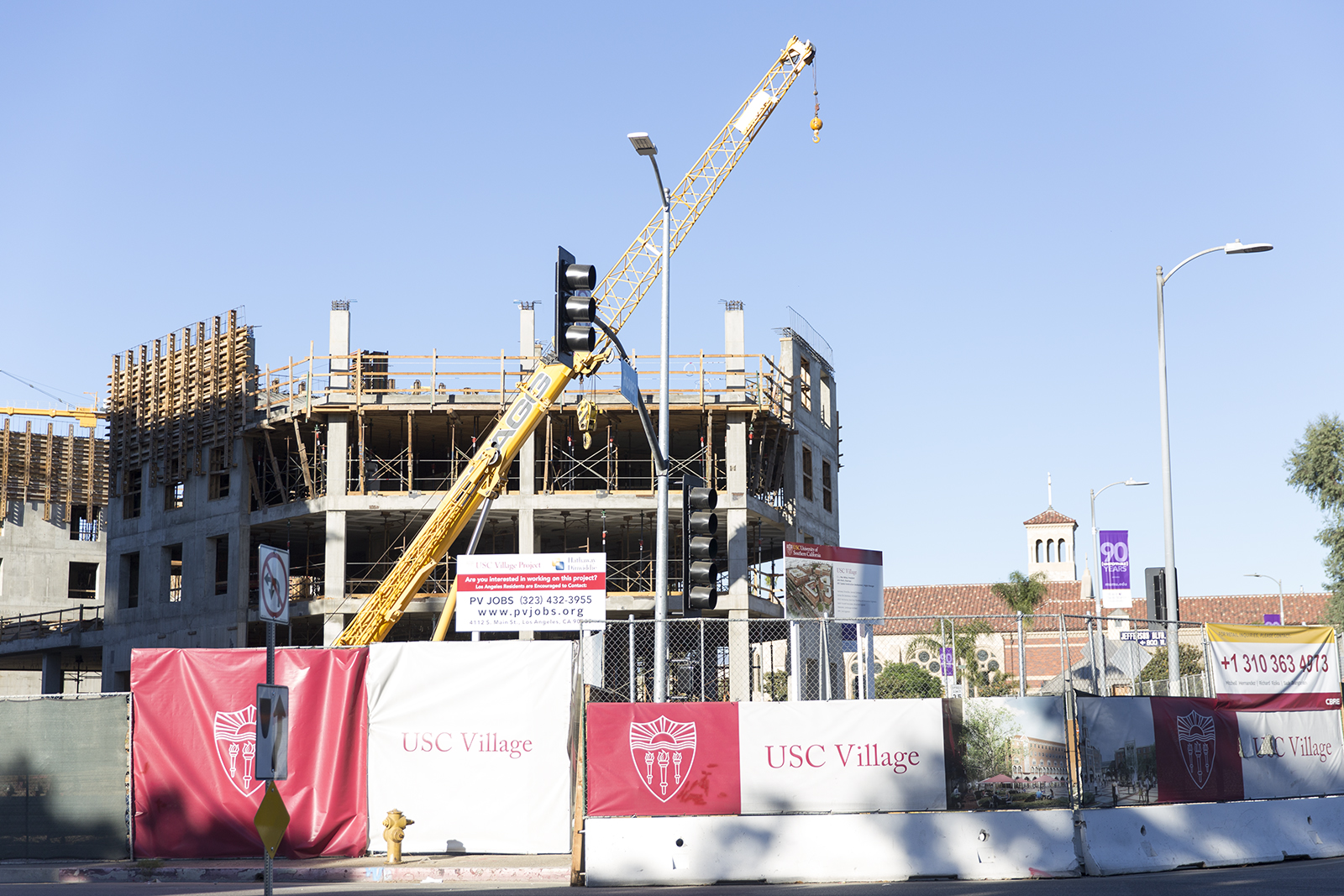 USC is constructing a $650-million University Village that will include five-story residence halls, restaurants, shops and a large recreational plaza. The university announced the plan last year and estimated it will be completed by 2017. (Aubrey Yeo/Daily Bruin senior staff)
Westwood Village has been a historical part of UCLA since its opening in 1929, a community USC's upcoming university village will attempt to establish in only three years, Westwood officials said.
USC is constructing a $650-million University Village that will include five-story residence halls, restaurants, shops and a large recreational plaza. The university announced the plan last year and estimated it would be completed by 2017.
Both Westwood Village and USC's village will offer immediate access to housing, restaurants and retail shops for students, but Westwood Village transformed from a shopping center to a movie premiere capital, before settling into the quiet town it is now. USC will own its university village, but Westwood is independently owned.
The USC Village will replace the recently-demolished shopping center on Jefferson Boulevard and Hoover Street, previously the school's only off-campus activity center. The new village will consist of a large recreational plaza surrounded by Collegiate Gothic-style buildings, which will include housing for 2,700 students, as well as a Trader Joe's grocery store, drugstore and fitness center, according to the USC Village website.
Andrew Thomas, executive director of the Westwood Village Improvement Association, also known as the BID, said he thinks USC's University Village is an impressive piece of work and a great amenity for the school.
"There has been a demand for something like this at USC for a very long time, and the students will get a lot of use out of it," he said.
Anastasia Loukaitou-Sideris, an urban planning professor and USC alumna, said she remembers the previous village as an enclosed and limited space. She added she thinks USC's village plan will be an improvement compared to what existed before, but still prefers the open setting of Westwood Village.
"The USC Village plaza will be one concentrated mega-development, while Westwood Village has been developing organically since the 1930s," she said.
Loukaitou-Sideris added she thinks Jefferson Boulevard, a wide street with very heavy traffic, will divide the university and its village, while Westwood does not have any such dividers. She also said there are more safety concerns at the USC Village than at UCLA's because the crime rate in South Los Angeles is higher than in Westwood.
As a safety measure, only students, staff, faculty and registered guests will be allowed to enter the USC Village complex between 9 p.m. and 6 a.m., according to the Los Angeles Times.
Some members of the surrounding community opposed the USC Village plan because they think it will cause gentrification, or displacement of low-income residents.
Paul Ong, a UCLA urban planning professor, said the construction of the USC Village is part of a larger change to South Los Angeles over the past decade.
"It is leading to an upscaling of the area," he said. "Some displacement is direct, and people are squeezed out. For example, low-income households (are excluded) because of higher rents."
Chris Tilly, professor of urban planning and director of the UCLA Institute for Research on Labor and Employment, said he thinks gentrification comes with the territory for development projects in low- to moderate-income areas.
"There was a way to (incorporate) the community as well, and USC has chosen not to do that," he said. "Those who are most active in the surrounding community believe the university is not being a good neighbor."
Tilly added he thinks universities' interests override those of the resident community in college towns.
"Universities are the 800-pound gorilla, and communities typically get steamrolled with decisions like these," he said.
Thomas added the gentrification effect did not took place in Westwood because it has never been a low-income area.
He said UCLA does not dominate all decisions in Westwood because the university does not own the Village, unlike the USC Village. Thomas added USC will not have to deal with competing interests because it owns the village, so restaurants, shops and amenities can be tailored to the student interests.
Thomas said he thinks the USC Village is modeled after Westwood, because the village has served as an example for other shopping districts in the past, such as The Grove and the Santa Monica Promenade.
He added the USC Village will always be different from Westwood Village, because Westwood was not manufactured as a college town.
"It's real and authentic," he said. "What you see in Westwood developed completely organically over the years."
Sierra deSousa is currently a news reporter covering Westwood, transportation and Los Angeles. She has also covered the University of California.
Sierra deSousa is currently a news reporter covering Westwood, transportation and Los Angeles. She has also covered the University of California.