Aram Ghoogasian: Graduate Students Association President Milan Chatterjee should resign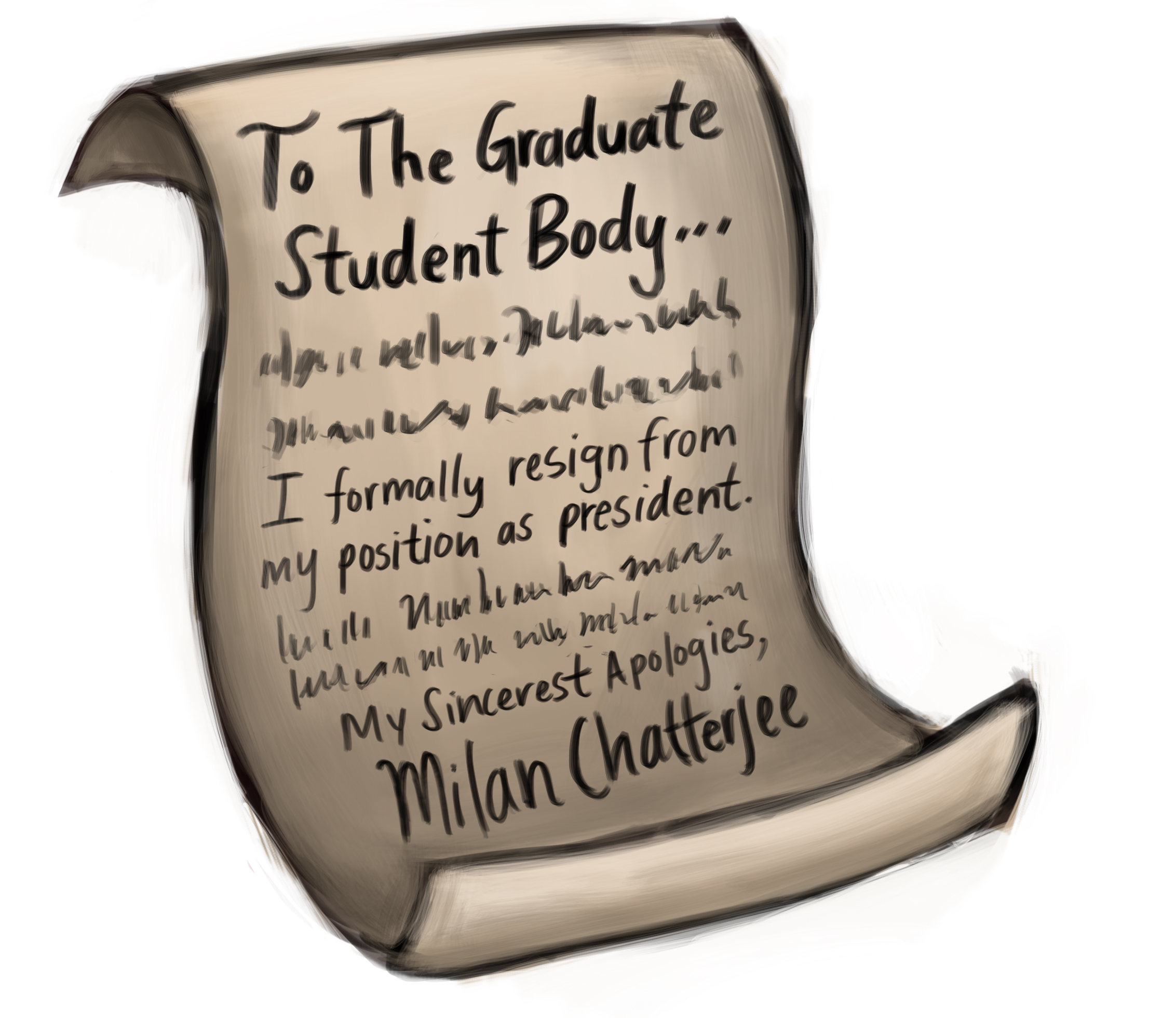 (Kelly Brennan/Daily Bruin senior staff)
Reports of free speech's death on our campus are often exaggerated.
But now that the UCLA graduate student government has violated the First Amendment in its attempt to silence student activists, such claims carry a bit more weight.
At the center of it all is a chain of emails sent by Graduate Students Association President Milan Chatterjee. He found it appropriate to threaten to withhold funding for the recent Diversity Caucus Town Hall unless the organizers of the event ensured that it have "zero connection with 'Divest from Israel' or any equivalent movement/organization."
These comments attracted the attention and harsh criticism of the American Civil Liberties Union, the Center for Constitutional Rights and Palestine Legal, who claim the policy constitutes "blatant, unconstitutional discrimination."
The GSA president countered by asserting that his policy is an attempt to remain neutral on the Israeli-Palestinian conflict.
Chatterjee is clearly unfit to act as the chief representative of the graduate student body if he is hell-bent on silencing certain voices and using public funds to advance this agenda. Although the office doesn't hold much power, letting these actions go unpunished sets an unsettling precedent.
To preserve what little integrity he may have left, Chatterjee must resign immediately. Should he decide against quitting on his own terms, steps should be taken to remove him from his post as GSA president.
In an attempt to save face, Chatterjee resorted to dishonesty to defend his actions, claiming that GSA passed a resolution to remain neutral on matters pertaining to the contentious conflict.
For one, a resolution with no legal weight does not exempt GSA from violating the First Amendment. Even so, the supposed resolution was passed Oct. 26, 10 days after he threatened to deny funding to the town hall. When asked for the minutes of the meeting in which the resolution was purportedly passed, Chatterjee referred Students for Justice in Palestine to UCLA's legal department.
He later contradicted himself, saying in a emailed statement that the "GSA Cabinet considered a conceptual resolution," not an actual resolution as he had told The Bruin last week.
At best, Chatterjee used a flimsy excuse to dig his way out of the hole he so painstakingly dug for himself. At worst, he was lying.
In yet another ill-conceived attempt to shield himself from criticism, Chatterjee claimed he'd withhold funding from the town hall if it included anti-divestment groups as well.
But such logic simply doesn't hold up. If an anti-divestment group was targeted alongside a pro-divestment one, Chatterjee would still be guilty of withholding funds based on a student group's political stance. He claims that GSA must remain neutral on Israel-Palestine, but silencing both sides still amounts to discrimination against students who decide to concern themselves with the conflict.
In a moment of delicious irony, he writes that the association he heads respects "the First Amendment rights of individual students," but follows up with an email stating that "GSA won't be able to provide funding" if pro-divestment groups are involved in the event.
What is perhaps most disturbing of all is that Chatterjee doesn't seem to know that what he did was wrong; he has yet to apologize or revoke the policy. In a move that only magnifies his oafish buffoonery, he is shifting the blame to SJP, saying the group "resorted to legal intimidation" and dismissing its legitimate case as a "smear campaign."
Such actions, by a student at the UCLA School of Law, no less, betray gross indiscretion and display incredibly high levels of ignorance. By requiring the exclusion of pro-divestment student groups from the town hall as a precondition for a funding allocation, Chatterjee attempted to suppress constitutionally protected speech. Under no circumstances should this type of behavior be tolerated.
If Chatterjee is allowed to retract the policy with no repercussions, the message we're sending is that discriminating against certain students because of their opinions isn't a serious offense. If he merely undoes his actions and remains GSA president, there is no serious deterrent to those who may want to replicate such policies in the future.
The bottom line is that Chatterjee thinks allocating funds for an event with the prerequisite that no group involved should represent a certain opinion is permissible when, in fact, it isn't.
Free speech is far from dead at UCLA, but we have a real problem on our hands and it needs to be rectified as soon as possible. Making an example of Chatterjee is the first step.
Aram Ghoogasian is an opinion columnist and a member of the Daily Bruin Editorial Board. He often opines about labor issues, the Israeli-Palestinian conflict and the University of California.
Aram Ghoogasian is an opinion columnist and a member of the Daily Bruin Editorial Board. He often opines about labor issues, the Israeli-Palestinian conflict and the University of California.