Senior Lane Werley shapes the future of UCLA running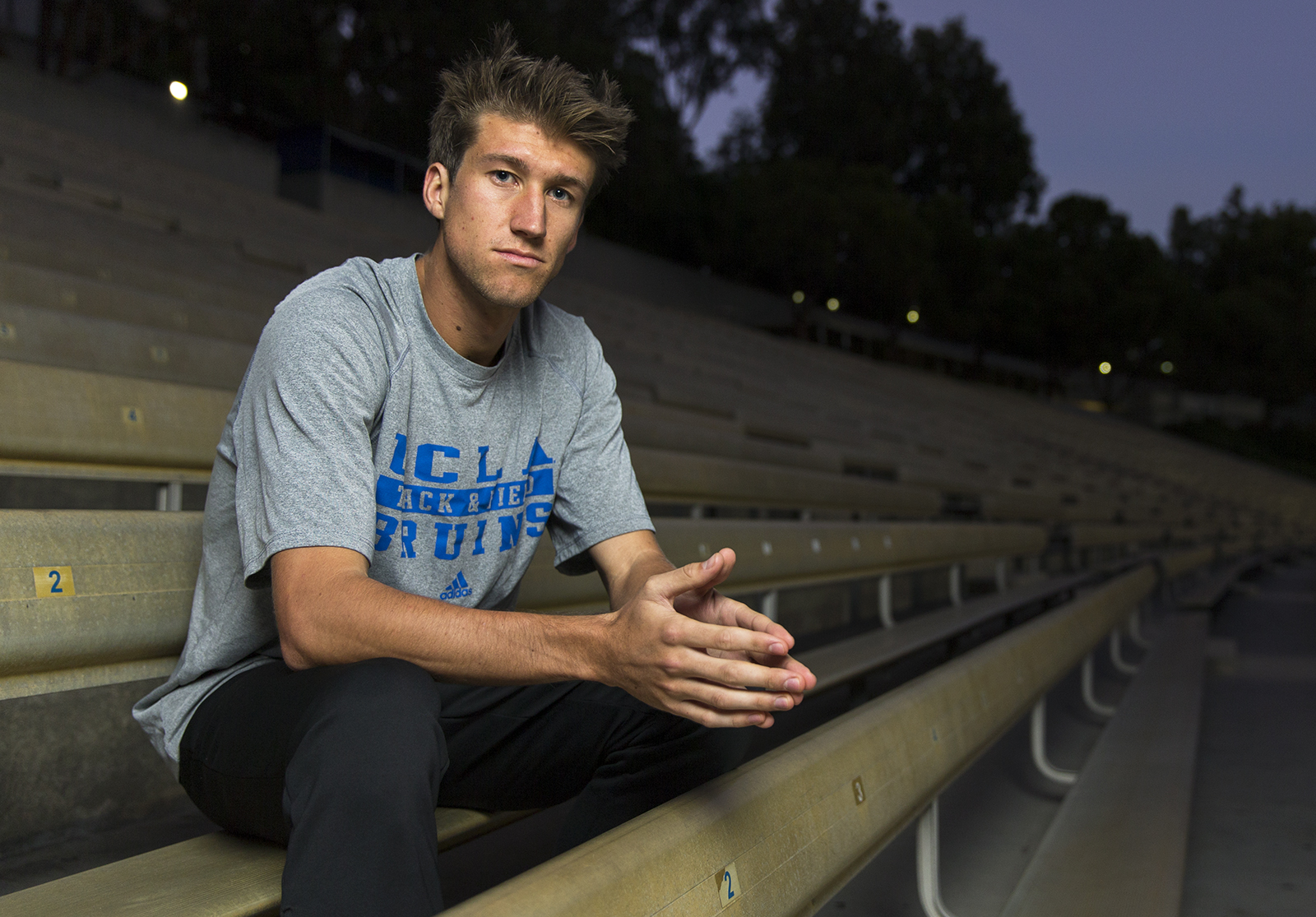 Senior Lane Werley takes his role as a leader on the UCLA cross country team very seriously – as a runner and as a student. Werley is UCLA Athletics' sole chemical and materials science student, challenging himself on the course and in the classroom. Looking back on his career, Werley is glad to have been an example of athletic and academic achievement. (Aubrey Yeo/Daily Bruin senior staff)
By
Daily Bruin Staff
Nov. 19, 2015 1:03 a.m.
Sitting in a lab deep in the heart of South Campus, senior runner Lane Werley's tall frame and blue UCLA Athletics backpack look entirely out of place.
As the only student in the entire Athletics Department to major in chemical and materials science, Werley has spent the past five years finding a balance between the two worlds of academics and running.
Studying, doing homework and working on problem sets consume only one part of the runner's life. The rest of the time, however, Werley can be found training on San Vicente's grassy trails, running down pristine stretches of Rodeo Drive or bolting up the mountains of Santa Monica.
Throughout his career as a Bruin, the senior has become the fastest runner on the team and a standout athlete in his division. He has placed 25th in NCAA championship, finished fifth in the Pac-12 and garnered impressive honors.
On Saturday, Werley will run in his last cross country race when the gun goes off at the NCAA Championship Meet in Lousiville, Kentucky.
An introduction to the sport
As a child, Werley couldn't imagine growing up to become anything other than an athlete. Raised in an athletic family, he spent his childhood years playing basketball and baseball.
His mother was a hurdler and distance runner and his father played basketball, so Werley and his two younger siblings were introduced to sports at a young age.
"It was kind of weird in elementary school because a lot of kids would say, 'Oh I'm gonna be a pro athlete.' I would look at other people's things when they wrote that down and be like, 'No, no, no.I'mgonna be that,'" Werley said. "I just really, really wanted to. I believed it."
It wasn't until high school that Werley encountered the sport of running. Wanting something to do in the fall before the later sports seasons, he decided to pick up cross country.
As a sophomore, Werley broke his school record without any previous training. The cross country coach encouraged him to train regularly, and after long deliberation, Werley eventually traded his basketball jersey and baseball mitt for running shoes.
"That's when I started to get in the mindset of like, there are some guys that are faster than me and I want to start beating them," Werley said.
His natural talent was apparent. Werley became an All-American in cross country and track, as well as a league champion. By the time he started looking at colleges, numerous collegiate running programs had taken notice.
Becoming a Bruin
Although many schools courted him for his athletic talent, Werley was initially drawn to UCLA for its chemical and materials science program. In high school, he found that the only thing he really enjoyed was materials and engineering, so he wanted to find a school with that particular major.
However, once he started looking at the cross country program, he discovered that the philosophies of his high school coach and UCLA coach Forest Braden were similar.
"That's a pretty big thing, 'cause if you try and switch everything up, then it's almost like you're starting new," Werley said. "But basically it was just like a step up from high school."
After arriving in Westwood, Werley found a second family in his teammates, many of whom became his best friends. Amid the distractions and temptations of college, Werley's fellow runners helped him stay on track and focus on running.
"We're the guys that are always going to sleep early because we gotta get up and run. It's kind of a different world," Werley said. "You can't really look throughout UCLA and find other people that do that."
READ MORE: Freshman runner makes big impact at UCLA following European success

The middle ground between books and trails
With the relentless quarter system and stressful assignments, classes alone are tough enough.
Tack on a daily running regimen, numerous meets and competitions around the country, including practices with the team, and the pressure on Werley's shoulders becomes clear.
Although he's learned a lot over the years, there hasn't been a time where things have just been easy – especially since Werley is setting an inspiring precedent for athletes pursing South Campus majors.
"Going into a class in South Campus where there's no athletes out there, I'm just like, 'Hey guys, I'm just gonna work as hard as I can with you all,'" Werley said. "I've always been the type of person to be like, I can do it. Don't cater to me. I don't want other people to go out of their way to help me – I'd rather make it more stressful on myself to help somebody else."
With nationals right around the corner and fall quarter coming rapidly to a close, Werley has definitely felt the pressure.
"Sometimes when I go on trips, its very, very difficult for me to really shut that part of my brain off and go out and race," Werley said. "I've gotten better at it as the years went on, but it's still tough."
Despite the workload, his efforts have made a large impact. Werley is proud to see freshmen athletes looking to push themselves academically. He's noticed many more underclassmen starting to take interest in South Campus majors.
"It's been cool to see because I've always been like, 'You can definitely do it. If you work hard, it's doable. Believe me,'" Werley said. "I like the idea that they'll be able to see me do it. Then, they're like, 'Hey, I can do it too.'"
Leaving behind a legacy
Some of Werley's proudest accomplishments have stemmed from his inherent ability to transform teams and push them to the next level.
After he joined the cross country team at Martin Luther King High School in Riverside, the team made the California Interscholastic Federation finals for the first time in school history, and has been a consistently strong team every year since.
Likewise, Werley's dedication and strong work ethic have helped push his college teammates and UCLA's cross country program to greater heights.
"I'm not a big talker. I like things to be done correctly but I really just like to go out and race hard," Werley said. "I let everybody else see that."
It's worked.
"That fire that he's left behind, and that spirit for this team is just commonplace now," said junior teammate Jonah Diaz. "That competitive drive is something that he's helped manipulate and bring up to a whole new level, which is a big reason why this is going to be our third trip to nationals in the last four years."
Over the years, Braden has seen Werley benefit the program in countless ways – proactively recruiting like-minded, industrious runners and setting a good example.
"With his attitude, his character and especially his talent level, he was one of those guys that got the culture right and got the attitude right," Braden said. "He attracts certain kinds of athletes that we want on our team. It's a really nice domino effect."
During sophomore and junior year, Werley's cross country and track seasons were clouded by a major injury in his left foot. Dragging one leg and limping during races, Werley was forced to take things slow as he tried treatment after treatment to alleviate the pain.
Finally, a sneaker insert solved the problem and got him back on his feet. Werley spent most of his junior year building up the muscle in his left leg until he was back in his best shape.
"This year has been the first year where I've felt like everything is back to normal, and I'm running very smoothly like my old self again," Werley said. "It's been a tough journey, but it's been worth it."
The road that lies ahead
Now fully recovered from the injury that was a hindrance in the past, Werley is hopeful that he can do something that takes advantage of both his athletic abilities and his interest in materials engineering.
"If I run fast, I think I'd really kick myself if I didn't try to run professionally. I think that would fulfill a childhood dream of mine to do something athletic professionally," Werley said. "If I'm running fast enough, it's like why not? Why not go and try?"
Earlier in the year, Braden took the team high up into the mountains of Mammoth for a few days of training. After dinner one night, Werley quoted Sir Isaac Newton in a group discussion explaining how they were standing on the shoulders of giants and those who came before them. Hoping to inspire his teammates, Werley stressed the importance of carrying on the legacy of past athletes and building on their tradition of excellence.
Words like those reflect Werley's passion that has commanded the respect of his teammates and impacted the mentality of the entire program. Once he concludes his final cross country and track seasons, Werley will be leaving behind his own legacy that will ensure the program's success for years to come.
"With Lane leaving, we're standing on his back and what he helped to create," Braden said. "He's set the program up to succeed whether he's there or not."