Freshman runner makes big impact at UCLA following European success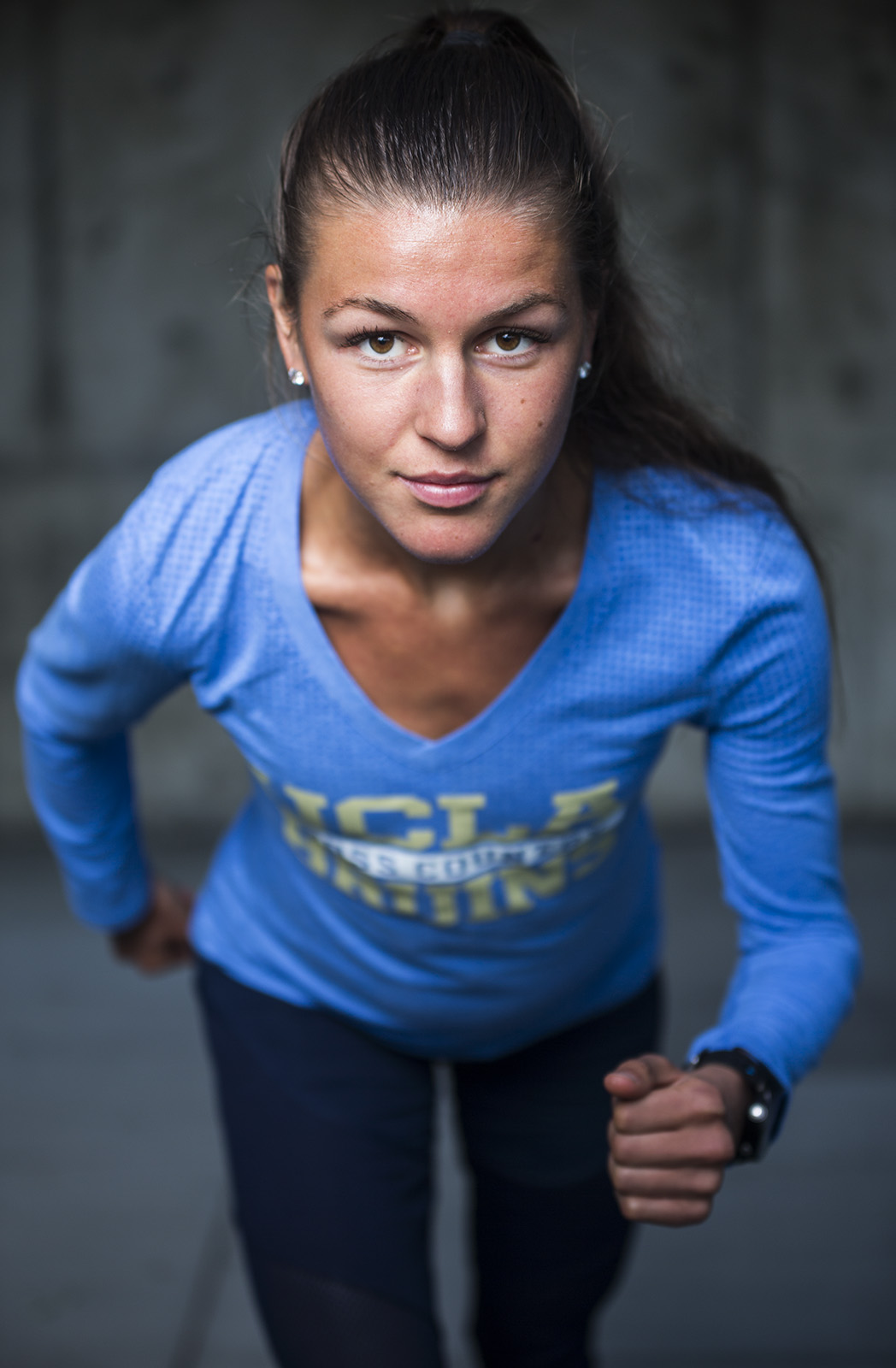 Freshman runner Carolina Johnson is UCLA's lone woman to qualify for the NCAA championship race. Johnson, who holds the third-best under-20 steeplechase time in Swedish history, has already made a big impact in her first season with the Bruins. (Aubrey Yeo/Daily Bruin senior staff)
It's the morning of Oct. 16, and no one knows about Carolina Johnson.
She has made a name for herself in Europe, a silver medalist at the European Athletics Junior Championships who holds the third-best time in Swedish history in the under-20 steeplechase.
But to the world of NCAA cross country, Johnson is just one of 246 girls about to compete in the Wisconsin adidas Invitational, a midseason cross country gathering that draws a more talented field than any other collegiate meet besides the NCAA championship.
It's a grand stage for her opening act, which lasts just over 20 minutes and thrills everyone except Johnson herself. She finishes 26th, fourth among freshmen and 143 spots higher than any of her teammates.
"For her to handle it like she did, it was really a nice thing to see," said coach Forest Braden. "It showed how much more is still there."
There's a lot still there – Braden thinks Johnson can vie for NCAA titles in both cross country and steeplechase.
Maybe that would satisfy her.
***
Four kilometers into a windy Pac-12 championship race, Johnson was right where she wanted to be: first place. Then she got tired.
She ran decently on the fifth kilometer but struggled through the final one, falling to ninth.
"She's just not quite sharp enough, she doesn't have enough speed to finish a flat 6k with those other girls," Braden said. "She's very strong but she's not really fast right now. We haven't been training for long enough to really be able to implement much speed work."
That's the scary thing about Johnson. Her ninth-place finish was the best among first-years, earning her Pac-12 Freshman of the Year honors, but she still has so much room to improve.
She's only been running competitively for a little over three years. Before that, she was the captain of her club soccer team, but her favorite part of practice was the one most dreaded by the average player: running.
"I was better without the ball," she said.
So she joined a 3×800-meter relay squad with the Linkoping Athletic Team and soon found herself competing at the Swedish national championships, where her relay team took the bronze medal.
Back then, bronze was good enough. Now she's rarely satisfied by anything less than first place. Even winning Freshman of the Year in one of the nation's top conferences isn't enough.
"Yeah, I was the fastest freshman," Johnson said. "But I want to be the fastest of all of them, of everyone."
For those around her, the difficult task is not motivating her but rather tempering her dedication, helping her slow down her training schedule to avoid injury or burnout.
"It's a long process," Braden said. "She's incredibly young in her career and I don't want to push her too hard too early so I'm definitely the conservative one, I'm definitely trying to get more rest days, just have a big-picture approach."
Johnson's training routine is similar to the one she employed in Sweden: It's not high-volume but she supplements her running with cross-training, biking and weight lifting.
"We'll probably tweak it a little bit but it's worked really well for her," Braden said. "If something's working well, why change it?"
***
Johnson has heard the comparisons to her dad. Like so many things, they make her smile.
"It's good for me to hear because he's my biggest inspiration," Johnson said. "His mindset and his dedication, and he's still so humble."
For now, Fredrik Johnson is the only world champion in the family, but the squash player with 48 national titles has passed his greatest asset on to his middle daughter.
"The strongest talent for both me and Carolina is actually the mind," Fredrik Johnson said. "When I was a professional, as tough as I was against myself, it's the same for Carolina. She's so driven."
Fredrik Johnson knew early on that his daughter had a special sense of determination. Whatever she set her mind to as a child, whether it was learning to swim or learning to read, she quickly accomplished. As Carolina Johnson grew up, she and her dad would delight in competition – making bets about who could spell a word correctly or who could name more capital cities around the world.
It's always in good fun, though – Carolina Johnson said one of the most important things her dad has taught her is to be happy.
"You can't think negative thoughts if you want to win," Carolina Johnson said. "If you hate losing, it's a negative thought. You have to think about winning in a good way."
The positivity helps for someone who is so hard on herself – even as she harshly critiques her own performance, she beams widely.
"Her strength is that she's able to keep a positive attitude while being critical enough," said sophomore teammate Sabrina Seay. "(She realizes) that just because you did well doesn't mean that's the best you can do … there's always more potential."
***
Forest Braden gets five to 10 emails a week from international runners intrigued by the UCLA program.
The interest is usually one-sided – the cross country coach said 99 percent of those who reach out are "not quite there," not worth the expenditure of a precious scholarship.
Johnson was part of the other 1 percent, the rare athlete who caught Braden's eye. She met the program's performance standards and had shown impressive development in recent years.
In April, Johnson came to the United States to train at a camp in Flagstaff, Arizona, run in the Mt. SAC Relays in Walnut, and visit UCLA. Braden didn't meet her until she came to campus but says he remembers seeing her run at the Mt. SAC Relays.
"(My) first impression was just how tough she was in that race," Braden said. "It looked like she kept falling off the pack and then she'd get right back on."
He was even more impressed when he met her a few days later.
"She's just a sweet girl, a really nice person," Braden said. "And I could tell how serious she was about her training, I could see how disciplined she was."
On top of her personal drive, Braden recognized that she was interested in a team atmosphere, not a given for international athletes who aren't exposed to the team-focused American high school athletic system.
"Sometimes you have athletes from overseas who are not quite as team-oriented," Braden said. "Even though (Johnson) really desires the individual success, she has a strong love for her team and her teammates."
***
When she reached the 3,000-meter steeplechase finish line at the European Athletics Junior Championships this past summer, Johnson felt good. Not in the way most people feel good after a race – this was not some post-exertion "exercise high." No, she felt good.
"I had more to give," Johnson said. "It would have been better if the race was like 3,400 meters."
An extra 400 meters would have given Johnson a shot at the gold medal – perhaps she could have overtaken one more girl, on top of the four she'd passed in the final 800 meters.
Instead, she settled for silver. She had been too relaxed to start the race, waited too long to push forward, the type of tactical failure that comes with limited preparation.
Johnson's training for the Euro Juniors was less than proper – she'd been running for only the past two-and-a-half weeks. Before that, she'd been hampered for eight weeks by inflammation in her foot, forcing her to work out with elliptical, bike and water running sessions.
Considering the circumstances, Johnson was happy with a silver medal.
Someday, she might look back and feel that way about all her performances.
"It's maybe something you learn as you grow up," Fredrik Johnson said. "Now that I've had most of my years done on the court, I think it's important sometimes to stop for a day and think how good it is that I can really enjoy this sport … appreciate what you're doing and not always be so hard on yourself."
Today is not that day, though. She's not satisfied with silver.
"It's good to learn from it," Carolina Johnson said. "Because I don't want the silver to be the best thing I do."
Cummings joined the Bruin as a freshman in 2014 and contributed until he graduated in 2018. He was an assistant Sports editor for the 2015-2016 academic year and spent time on the football, men's basketball, baseball, cross country, women's volleyball and men's tennis beats.
Cummings joined the Bruin as a freshman in 2014 and contributed until he graduated in 2018. He was an assistant Sports editor for the 2015-2016 academic year and spent time on the football, men's basketball, baseball, cross country, women's volleyball and men's tennis beats.