UCLA women's golfer Bronte Law drives toward her dream of LPGA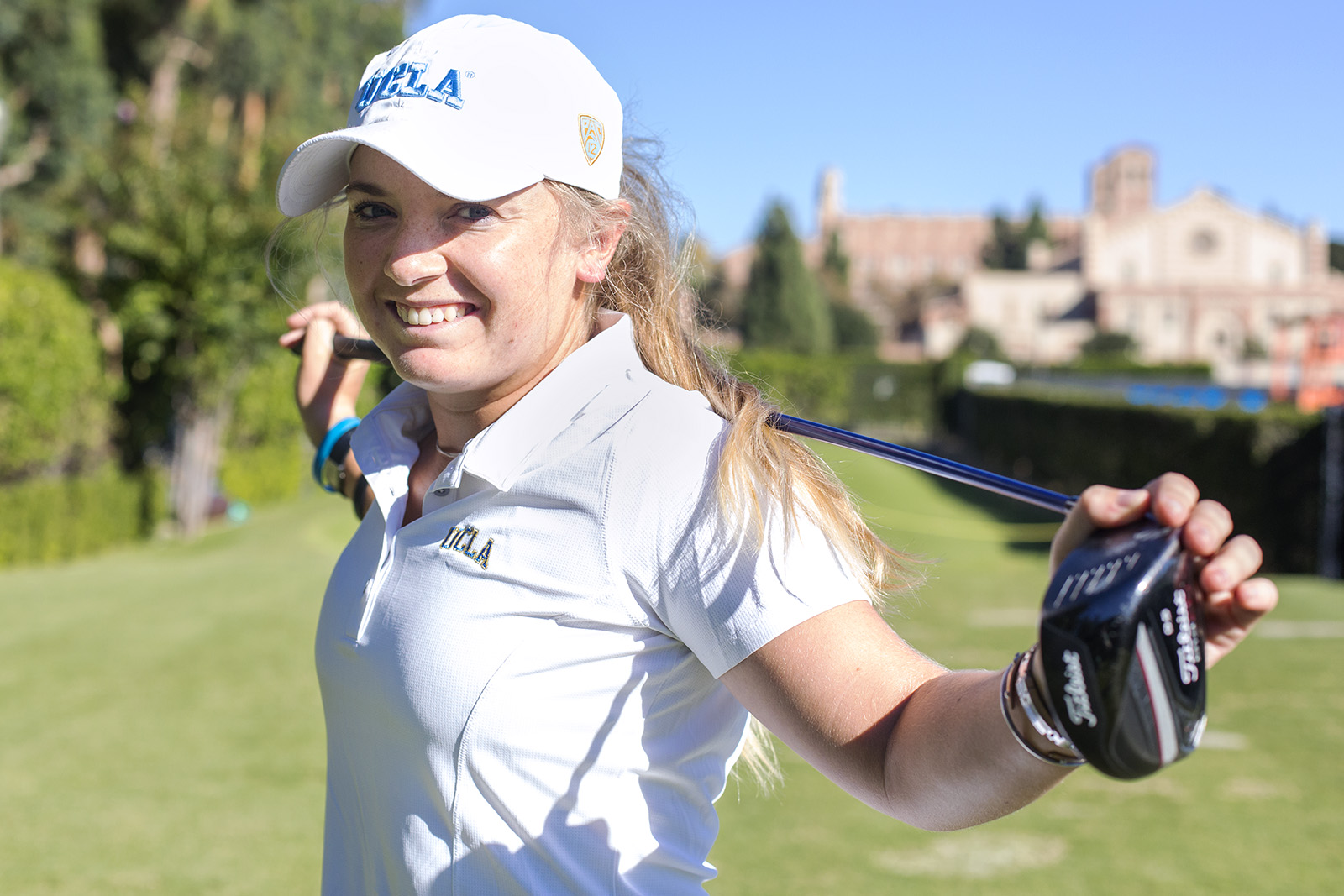 Junior Bronte Law, the reigning Pac-12 Women's Golfer of the Year, was named the conference's Golfer of the Month for the third time in her career this October. (Owen Emerson/Daily Bruin senior staff)
Bronte Law's favorite thing about the United States is about as American as she is.
"I would probably say Mexican food," said the women's golf captain. "We just don't have anything like that in Britain."
The junior golfer is still learning how to order her favorite cuisine – burritos, tacos and enchiladas – but she's already established herself as an American success story. The reigning Pac-12 Women's Golfer of the Year, Law was Golfweek's third-ranked college golfer in the preseason.
For all the amateur accolades, though, Law remains focused on reaching the top competition in women's golf, the Ladies Professional Golf Association. After all, that's why she came to the United States.
Her dream started in the town of Stockport, England, where Law grew up playing various sports, including field hockey, which she credits for improving her hand-eye coordination. One day she asked her father if she could accompany him to the golf course he frequented. She fell in love with the game instantly.
After improving in the amateurs' circuits in England and winning the Curtis Cup with the Great Britain and Ireland team when she was 17, Law decided she needed to come to the United States to learn to play on American golf courses, an essential step toward reaching the LPGA.
"American golf courses tend to make you play more 'target golf,'" Law said, "So you need to be really accurate with your shots."
English weather also isn't conducive to playing year-round. So Law left the gray skies of Manchester and headed toward the California sunshine.
Although Stanford had been her dream school, Law knew she needed to visit Westwood after talking to UCLA coach Carrie Forsyth on the phone. During her visit, Law knew it was the right place for her.
"I really think it was during her official visit that we convinced her," Forsyth said. "And UCLA has so much to offer in terms of what she was studying, in terms of where we are located, and just the city itself and the campus, and I believe and feel that she felt she fit in very well with the team."
Naturally, there were difficulties that came with moving 5,000 miles from her hometown – people's attempts at British accents were brutal and cars drove on the opposite side of the road. But Law bonded with her teammates, often driving down to Koreatown for Korean barbecue.
"On the right side of the road of course," Law joked.
Forsyth said Law was able to adjust well because of her confidence and energy, which were on display during a team trip to Hawaii for a tournament.
"We went on this boat, we had some time off one morning, and we went on a snorkeling trip," Forsyth said. "And they have a 10-foot diving platform on the boat, and of course, she has to go off head first into the water."
In her headfirst dive into the world of UCLA, Law was surprised by the diversity on campus.
"It was a real eye-opener. In England, we aren't exposed to that many different cultures and points of view," Law said. "It's one of the things that I would've never experienced had I stayed in England."
The move to the U.S. hasn't prevented Law from excelling on the courses in her native country. In 2014, she hit five birdies on her last six holes to win the English Women's Amateur Championship. Then she defended the title in 2015, becoming the first player to do so in more than 20 years.
Her success has rubbed off on her teammates. Sophomore Lydia Choi remembers Law's 30-foot putt to win the Stanford Intercollegiate this fall, a thrilling shot that sent the Bruins into a moment of fist-pumping and crying.
"She jumped up, and faced the crowd and screamed, and it was like 'Oh my gosh,'" Choi said. "That just shows how much heart she puts into it, how much she loves it, how much she cares for it. I think that's the most inspirational thing about Bronte."
As the captain of the team, Law has a lot of responsibilities, but she's taking them all in stride.
"She's a natural leader, for sure, just her personality," Forsyth said. "She's very outgoing and she's really that kind of person, her work ethic and her desire and her success, all of those things, she just has this calm personality."
Law begins her third season as one of the premier college golfers in America, an ocean away from her hometown. She continues to perfect her craft, hoping to make her way into the LPGA.
That would be the whole enchilada.
Baldecchi joined the Bruin as a sophomore in 2015 and contributed until 2016. He spent time on the men's golf, women's golf and cross country beats.
Baldecchi joined the Bruin as a sophomore in 2015 and contributed until 2016. He spent time on the men's golf, women's golf and cross country beats.