Paris attacks provide opportunity to focus on global community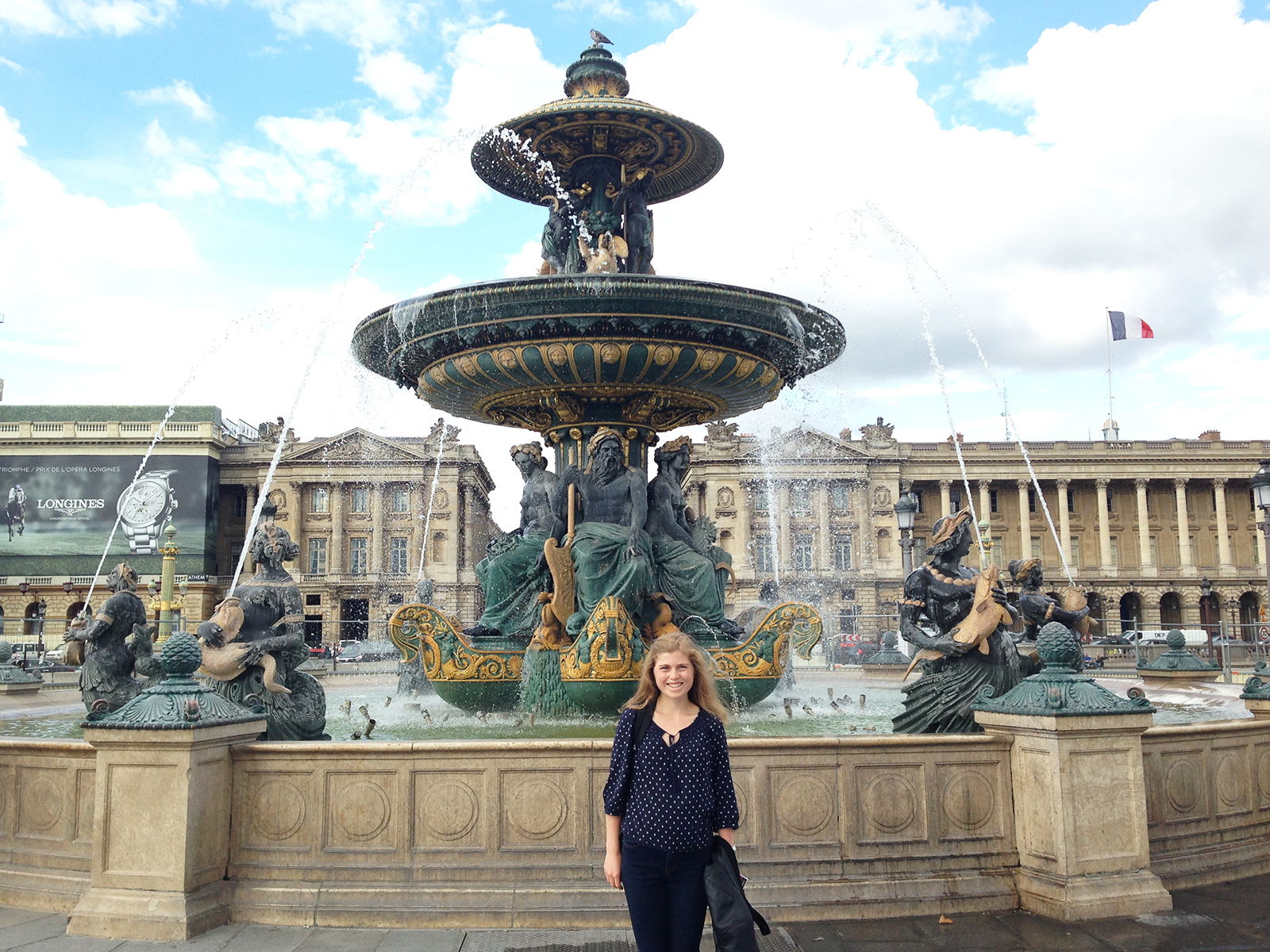 Julia Raven was in her Paris apartment the night of the attacks on Friday. In the article, she reflects on her experience of the event. (Courtesy of Julia Raven)
PARIS — Paris is my home. The City of Lights filled with beauty, art, history and outstanding people has kept me in a state of perpetual wonder since I arrived for my study abroad program in August.
Since I have grandparents who live in Paris, I have had the privilege of getting to come visit this city a handful of times in my life and fell in love with the beautiful art-deco buildings, the wide avenues, the smell of freshly baked bread as you walk down the street and the parks that pop up on every block where children play and people sit out for two-hour lunches. To live in Paris is to live in a dream.
On Friday night, that dream was horrifically suspended as bullets flew into a cafe just two blocks from my apartment, killing 19 individuals inside. Sixteen minutes before, the first bomb went off at the Stade de France, other restaurants were targeted and a hostage situation developed in a theater I sometimes pass on morning runs.
I cannot say how grateful I am that I was home in my apartment when the events began to unfold around me.
I could hear sirens blaring, but I didn't register anything out of the ordinary until I heard my roommates discussing something with worry in their voices.
I came out of my room to three somber faces staring at me, not saying anything at first until one asked, "Have you heard what happened?"
I was told there was a shooting. I didn't realize how serious it was until they went on to explain: As of then, 40 people had died, and far more were being held hostage.
We all rushed to our phones and computers to email loved ones to let them know that we were safe, while trying to contact our friends who were out on Paris streets to make sure they were out of harm's way.
As I watched the events play out through live news updates, the sirens wailed continuously through the night. A million thoughts whirled around in my mind. Are there 40 people dead? Now it's 100? How many hostages are there? One site says one thing while another tripled the figures. Is that a picture of a military truck one block from my home?
I was trying to absorb as much information as possible, and had to momentarily remove myself from the situation emotionally to comprehend what was happening. And then it hit me: My life, and the lives of my family members and the people I care about, could have changed forever if I had decided to go to a soccer game or eat at the cafe on the corner.
Life is so fragile and it can be taken from the most innocent of people through no provocation at all. The victims of this week's shootings were doing what every human being has the right to do – to enjoy the lives we are given. But that right was stripped by terrorists who targeted the places where they happened to spend their nights.
My heart aches for the families of those killed, but it is not just those families who lost greatly that night. We all have. We, as a global community, have lost 132 of our friends, neighbors, future and present doctors, politicians and thinkers.
And we do not just suffer these losses now and not just in a major city like Paris, but each time a suicide bomber strikes a market in Afghanistan or students are massacred at a school in Kenya.
The "Lost Generation" is not contained to those who died or were maimed in World War I, but extends to those who are forced out of schools by fear or those recruited by extremist organizations to fight before they turn 15. Paris is part of a global loss, but even more so, a chance to come together.
Now, more so than ever before, we are connected to each other around the world. In just a few taps on our phones, we can send tweets seen by someone in an Ethiopian city or read a blog written by someone in Ukraine. Now, more so than ever before, we have the ability to become a global community and work to understand each other, to feel compassion for one another.
After extreme acts of violence, many turn to these powerful tools of communication to preach hatred or anger, which is not unjustly felt after tragedy, but hatred and anger are not a sustainable solution to the global problem of terror and violence. This hatred and anger will only cause further division between groups of people.
We need to take these disgusting tragedies and use them to come together and stand up against violence. To turn against each other and become filled with hatred and prejudice is to do exactly what the perpetrators of these revolting acts want.
I refuse to hate. Instead, I choose to be empowered.
Empowered with the knowledge that life is so delicate and so easily lost that we must be vigilant in continuing to seek out new experiences.
Empowered to stand up and refuse to blame an entire religion or group of people for the acts of extremists because to do so would tear society apart even further and lead to more extremism.
Empowered to fight to end this violence worldwide.
And I truly believe that ending the violence worldwide starts at home. It starts with compassion, with empathy, with a desire to see other people for who they are: people, not a skin color, religion or country of origin. People who live and breathe just like everyone else. Who have dreams, families and plans for the future.
As we stand in solidarity with Paris, let us not forget the individuals who face extremist violence on a daily basis.
Let us not fear for our lives to the point that we stop living our lives. We must continue to seek out new experiences, even if we must be more vigilant than before. Let us not hate or discriminate against others because to divide ourselves based on religion, ethnicity or ideology, instead of coming together to rebuild, is to do exactly what these instigators of terror want.
Let us rise from this terrorist attack with a newfound passion for finding peace in a world that is so easily divided. And please, let us not forget that we are all human beings, no matter where we come from, no matter who we are. We are all human beings who deserve to live our lives to the fullest.
Paris is my home. This magical City of Lights is still filled with beauty, art, history and the most resilient people I have had the honor of meeting and living among. Moments of darkness threaten to destroy the dreams we have, but the darkness thaws as the rosy light of a new day shines over our world, and our dreams are revived.