Scouting report: Washington State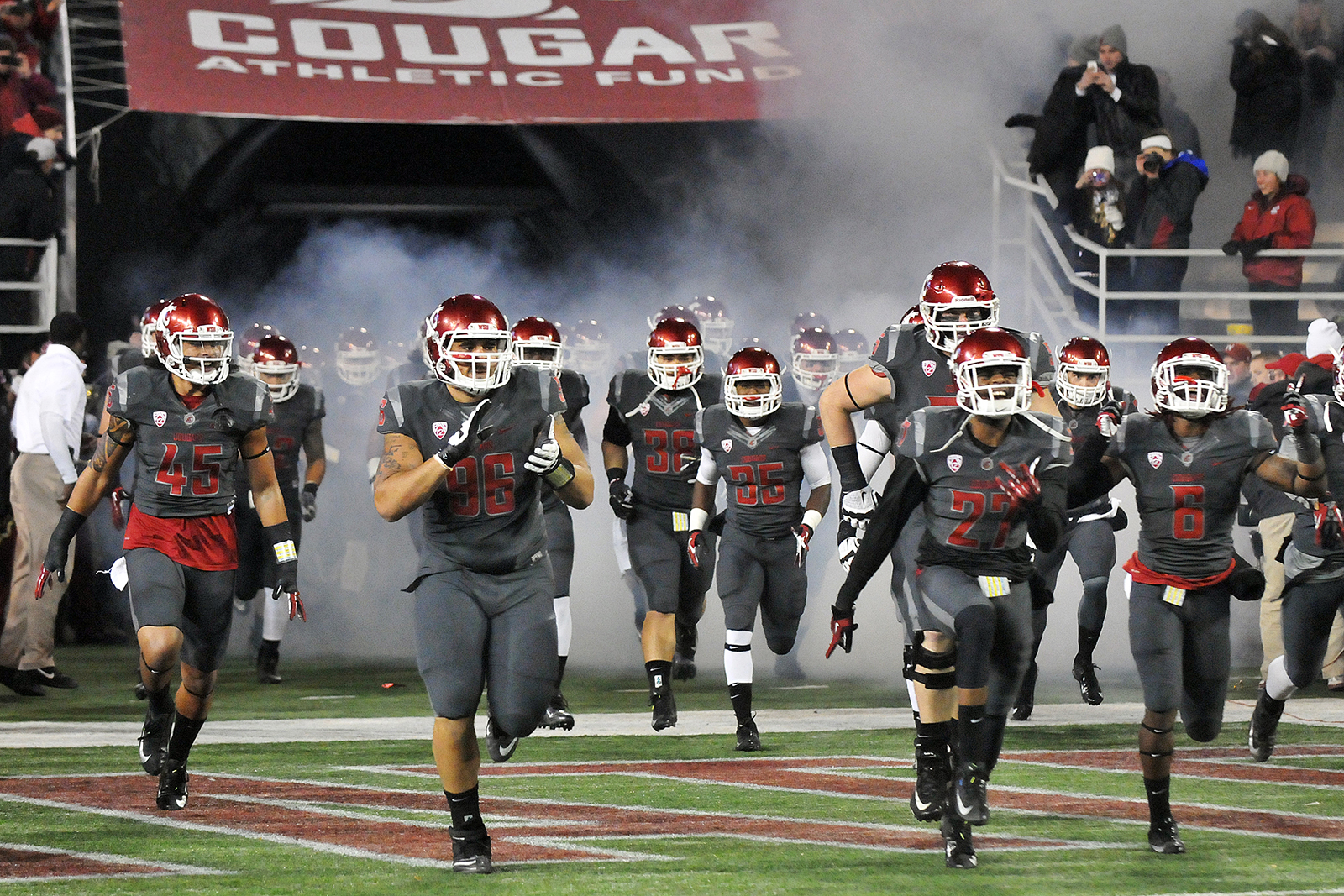 Members of the Washington State football team charge out of the tunnel before their game against UCLA in November 2012 – the last time the two teams faced off. The Bruins would go on to win 44-36. (Daily Bruin file photo)
On Saturday, No. 19 UCLA (7-2, 4-2 Pac-12) will face a Washington State team that has shown significant improvement this year. After a 3-9 season in 2014, the Cougars (6-3, 4-2) have made their way to second place in the Pac-12 North this season, even putting themselves in position to defeat then-No. 8 Stanford two weeks ago before kicker Erik Powell missed a game-winning field goal.

Here's a scouting report for Washington State, which could put a final dent in UCLA's playoff chances Saturday night at the Rose Bowl.
Offense
Base formation: Shotgun singleback
Run/pass ratio: 29 percent rush/71 percent pass
Blocking style: Vertical set, man
Strength: WR depth
Weakness: Running game
X-factor: QB Luke Falk
A week after facing one of the most rush-heavy offenses in football, UCLA's defense will be stretched wide against Washington State's formidable "Air Raid" offense. Led by one of the Air Raid's pioneers in coach Mike Leach, the Cougars are the most pass-heavy offense in the nation, leading college football in passing attempts.
The offensive attack is run by redshirt sophomore quarterback Luke Falk, who averages 415.1 passing yards and 3.7 touchdowns a game. Despite his youth – Saturday's game will be Falk's 14th career start – the redshirt sophomore has racked up huge numbers this year. Going into Saturday's game, Falk leads the nation in passing completions, is ranked second in total passing yards and is third in passing touchdowns.
Falk has the benefit of throwing to a deep and talented wide receiver corps, with contributors up and down the roster. Redshirt junior Gabe Marks is Falk's favorite target, the 6-foot, 190-pound wideout leading the team with 865 yards and 11 touchdowns. Despite his modest size, Marks is a mid-range possession machine, leading the Pac-12 with 7.7 receptions per game and he is second in the conference in receiving yards.
Just behind Marks on that yards leaderboard is redshirt senior Dom Williams, a precise route-runner who has 54 catches and eight touchdowns to his name. Aside from the main two, five other receivers – including breakout star freshman Kyle Sweet – have more than 20 receptions, a testament to Falk's ability to spread the ball around effectively.
Look for the receiving corps to run a motley combination of horizontal crossing routes, with a greater emphasis on execution than diversity. According to Leach, the Cougars differ from many other Air Raid teams by running the same routes against both pass and run coverage. The team's running backs and receivers, with this relatively simple route structure, are trained to move into space and get open quickly. The team also makes significant use of cross-field pre-snap motions.
Perhaps unsurprisingly given their pass-heavy nature, the Cougars' rushing offense is unimpressive; their running backs are better suited to catch the ball out of the backfield. The team runs less than anyone in the Pac-12, gaining a paltry 3.5 yards per rush on those carries. Coming into the season, one of the team's priorities was improving its rushing offense in order to unlock more nuances in its passing game.
That has largely failed, with the Cougars averaging a dead-last 82.3 rushing yards per game. It may be a one-dimensional offense that will make its way to Pasadena on Saturday, but make no mistake – this is a dangerous one. Though the Cougars haven't faced any truly elite competition aside from the Cardinal, their coaching pedigree and talented roster have turned the team into one of the conference's offensive giants. This will be a trying matchup for the Bruin defense.
Defense
Base formation: 3-4/4-2-5 hybrid
Blitz tendency: Low
Strength: Pass rush
Weakness: Run defense
Washington State's defense has improved markedly since last year, when the unit was routinely shellacked by its Pac-12 opposition. New defensive coordinator Alex Grinch has brought with him a fast, aggressive defensive attack that shuts opposing quarterbacks down with its strong pressure and pass defense.
This is a unit that ranks second in the conference in that statistic, allowing only 211.1 pass yards per game. The Cougars have significantly shored up this area after major struggles last year. The defensive backs, led by junior safety Shalom Luani and sophomore cornerback Marcellus Pippins, have racked up five interceptions so far this year. Luani leads the team with three picks and eight passes defended.
Turnovers are something Grinch heavily emphasized before the start of the season; the coordinator wants his team to play fast and aggressive, and capitalize on its opponents' mistakes – something it failed to do last year. Washington State has already more than doubled last year's takeaway total in only nine games.
Complementing the pass defense is the team's strong pass rush. Three Cougar defenders have four or more sacks, as linebacker Kache Palacio leads the charge with six. The linebackers are headlined by redshirt sophomore Peyton Pelluer and senior Jeremiah Allison, both of whom are very active against runs and short passes. They play behind a defensive line anchored by Darryl Paulo and Hercules Mata'afa, who, despite their small stature, are shifty and aggressive pass rushers.
Though pass defense is one of the Cougars' strengths, their numbers here are perhaps inflated by the ease with which opponents run against them. The team ranks 11th in the Pac-12 in rushing defense, conceding 206.6 yards per game; the team has given up 18 rushing touchdowns on the ground, second-worst in the conference. The rush defense played well late in last week's victory against Arizona State, but it will still be an enticing target for redshirt junior Paul Perkins and the UCLA running back corps.
Compiled by Anay Dattawadkar, Bruin Sports staff.