Quiet freshman guard brings loud game to women's basketball team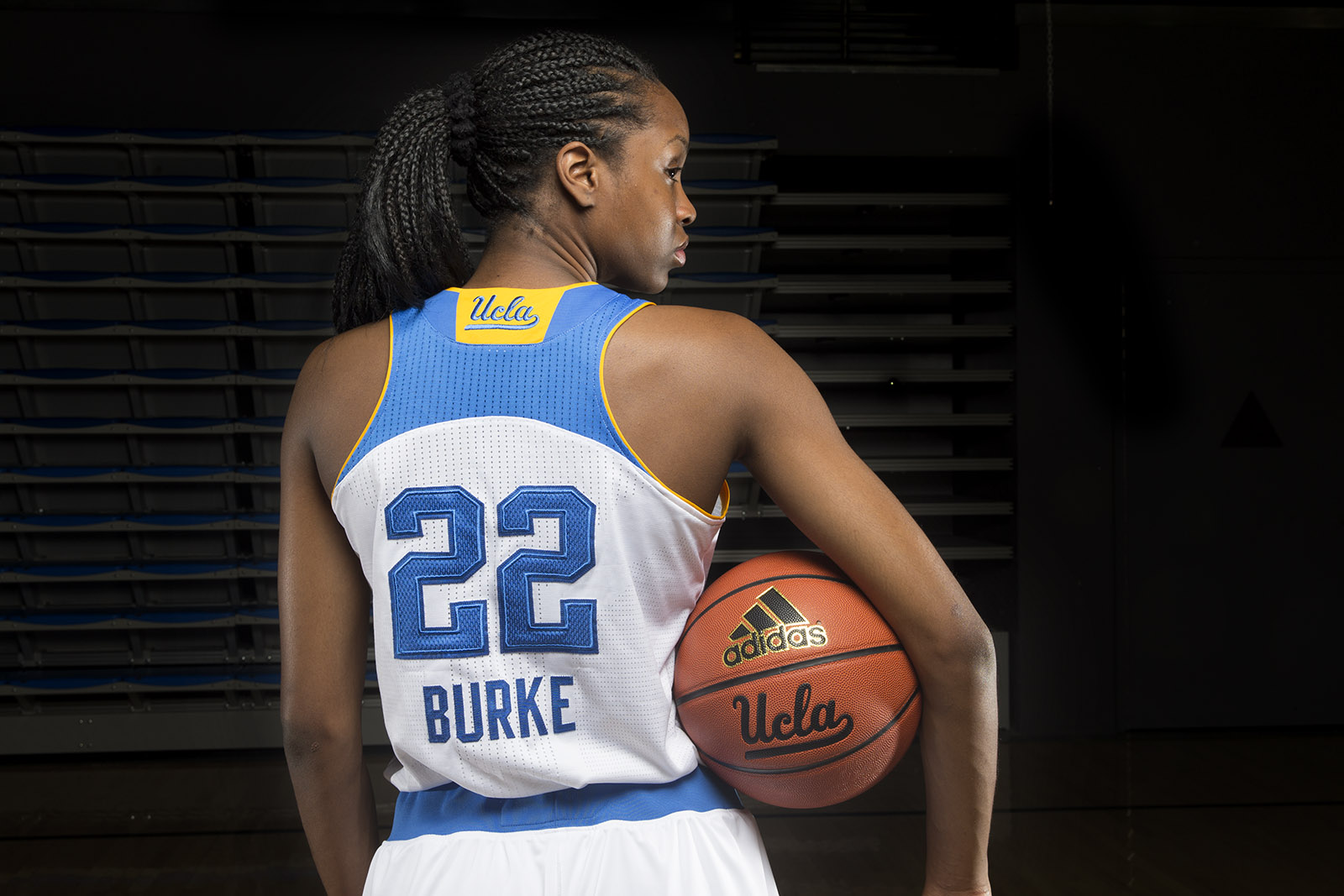 Freshman guard Kennedy Burke has impressed her teammates with on-court prowess and off-court demeanor. (Keila Mayberry/Daily Bruin staff)
A custom-designed horse trail in Chatsworth, California leads up to Sierra Canyon School, a private institution graced by hundreds of trees and, more notably, the children of celebrities like Britney Spears, Alec Baldwin and Will Smith. In one of the classrooms, Kennedy Burke attended class with Kylie Jenner. Despite the school's history of celebrated alumni, it is Burke who takes the spotlight today.
Burke, currently a freshman guard for the women's basketball team, was not famous. She does not dress flamboyantly or carry a big ego. Her hands are usually in her pockets while she speaks in her soft tone, and she describes herself as being naturally nervous.
But again, Burke is not a celebrity. She is a basketball player – and her game speaks volumes.
Burke stands at 6-foot-1, can play almost anywhere on the court and won the 2015 High School 3-Point Championship.
The freshman grew up in Northridge, California, a town she describes as a big but pretty normal city. She has a bureaucratic father, data entry specialist mother and a sister, Kody, who is five years her elder. Her father, a Panamanian immigrant who played college basketball at Dominguez Hills – "He was a baller," Burke said – and sister Kody Burke, who was stronger and preferred to play in the post, helped teach her a love for basketball.
Kody Burke was always much louder and more expressive than Kennedy Burke, but the two shared a rapport around the game. Her sister's success on the court allowed her to learn while not being the center of attention in her household.
"We weren't that competitive," Burke said. "She just taught me to do my best."
Kody Burke set scoring records while playing basketball at North Carolina State, while it was clear from an early age that Kennedy Burke was a natural.
"In elementary school, fifth to sixth grade, I would always play with the boys, and they were always afraid of going against me because I was very aggressive. I wasn't a 'girly' girl, I was like a tomboy," Burke said.
In those days, her athletic skills transcended basketball.
"Flag football was a lot of fun in middle school," Burke said. "If it was an actual sport, I'd definitely play it."
Burke went on to play basketball for Sierra Canyon School, where she played varsity from her freshman year. After the school signed former Mater Dei High School assistant coach Alicia Komaki as its head coach before her sophomore year, Burke led the team to three-straight state championships.
During her junior year of high school, Burke was chosen to represent her country as part of the 2014 FIBA U17 team, after failing to make the team the year before.
"I was pretty passive. I just felt inexperienced (the first time around)," Burke said. "When I went the second time I knew I was capable of competing with any type of talent."
She began rising in the rankings and was named an All-American. Despite all of the attention, Burke always knew where her future was.
"To be honest, I always knew I wanted to come here," said Burke. "When I was 8 I went to the camp (at UCLA), and I was just so amazed by just like the the entire school, and I just knew where I wanted to go. I really wanted to come here … I couldn't see myself at 'SC."
For a reserved person like Burke, the recruiting process was not an enjoyable one.
"Getting calls from different colleges was pretty overwhelming," Burke, said. "I remember at one point crying because I was just scared, I did not know what to expect."
Luckily, with UCLA, Burke found a natural fit.
Coach Cori Close recalls Burke tearing up when being shown a video of the team giving away shoes during her unofficial visit, saying she wanted to be a part of the program.
After joining the team, Burke's shy tendencies were noted by the team as she was voted quietest by her peers.
"When she first came in she was very nervous and in practice she just didn't want to make any mistakes," said junior guard Kari Korver.
Despite her reclusive nature, she has shown her potential on the court. She claims her closest NBA comparison would be Kevin Durant, which seems accurate. At 6-foot-1, she has Durantian length for a guard – the average girls D1 guard is around 5 feet 8 inches tall, – a similar 3-point range and the same on-court demeanor of tempered aggressiveness. The comparison ends when you look at Burke's defense.
Her length, especially when playing at the top of the key in zones, causes offensive opponents trouble and leads to turnovers.
"She has so much ability to affect plays on both ends of the court," Close said.
Burke has even garnered praise from sophomore guard Jordin Canada, a basketball rival of hers in high school.
"She's got a great basketball IQ. … She's also a great passer," said Canada. "She's going to adjust well (to the college game)."
Burke's versatility allows the team to change its lineups to create mismatches against opponents and experiment with different offensive and defensive styles.
After the rout of Vanguard on Nov. 1, Close praised Burke for her defensive tenacity and natural offensive ability.
"She had a lot of deflections that led to runout baskets for us," Close said. "Offensively, the sky is the limit for her."
Burke, who has been playing since she was 5, is hoping to reach that limit by giving her all on the court.
"I don't really think of anything (when I am on the court)," said Burke. "I'm just doing what I have to do to get the job done."
Despite her shyness, people see the best in her.
"Everyone loves Kennedy Burke," Close said. "She has a teachable spirit and a sincere heart."
Kennedy Burke is not a celebrity. She speaks quietly, when she decides to speak at all. She does not have to though because when she is on the court, her game speaks for her.
MacDonald joined the Bruin as a sophomore in 2015 and contributed until he graduated in 2018. He spent time on the women's basketball, women's soccer and rowing beats.
MacDonald joined the Bruin as a sophomore in 2015 and contributed until he graduated in 2018. He spent time on the women's basketball, women's soccer and rowing beats.