Students, LA residents march for Filipino-American veteran compensation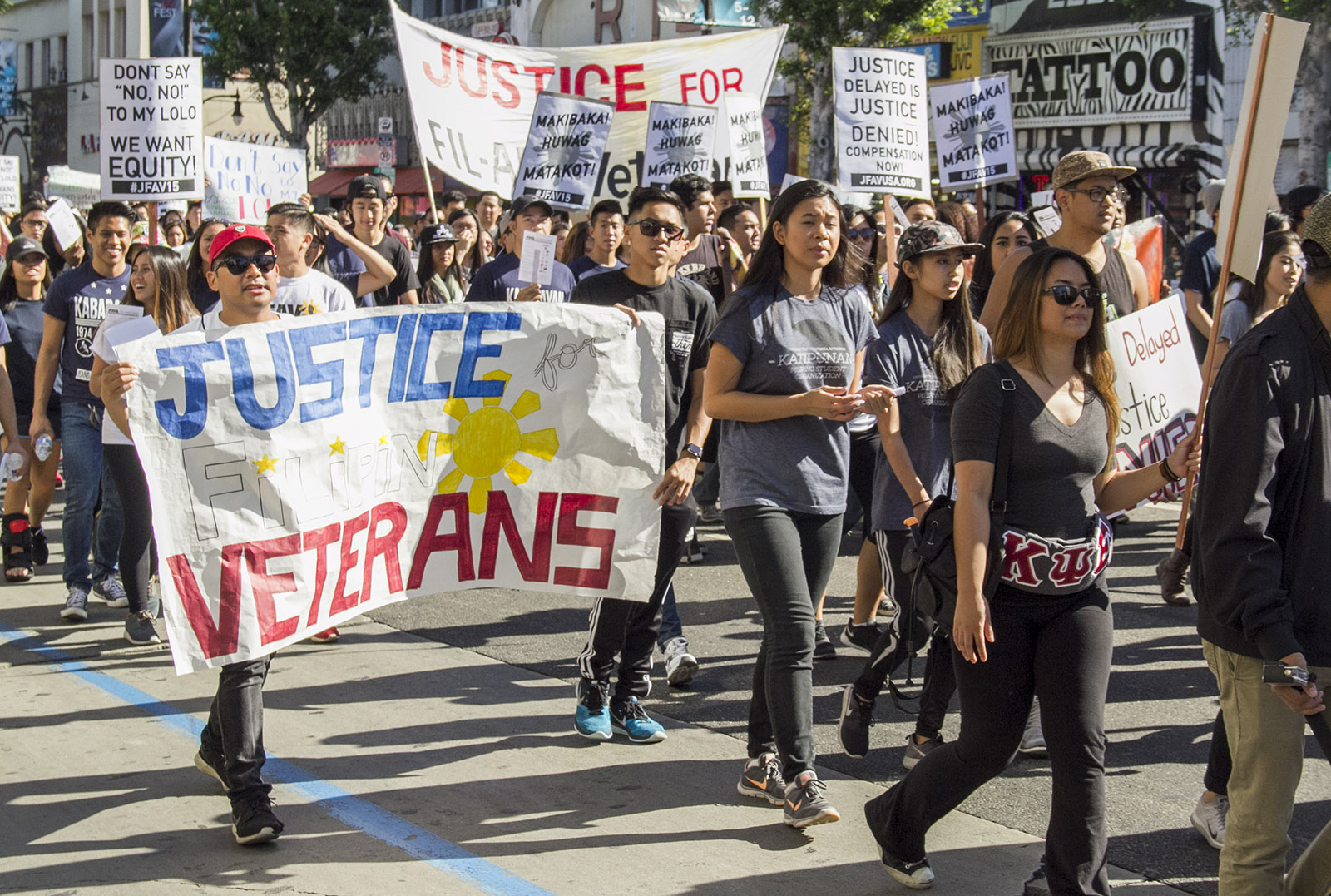 The Justice for Filipino-American Vererans organization marched to Holly- wood Wednesday to demand World War II military service compensation. (Zinnia Moreno/Daily Bruin)
By
Daily Bruin Staff
Nov. 12, 2015 4:46 a.m.
UCLA students and L.A. residents demanded military service compensation for Filipino-American World War II veterans as they marched to Hollywood to show support for veterans Wednesday.
The Justice for Filipino-American Veterans, or JFAV, a nonprofit organization that advocates for Filipino-American World War II veterans who have not been compensated for their services, organized the 15th annual march.
Andrew Esguerra, community projects coordinator for Samahang Pilipino and fourth-year economics student, said he thinks it's important for students to advocate for minority communities.
"Even if it doesn't affect you personally, it affects your community, and you have to come out for that," said Esguerra.
Several UCLA student organizations such as Theta Delta Beta and Zeta Phi Rho fraternities, Tinig Choral group and Samahang Pilipino, helped organize the event.
Christine Araquel-Concordia, JFAV march organizer, said they organized the march as a protest against the Rescission Act of 1946, a law that annulled all promised benefits to Filipino troops for their military services during World War II.
Araquel-Concordia added veterans from the Philippines were the only troops out of the 66 countries allied with the United States to be denied compensation.
UCLA choral group Tinig Choral began the event with the Filipino national anthem. Claire Garcia, a member of the choral group and a third-year neuroscience student, said the group sings the anthem at the event every year.
"We're here to remind people (equality among veterans) is what we're fighting for, and why we march every year," Garcia said.
Marchers held signs in both English and Filipino that read "69 years of injustice. Pay Filipino vets now!" and "Makibaka Huwag Matakot!" which translates to "fight fear."
The march started on the streets of Historic Filipinotown, with a large crowd of young residents and students who chanted "Money for equity and compensation, not for war and occupation," and continued to Downtown Los Angeles before ending in West Hollywood.
Jay Eusantos, another event organizer, said he thinks the media and educational institutions do not pay enough attention to the issues concerning minority veterans. He added he thinks it's important to get youth involved in fighting for issues that affect their communities.
"(The issue) doesn't stop with just the Filipino veterans from World War II," he said. "The United States does not give its veterans the proper care they need."
Esguerra added he was motivated to bring the event back to UCLA by increasing Samahang Pilipino's involvement in the march because he thinks participating helped him learn more about his culture and community.
He said he thinks the types of benefits veterans receive affect the ways their children are brought up.
"We need to understand we are not in this just for the veterans but also for their families," Esguerra said.