Offensive posters targeting SJP resurface on campus for third time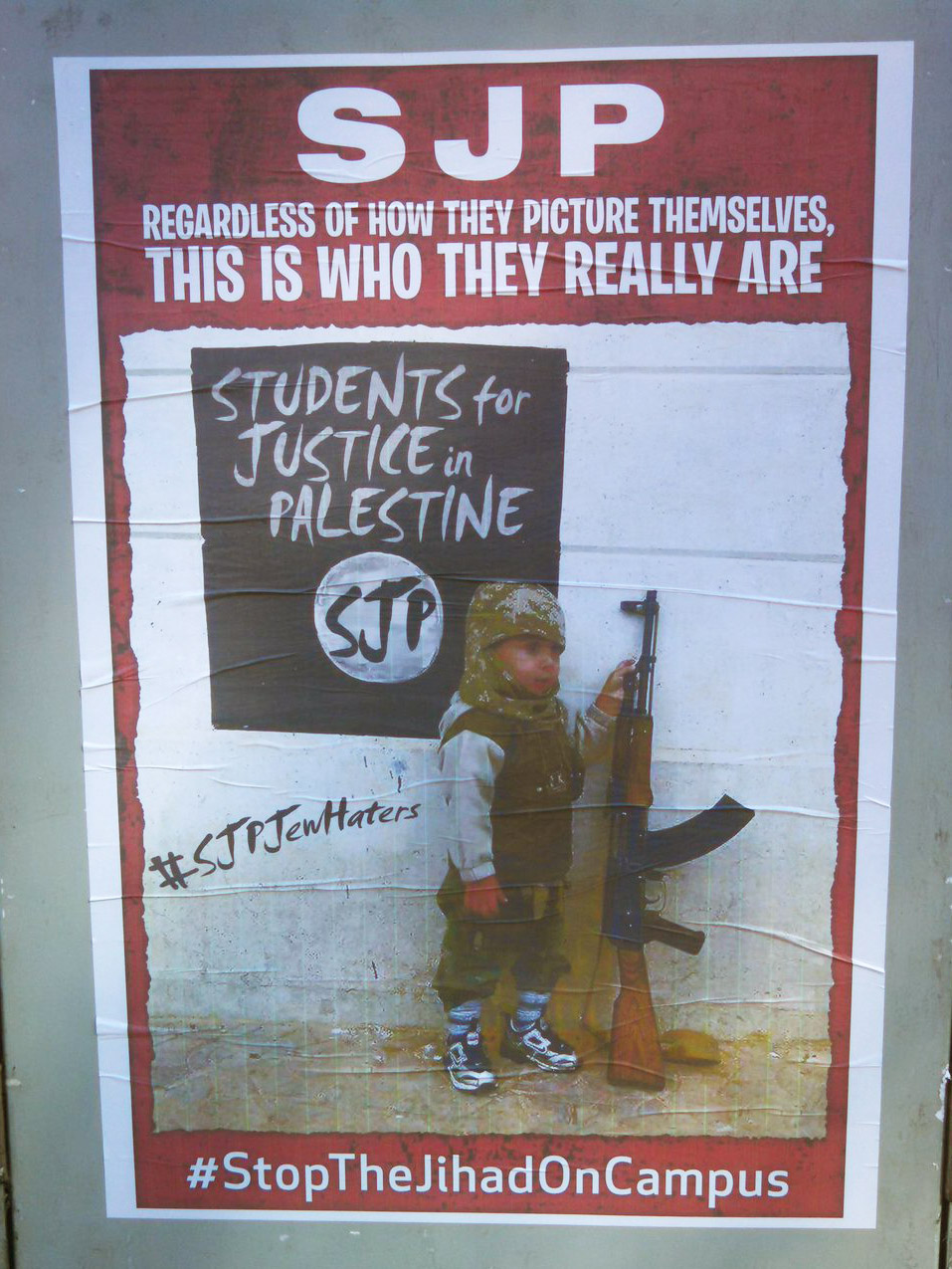 Students found posters on Bruin Walk and in the North Village Thursday morning accusing the organization Students for Justice in Palestine of involvement in terrorist and anti-Semitic acts. (Aram Ghoogasian/Daily Bruin)
The original version of this article contained information that is unclear. Ani Der-Grigorian said UCLA officials did sit down with a few members of Students for Justice in Palestine last year, but said nothing more tangible was done and members' feelings weren't addressed.
Students found posters on Bruin Walk and in the North Village Thursday morning accusing the organization Students for Justice in Palestine of involvement in terrorist and anti-Semitic acts.
One of the posters found Thursday read, "Regardless of how they picture themselves, this is who they really are," above a photo of a child standing next to a rifle. The posters also listed two hashtags, "SJP Jew Haters" and "Stop The Jihad On Campus," which targeted the Muslim Student Association, a religious student group unaffiliated with SJP.
Students found similar posters on the American University campus in Washington, D.C., Sunday evening. One poster featured a hand stabbing the Star of David with a knife, and another read "MSA Terrorist Anwar Al-Awlaki: President MSA Colorado State." Al-Awlaki was killed by United States drones in 2011 after linked to al-Qaeda's affiliate in Yemen. An exact replica of the poster targeting MSA was found at UCLA Monday morning.
SJP President Yacoub Kureh, a graduate student in mathematics, said the posters' attempt to connect SJP to MSA is inaccurate because not all Palestinians practice the same religion.
"The fact that they didn't just target us really confuses me," Kureh said. "People assume all Palestinians are Muslims and that's certainly not the case."
He added the assumption that SJP is anti-Semitic is very offensive to the group's Jewish members.
The David Horowitz Freedom Center placed similar posters near De Neve Plaza in April. David Horowitz is a conservative writer who currently manages the Freedom Center website. Similar posters were also found on campus in February.
Horowitz did not respond Thursday to multiple calls for comment.
Ani Der-Grigorian, SJP outreach director and fourth-year anthropology and international development studies student, said she thinks the connection between the two groups stems from Islamophobia. She added SJP is a secular organization whose goal is to promote Palestinian activism, while the Muslim Student Association is a religious group.
Der-Grigorian said UCLA officials have done little in response to the posters, although she said they did meet with a few members of the organization last year.
"The administration has done the bare minimum," Der-Grigorian said. "They haven't sat down with us about how unsafe this makes our members feel."
She added the "SJP Jew Haters" hashtag on the posters was also used in connection to a Bruin Republicans event with Ben Shapiro this week.
Felipe Bris Abejon, SJP education and resources director and first-year political science student, said he was the first to notice the posters on Bruin Walk around 10 a.m., when he found one stuck to the bottom of his shoe.
Kureh said he does not think Bruins for Israel is responsible for the posters because the student group has been helpful when the posters were put up in the past.
"Last year, BFI was supportive in taking these down and was very clear this is not the way they want to engage with us," Kureh said. "They've never used the SJP name this way."
SJP leaders said they understand the First Amendment limits how much officials can respond to these incidents, but would still like administrators to provide a thorough response to condemn the spread of hurtful information.