Bruins stand in solidarity with Mizzou students protesting racist incidents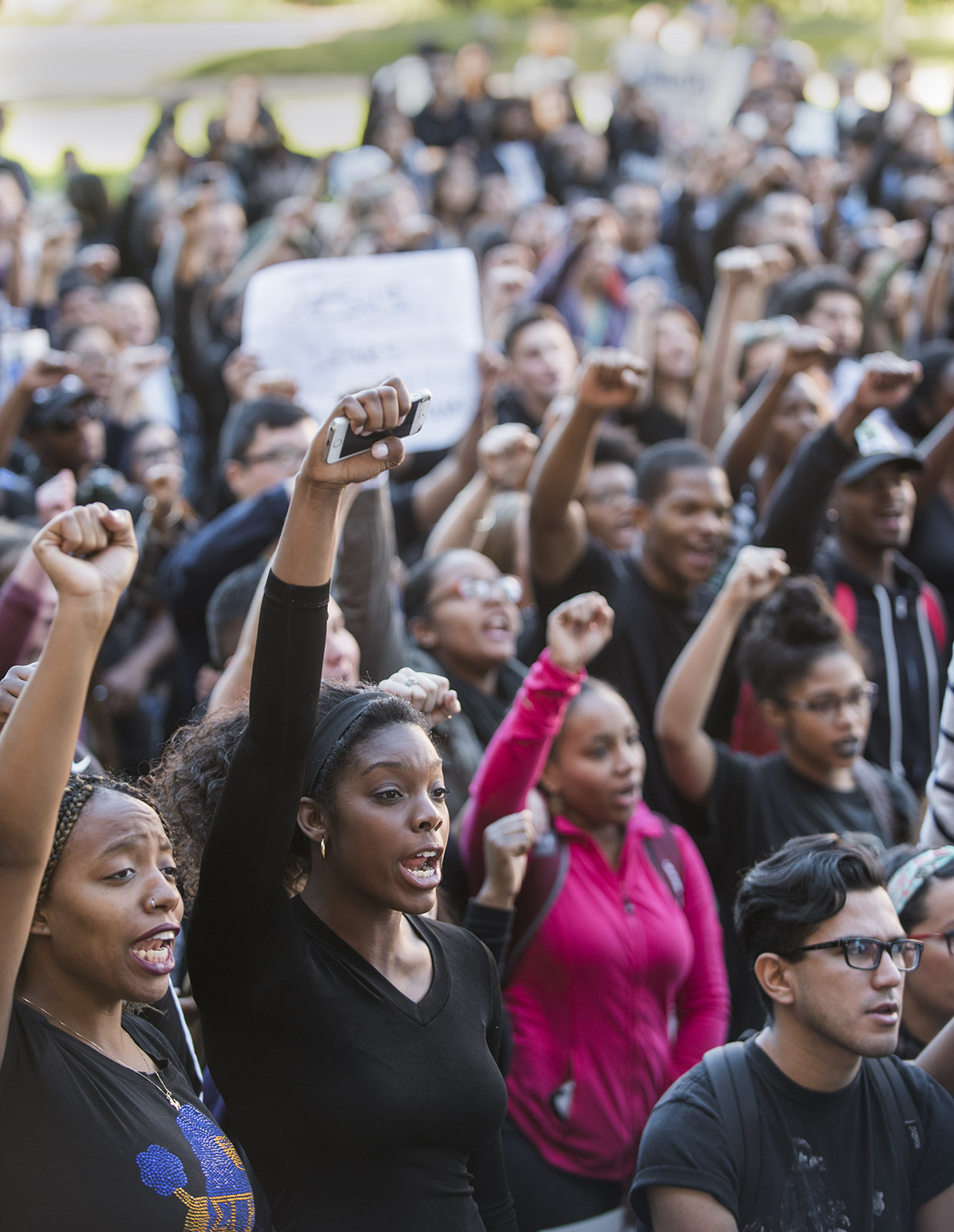 Hundreds of students, faculty members, staff and alumni rallied in front of Powell Library Thursday afternoon, supporting students at the University of Missouri who are protesting racially-charged incidents on their campus. (Daniel Alcazar/Daily Bruin senior staff)
Hundreds of students, faculty members, staff and alumni rallied in front of Powell Library Thursday afternoon, supporting students at the University of Missouri who are protesting racially charged incidents on their campus.
The Afrikan Student Union, which led the rally, and faculty members spoke to a crowd of 200 about the similarities between racial issues at the University of Missouri and UCLA. They also chanted "Black Bruins Matter" with posters and fists held in the air.
"How can we focus on studying if we know we are not valued in our everyday lives?" said Kamil Oshundara, a second-year world arts and culture student and board member of the Afrikan Student Union.
On Monday, the University of Missouri's president and chancellor resigned after the football team and a graduate student went on a strike because they thought administrators were not adequately responding to racially charged incidents. UCLA's ASU chapter hosted the Thursday rally to show support for administrative change in response to students voicing their concerns about discrimination in Missouri.
After the Missouri officials' resignations, some people posted violent threats to Missouri students on the anonymous social media application Yik Yak. A man was arrested Thursday in connection to one of the threats.
Funmilola Fagbamila, a member of Black Lives Matter and a graduate student in African American studies, said she thinks UCLA students face the same issues of racism that are being protested on the University of Missouri campus. She added she thinks administrators are hoping students won't follow up on their demands.
"The administration is hoping and praying that we go to break and come back pacified," Fagbamila said. "They are waiting for troublemaker students to graduate."
At the rally, African American studies professor Peter Hudson said black faculty are also subject to the microaggressions and humiliations black students face. He added only 3 percent of UCLA faculty is black.
"Microaggressions, diversity and representation are symptoms of a larger systemic disease," Hudson said.
Vickie Mays, a psychology and public health professor, said she thinks faculty and administrators are responsible for keeping students safe from racial discrimination so all students can make the most out of their education at UCLA. She added she was glad students of many races participated in the rally.
"My dream is to have a classroom (this diverse)," she said.
One member of the ASU read a list of 10 demands the group sent to administrators in October. ASU members demanded administrators create a $30 million endowment to financially support black students, hire more black faculty and implement a policy explicitly outlining what constitutes discrimination to better detect racism.
In response, UCLA administrators said they would schedule meetings with ASU to discuss the demands. Jerry Kang, vice chancellor of equity, diversity and inclusion, said he is willing to revise several of the anti-discrimination policies already in place.
Students at the rally said they thought the event was important because UCLA students needed to show administrators they support students from the University of Missouri.
Kaelyn Rodriguez, a graduate student in Chicana/o studies, said she was moved by Fagbamila's comments about how faculty don't expect ASU members to follow up on the demands. She added she thinks the protest will keep people thinking about racism on campus over winter break.
Other students said they thought students needed to be united in order to fight racism on campuses.
Ummara Hang, a graduate student in social welfare, said there is more strength and power in student voices when they unite together.
"We need to make ourselves heard," Hang said. "We all have a common purpose – to confront systems of oppression."
Roberto Luna Jr. is currently a senior staffer covering Westwood, crime and transportation. He was previously an assistant News editor from 2015-2016 and a News contributor from 2014-2015.
Roberto Luna Jr. is currently a senior staffer covering Westwood, crime and transportation. He was previously an assistant News editor from 2015-2016 and a News contributor from 2014-2015.