Therapy dog program seeks funds to continue providing patient services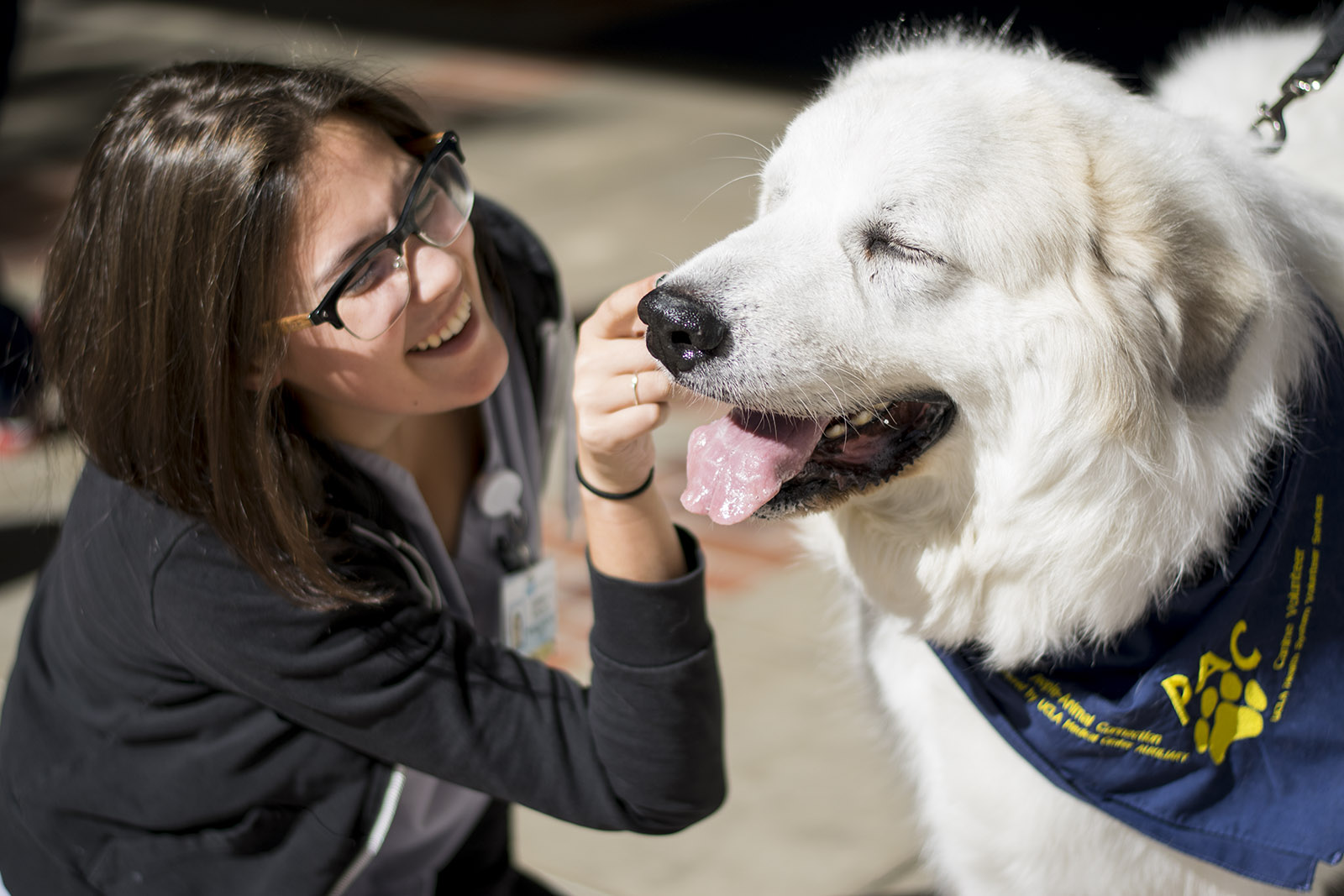 Gigi Schiller, a staff member for People-Animal Connection, pets Larry, one of the program's 70 therapy dogs. The program, which was founded in 1994, has dogs visit patients, staff and families in different UCLA Health centers to help them in recovery. (Michael Zshornack/Daily Bruin)
Marco Ferreira's recovery process has been a long one, consisting of three surgeries, ongoing physical rehabilitation and numerous visits from therapy dogs.
In 2008, Ferreira was involved in a motorcycle accident that resulted in a traumatic brain injury and left him in a coma for six weeks. When his wife Wendy Tucker visited him, she introduced Ferreira to the UCLA People-Animal Connection therapy dogs at the Ronald Reagan UCLA Medical Center.
The People-Animal Connection, or PAC, an animal-assisted therapy program founded in 1994, works with 70 dogs that visit patients, staff and family in different UCLA Health centers to help them recover, said Erin Rice, director of PAC. Last week, program officials launched a campaign to raise $25,000 to sustain the service.
Ferreira said having a dog by his side made him feel calm while he stayed in the intensive care unit. Tucker added the dogs would come in and lie down with Ferreira.
Beth Goldfarb, a program volunteer since 2008, said many volunteers who visit and comfort patients also bring their own dogs to the program.
After a particularly exhausting day of numerous visits, a nurse approached Goldfarb's volunteer team and asked if they could spare a moment for one last patient. Goldfarb said Scout, her volunteer dog, was eager to go outside, but she agreed to see the patient anyway.
"(The patient) was a young girl who was in need of a heart and kidney transplant," Goldfarb said. "She was getting a blood transfusion, and it looked like she was going through pain. Scout ended up curling up and sleeping for half an hour."
Goldfarb and Scout continued to visit the patient until she was discharged.
"It's nice to know we can give them five to 10 minutes of happiness," Goldfarb said.
Tucker said she thinks the dogs impact patients, as well as their family members and the hospital staff.
"Having dogs was comforting when (my husband) was in a coma," Tucker said. "He reached for (the dog) even before he was talking."
Mark Morocco, a clinical professor who specializes in emergency medicine, said therapy dogs help lower patients' adrenaline levels. Lower levels of adrenaline decrease blood pressure and slow down heart rates, which then leads to improved vital signs and a decrease in stress levels, he said.
"If people are more comfortable, it decreases their stress levels and allows people to heal more quickly," Morocco said. "If patients are happy, they are more likely to cooperate by taking medication or undergoing certain operations."
Morocco added he thinks repeated PAC visits aid patients' mental well-being and help them tolerate their time in the hospital, especially for those who are admitted to the hospital frequently or for long periods of time.
Tucker said a PAC therapy dog accompanied her husband every time he underwent surgery.
"The program is very simple," she said. "The dogs show up, and they're just there to be with you."
Morocco said the therapy dog treatment does not increase risk of infection. Unless a patient isn't a dog person, there aren't any negative consequences, he added.
Ferreira and Tucker said their experience with PAC encouraged them to give back to the hospital community. Both now return to the hospital to visit patients in need of comfort.
"It's an incredible and special program," Tucker said. "We're so thankful we knew about it."
Sandra Wenceslao is an Opinion columnist.
Sandra Wenceslao is an Opinion columnist.