City program aims to pave road to more available parking in Westwood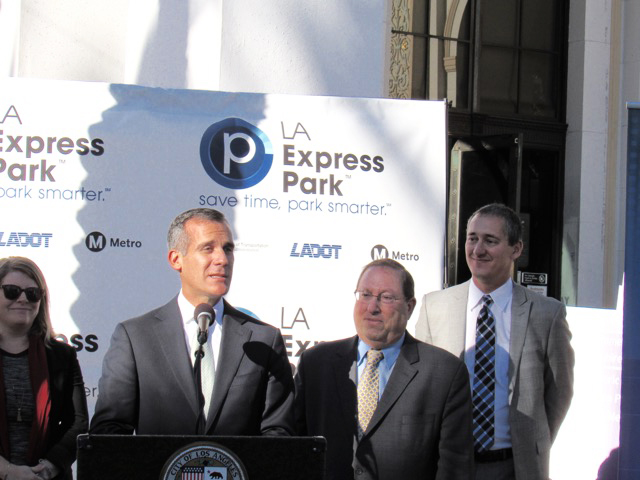 Mayor Eric Garcetti, among other city officials, arrived in Westwood Village on Thursday afternoon for the launch of Express Park, a new parking program. (Westwood Village Improvement Association)
City officials implemented a demand-based parking program Thursday that limits Westwood residents and visitors to two hours of street parking at a time.
Los Angeles Department of Transportation officials developed the Express Park program in 2012 to decrease parking traffic in L.A. communities. Parking prices will increase to $2 per hour during peak demand hours, and 50 cents during off hours, said Andrew Thomas, executive director of the Westwood Village Improvement Association, also known as the BID.
Express Park, an LADOT program that originated in downtown Los Angeles, uses demand-based parking pricing and technology to reduce congestion, according to an LADOT press release.
Peter Ghent, general manager of the project, said Express Park sensors will determine how many parking spots are in use at any given time, and charge users accordingly. Prices increased from $1 per hour to an average of $1.38 per hour.
At the program's launch event Thursday, Mayor Eric Garcetti said he thinks Express Park will make it easier for Westwood drivers to find parking. Council member Paul Koretz and some LADOT officials also attended the ceremony.
"(Express Park) is part of a continuing effort to use technology in transportation," Garcetti said.
Thomas said the program allows drivers to pay for parking from their smartphones. Three electronic signs indicate parking availability, and meters include sensors that prevent cars from re-entering the same parking space after two hours.
A federal grant of $600,000 and an LADOT grant of $150,000 funded the meters, signage and sensors, Thomas said. LADOT officials worked with the BID for two years to bring the program to the Village.
Thomas added he thinks the two-hour limit will allow more visitors to park in the Village. Before the program, street parking in Westwood seemed scarce.
"Imagine seeing two or three spaces open every time you drive down a block," Thomas said. "We have parking structures, but if you're looking on the street, (it seems like) there's nowhere to park."
Donald Shoup, a professor emeritus of urban planning in the Luskin School of Public Affairs, spent more than 40 years researching parking regulation. He said he thinks a two-hour time limit would be unnecessary if prices were set to truly reflect demand.
Shoup added he expects the meters to open up street parking in the Village, and predicts businesses will see more customers.
Westwood resident Debbie Nussbaum said she thinks two hours is not enough for visitors to eat dinner and see a movie. She added she thinks private parking structures in Westwood Village are more expensive than on-street parking.

Ashley Hart, who regularly parks in Westwood, said she hopes the program will make more parking spots available.
"I think the pricing would work in our benefit," Hart said. "I don't mind the cost because the meters in Los Angeles are usually a dollar or two anyway."
Ghent said LADOT may consider extending the two-hour limit on weekend nights. LADOT will collect data from the new parking meters to evaluate the program's effectiveness, he added.
Pauker was the managing editor from 2017-2018. She was previously an assistant news editor for the City beat and a reporter for the City beat.
Pauker was the managing editor from 2017-2018. She was previously an assistant news editor for the City beat and a reporter for the City beat.