Bio Cremation begins operation at UCLA's Donated Body Program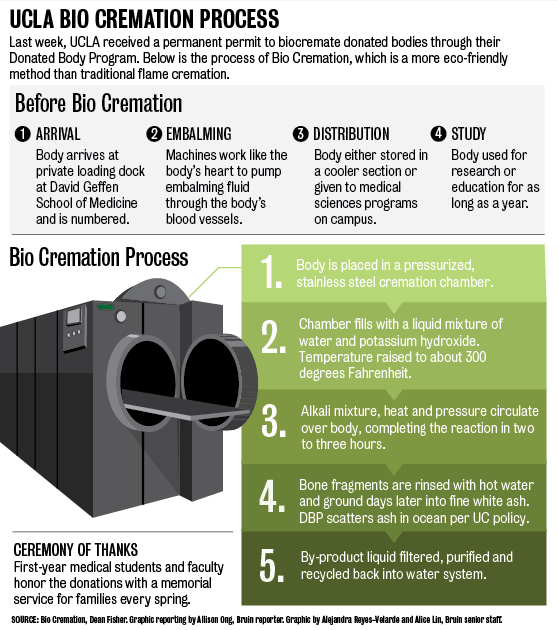 The City of Los Angeles awarded the Donated Body Program at UCLA a permit last Thursday that permanently authorizes researchers to use a flameless procedure called Bio Cremation to dispose of cadavers.
On average, about 168 people donate their bodies to UCLA's Donated Body Program every year to be used for research after their death. The program distributes donated bodies to medical institutions such as the dental school and medical school that use cadavers for teaching and research, said program director Dean Fisher.
When Fisher became director in 2008, he put Bio Cremation technology on his list of priorities for the program. Now, after three years of experimental testing, the Bio Cremation machine is authorized to operate permanently within the program, the first Bio Cremation unit in California.
Fisher said he wanted to implement this technology because it is cleaner and more eco-friendly than flame cremation, which the school previously had done at an off-site location.
"UCLA now controls the entire (donation) process, from the time the body enters our program down to the scattering of the ashes," Fisher said.
Recycled
A single stainless-steel Bio Cremation chamber sits within a sterile room in a restricted area of the David Geffen School of Medicine. The unit's circular door swings open to reveal a perforated metal tray upon which a cadaver is laid for disposal after months of research and dissection.
Bio Cremation, unlike traditional flame cremation, reduces human remains to bone fragments and liquid waste, which is sterilized and recycled back into the city's water system. For about three hours, 270 gallons of heated, pressurized water and potassium hydroxide circulate in the chamber, naturally decomposing the body.
After the California Department of Public Health authorized the machine's operation in 2012, the program underwent three years of testing to prove the machine could sterilize all remains, Fisher said. Staff inserted vials of live bacteria into the machine before cremation to confirm the machine would kill the live microbes.
Fisher said the carbon footprint of Bio Cremation is about one-quarter of what a flame cremation would produce. The process also minimizes the release of chemical contaminants like mercury into the air and can save the school more than $250 per cremation, he added.
Bio Cremation remains a controversial process in the United States, only legal in 10 states. In California, Bio Cremation is still illegal for funerary and crematory companies, after efforts to legalize it burned out in 2011.
The Donated Body Program was granted the permit because the cremated bodies are classified as medical waste, Fisher said.
Respected
Pediatric neurosurgeon Warwick Peacock lifted a thick, yellowing nerve off the arm of a partially exposed cadaver lying on a steel table.
Peacock, a professor emeritus of surgery, said neurosurgery residents will spend hours dissecting the cadaver's nerves the next day. Residents will work with the body's upper limbs to learn how to operate on patients with stab wounds and motorbike injuries.
The Surgical Science Laboratory's 20 cadavers lay either in cold storage or sealed in bright orange bags. Peacock said rigorous cadaver training allows residents to practice procedures before operating on live patients.
"One of the lab's goals is to improve the confidence of the surgeon," he said. "How do students learn how to hold a scalpel or take out a gallbladder? They come here and do it first."
Cadavers give many medical students, such as Abraar Karan, a firsthand look at human anatomy. Karan, a fourth-year student, said his cadaver-based courses were eye-opening for him.
"I'd never done a physiology course before this," said Karan, who is pursuing a career in internal medicine and global health. "Being able to see the body opened up was incredible … to feel a calcified heart valve, or the texture of a healthy liver versus a diseased liver."
For many medical students, cadavers are their first patients, and ones they see for up to 10 months, Fisher said.
In addition to understanding the inner workings of the body, students also learn to respect the bodies they dissect, Peacock said.
"Before we open the bags, I remind students to be thankful for the donation," Peacock said. "It is a tremendous privilege to learn from this person – let's not forget that."
Rested
Bio Cremation transforms human bone into snow-white pieces of pure calcium phosphate that fill several trays in the cremation room. The bone is spun to fine white ash in a cremulator and scattered in the sea, in accordance with University of California policy.
Behind one cabinet door lies a collection of artificial body parts the machine failed to dissolve – gold-filled teeth, metal hip replacements, fake fingernails and a pacemaker that still beeps every few minutes.
After cremating a World War II veteran, machine operators once found metal shrapnel left behind in the body from war injuries, Fisher said. He returned the shrapnel to the donor's grandson.
First-year medical students and faculty host a Ceremony of Thanks each spring, which engages the families of donors in a memorial service of song, poetry and prose. Karan, who led the 2013 ceremony, said the event allows families to hear how their loved ones have impacted students' medical education.
Donated Body Program officials also added a concrete block to the medical school courtyard, to honor those who dedicated their remains to science. A metal plaque commemorating the donors adorns the memorial, which Fisher said is occasionally decorated with bouquets of flowers.
"The ceremony is a form of closure not only for the families, but also for the students," Fisher said. "They get to say their thanks for the opportunity to learn from their loved ones."
Potential donors interested in donating their bodies to science can find more information here.