UC chancellors submit amicus brief supporting affirmative action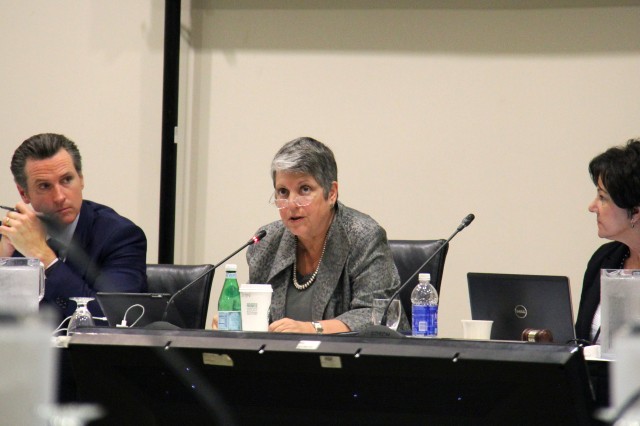 University of California leaders submitted an amicus brief Monday to announce their support for affirmative action in admissions decisions. (Emaan Baqai/Daily Bruin senior staff)
University of California President Janet Napolitano and all 10 UC chancellors announced their support for affirmative action in admissions decisions in a statement submitted to the United States Supreme Court Monday.
UC officials submitted the statement, called an amicus brief, to supplement information presented in the case Fisher v. University of Texas at Austin, which challenges the use of affirmative action in college admissions. Third parties can submit amicus briefs to provide additional information relevant to cases.
Affirmative action policies aim to ensure students of all races, sexes and religious orientations are represented on campus. The amicus brief detailed the UC's efforts to increase diversity through race-neutral initiatives.
Despite the efforts, UC enrollment figures do not reflect California's racial demographics, particularly at its most selective campuses, according to the brief.
Abigail Fisher and Rachel Michalewicz, who were denied admission to University of Texas at Austin in 2008, originally filed the case in 2009. Michalewicz withdrew form the case in 2011.
The women alleged the university improperly used race as a factor in admissions. A United States District Court decided in favor of the university in 2009, but the Supreme Court vacated the decision and sent the case back down the Fifth Circuit Court of Appeals in 2013, saying that the court failed to apply "strict scrutiny" in its review of the university system's admissions policy.
The Fifth Circuit Court of Appeals then ruled in favor of the university and dismissed Fisher's case in July 2014. In June, the Supreme Court announced it would reconsider the case it initially heard in 2013.
Napolitano said in a press release she thinks race-blind admissions have impeded the UC's ability to enroll a more diverse student body.
The number of minority students enrolled at UCs decreased significantly in 1997, after California voters passed Proposition 209 in 1996, according to the brief. The proposition banned affirmative action in California public universities.
According to the brief, the proportion of minority applicants at UCLA dropped from 22 percent to 18 percent between 1995 and 1998. The admission rate of minority applicants also fell from 52 percent to 24 percent.
The U.S. Supreme Court will rehear the case in Washington, D.C., on Dec. 9.
Compiled by Shreya Maskara, Bruin senior staff.