UCPD to restrict and regulate on-campus hoverboard usage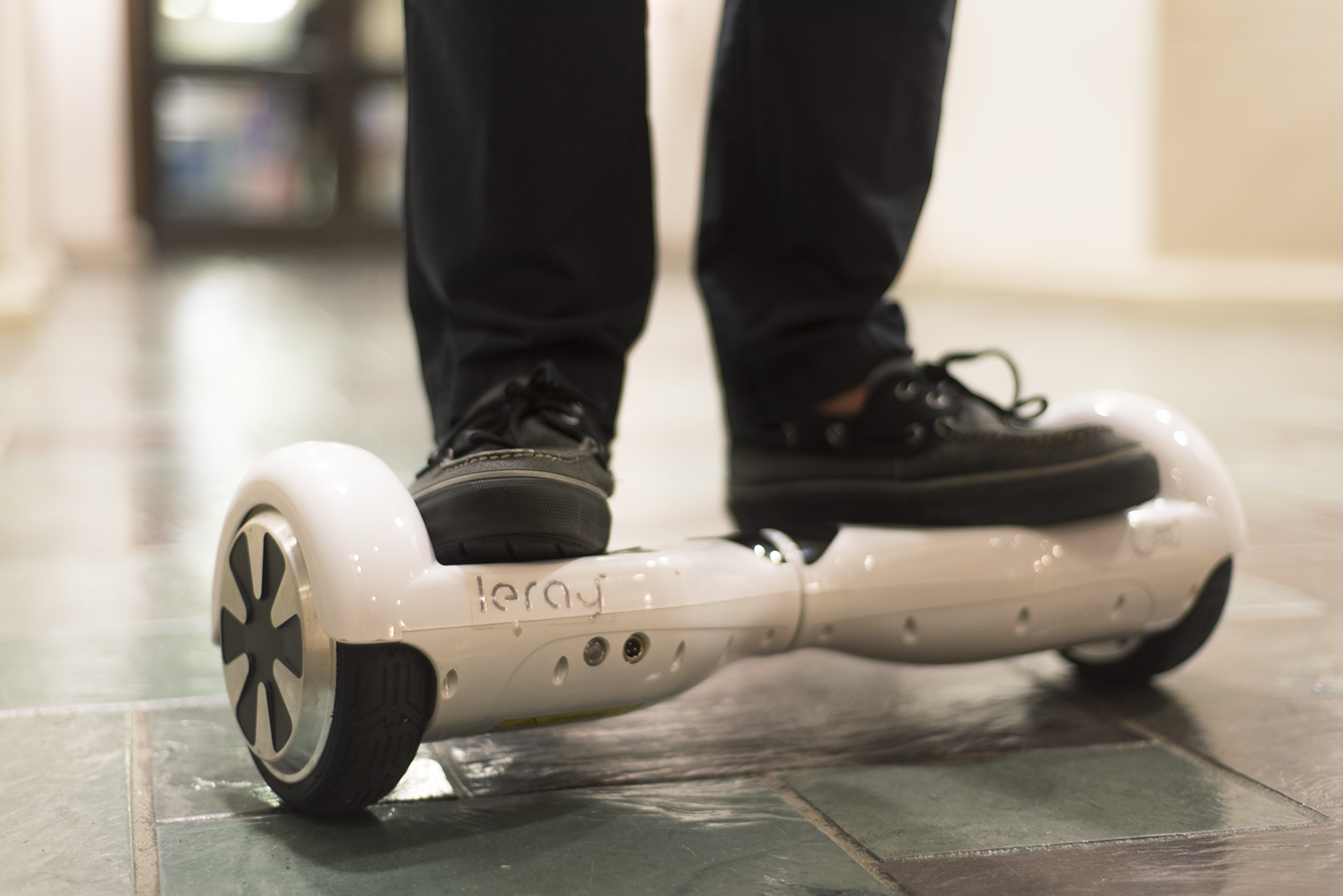 UCPD is trying to discourage students from using hoverboards on walkways and handicap ramps because pedestrians have reported several close calls with hoverboard users. (Owen Emerson/Daily Bruin senior staff)
By
Daily Bruin Staff
Nov. 2, 2015 1:19 a.m.
University police will more strictly enforce hoverboard restrictions on campus walkways and in buildings after student pedestrians reported safety concerns last week.
UCPD spokesperson Nancy Greenstein said UCPD currently classifies hoverboards as skateboards, which students aren't allowed to ride on sidewalks, bike paths or roadways to minimize pedestrian collisions.
Beginning Jan. 1, 2016, hoverboards will be categorized as "electrically motorized boards" as distinct from "motorized skateboards," thus permitting their use on California sidewalks, bike paths and roadways, in accordance with Assembly Bill 604.
However, hoverboards will still be prohibited in walkways and hallways at UCLA because an existing law grants the University of California Board of Regents the power to regulate transportation on University campuses.
The new bill, which Gov. Jerry Brown approved on Oct. 11, mandates that hoverboard users must be at least 16 years old. The bill also requires users to wear helmets and manufacturers to equip the boards with safety equipment and restrict their operational speed to 20 mph.
Greenstein said UCPD officers are trying to discourage students from using hoverboards, bicycles, scooters and skateboards on walkways because pedestrians have reported several close calls with hoverboard users.
She added some students ride hoverboards on handicap ramps, risking collision with students who have physical disabilities.
Despite UCPD's concerns, some students said they think hoverboards are a safe way to traverse campus. Others believe hoverboard users should be more careful when they use them.
READ AND WATCH: How to ride a hoverboard
Scott Shelton, a first-year mechanical engineering student, said he doesn't think it makes sense to force hoverboard users to wear helmets because people can ride a bike without a helmet once they turn 18.
Jordan Minns, a third-year history student, said he parks off campus, so having a hoverboard helps him get to class faster.
"It saves me a lot of time," he said. "I think hoverboards are much more harmless than skateboards and scooters because it's much easier to stop."
Courteney Craney, a third-year political science student, said she thinks hoverboards aren't dangerous and UCPD should more heavily regulate skateboards, which she thinks are more dangerous.
Hunter De la Vara, a first-year chemistry student, said he has seen students use their phones while riding hoverboards. He thinks this can be a safety concern for others because hoverboard users on their phone aren't as focused on what's in front of them.
Greenstein said UCPD offered classes last year that taught students how to use bicycles, scooters and skateboards safely around campus, and UCPD is considering offering classes again this year with a revised curriculum that includes hoverboard safety.
Contributing reports by Roberto Luna Jr., Bruin senior staff.