Men's water polo to face the increasingly threatening Pacific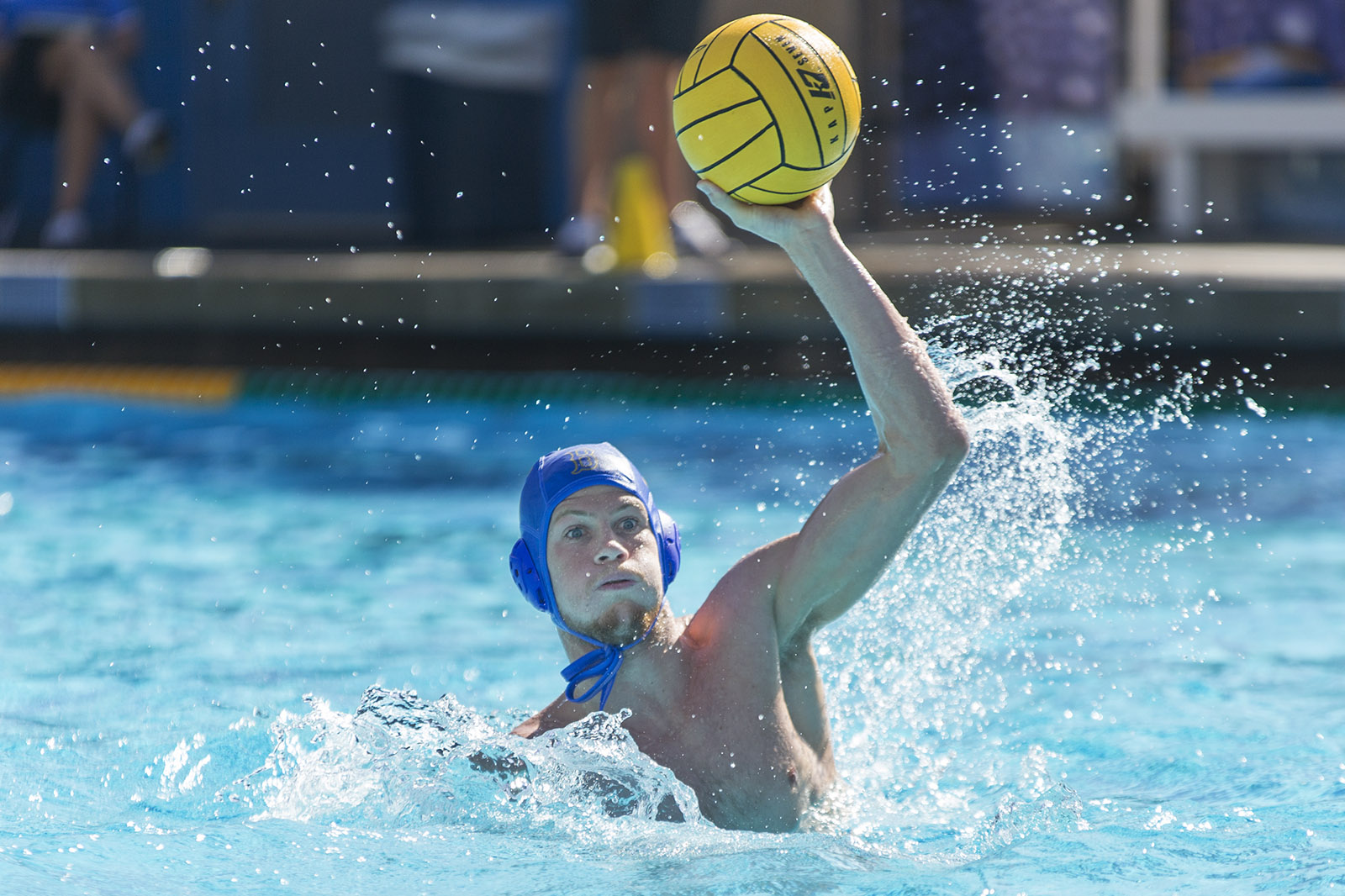 Junior attacker Ryder Roberts said that the University of the Pacific – UCLA's opponent this weekend – is especially dangerous when teams let their guards down even a little bit. Roberts is one of the Bruins' top scorers. (Aubrey Yeo/Daily Bruin senior staff)
Men's water polo
---
No. 2 Pacific
Sunday, 1 p.m
Spieker Aquatics Center
In the 45 total NCAA water polo championships that have been played, California, Stanford, USC or UCLA have vied for the trophy every year. The four powerhouse schools have combined for 41 national titles.
Just as college water polo was starting to fall into the same predictable pattern in 2015, the University of the Pacific toppled both Stanford and USC in a span of seven days.
The nation's top-four programs now include a dark horse that hasn't brought an NCAA trophy to Stockton, California, in its 18 years of competing. On Sunday, the No. 2 Tigers (19-2, 5-0 Mountain Pacific Sports Federation) will face their toughest challenge yet when they head to Westwood to face defending champions, the No. 1 Bruins (21-0, 5-0).
"We fully know what we're up against," said coach Adam Wright. "All the teams in this conference are extremely good and we know that it's going to be a really challenging game because (Pacific has) been playing extremely well."
Both teams sit atop the nation with the only undefeated conference records. They have yet to face-off this season and, come Sunday afternoon, there will be a frontrunner in the quest for the 46th national title.
Initially ranked No. 5 in the Collegiate Water Polo Association preseason poll, Pacific's 19-2 overall record has proven that the relatively young Tiger program can keep up with the historic college water polo programs. The Tigers' only losses this season were in overtime against the now-No. 4 Golden Bears.
"They have unbelievable players," Wright said. "They have great left-handers, they have great centers. … They have all the pieces, and I don't think it's a surprise to anyone that they're winning games."
In 2013, Pacific nearly brought down a five-year dynasty during the NCAA title game against USC. That November, the Tigers climbed to their first No. 1 ranking in program history. The Tigers have evolved from competing in the shadow of the "Big Four" to being serious contenders capable of snapping streaks.
Efficiency at both ends of the pool
Wright said that the Tigers have been effective this season in creating confusion by posting up and utilizing picks and drives – movement that puts defenses in foul trouble and generates man-up opportunities.
"They've been playing their system now for about three solid years and because of that, they know their plays extremely well and they know how to work them against different teams," said sophomore utility Alex Roelse.
While successful in executing an offense that forces kickouts, the Tigers are similar to the Bruins as they also rank in the league's top-three defenses.
"They are defensive oriented as well. They don't take a lot of exclusions," Wright said. "We have to make sure on our defensive side that we're really sharp too. … It probably won't be a super-high scoring game when you have two defensive minded teams like this."
The Bruins will need to be more effective in keeping front court structure to remain in control of the pace of the game and prevent the Tigers from tallying field blocks, Wright said. This is an improvement that the players have been focusing on in practice.
"Our front court attack needs to be a lot better," said senior utility Danny McClintick. "Our balance, our spacing … we need to make sure that we're putting pressure on their defense."
Against Cal last weekend, McClintick noticed that the team struggled in its transition to defense, allowing easy counterattack goals in the first half. Junior goalie Garrett Danner was thrown into multiple one-on-none and two-on-one situations because of the Bruins' inability to slow Cal's attack.
Revamped roster
Last year, Pacific redshirted key utilities Alex Obert and Aleksandar Petrovic. The Tigers were 14-12 overall, winning just two conference games and finishing the season tied for eighth in the nation.
Roelse said that the younger players had more time and opportunity to learn Tigers' coach James Graham's plays during the key starters' absence in 2014.
"The other guys are another year older with another year of working out," Roelse said. "That puts them in a good position to play at the highest level."
With Pacific senior goalie Brady Moore, the current MPSF Player of the Week, in the cage and veteran field players back in the mix, the size and physicality of Pacific's roster presents matchup issues for any team the Tigers face this season, McClintick added.
On Sunday, the Bruins will try to avoid becoming the next top-ranked team clawed from the standings in the Tigers' hunt for the NCAA trophy that slipped from their hands in 2013.
"If you let your guard down for a second, they execute their plays really well," said junior attacker Ryder Roberts. "They find openings when people aren't paying attention, that's why they're really dangerous. … They can make something out of nothing."