Football scouting report: Colorado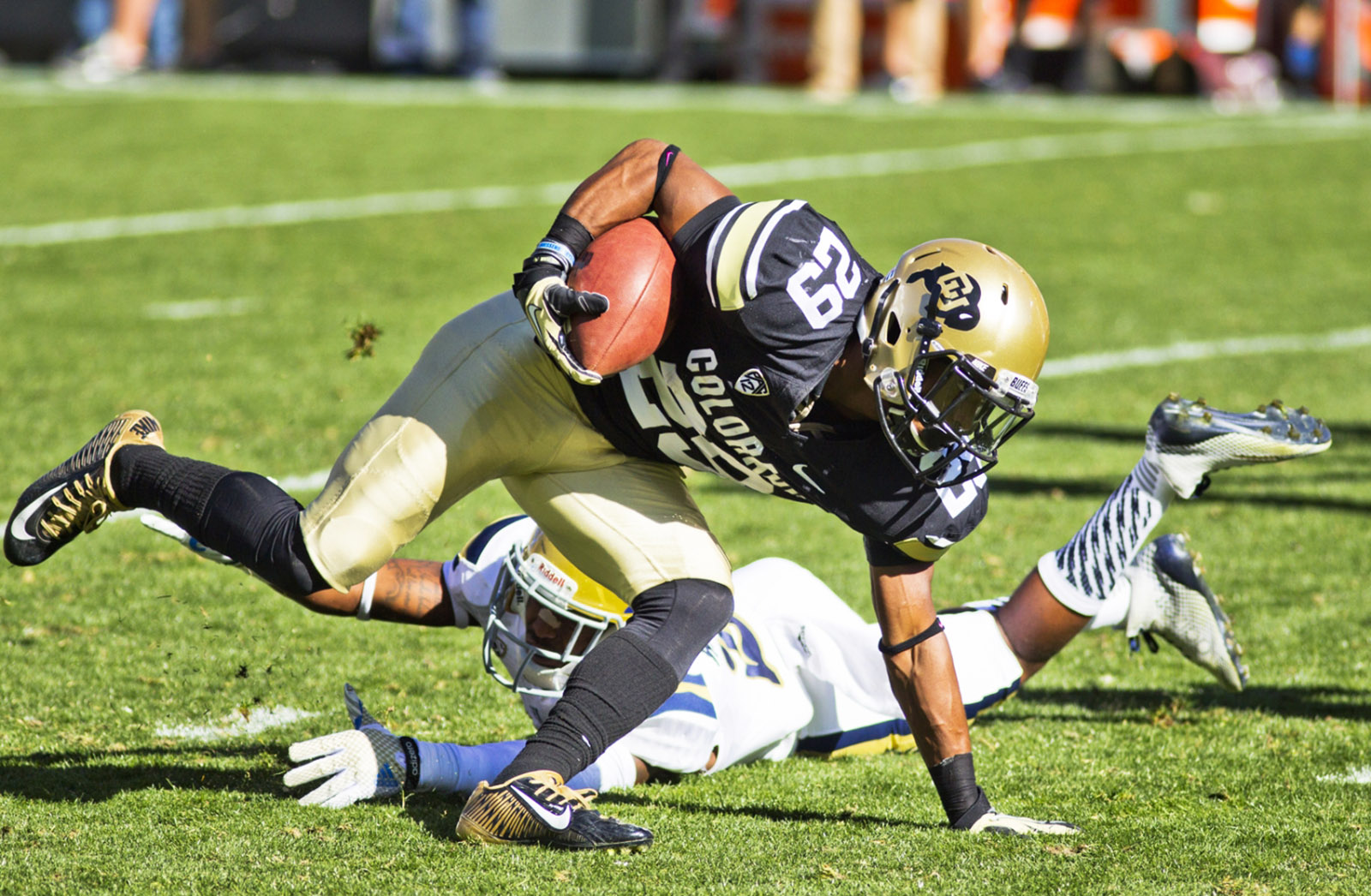 Wide receiver Donovan Lee and Colorado pushed visiting UCLA to double-overtime in last season's matchup before the Bruins finally recorded a 40-37 win over the Buffaloes. The teams will face off again on Saturday, this time at the Rose Bowl.
(Daily Bruin file photo)
On Saturday, No. 24 UCLA (5-2, 2-2 Pac-12) will face a Colorado team that is last in the Pac-12 South division. The Buffaloes (4-4, 1-3) are fresh off their first conference win of the 2015 season, but have lost four games in a row to the Bruins since 2011.
Here's a scouting report for Colorado, which will need to find its consistency if it wants to upset UCLA at the Rose Bowl.
Offense
Base formation: Spread offense
Run/pass ratio: 56.5 percent rush, 43.5 percent pass
Blocking style: Man blocking
Strength: Quick passing
Weakness: Inconsistency
X-factor: Quarterback Sefo Liufau
For most of the season, the Colorado offense, ranked No. 10 in the Pac-12, has not lived up to its potential. The Buffaloes have been erratic throughout the season, their injury-riddled offensive line making it hard to pass and run effectively.
The offensive line's weakness has increased the defensive pressure on quarterback Sefo Liufau, who has not responded well. Two years after his breakout season, the junior has been largely inconsistent, throwing for only 1870 yards and nine touchdowns.
Sure, he's had his high points – he had a brilliant showing against Arizona, throwing for 339 yards and two touchdowns in a narrow 38-31 loss. He also racked up 389 yards the previous week against Arizona State. And he's been dangerous on the ground, his five rushing touchdowns tied for first on the team. But those high points have been few and far between; he has thrown for under 250 yards in every one of the other six games of the year.
In addition to the weak offensive line, much of Liufau's dropoff can be attributed to the veritable disappearance of senior wide receiver Nelson Spruce. Spruce lit up college football last year, nabbing 106 receptions for 1198 yards and 12 touchdowns, but has only tallied two touchdowns in 2015.
Junior wideout Shay Fields has been the only other receiver to step up in Spruce's place, though his 504 yards and four touchdowns are middling when compared to the rest of the Pac-12. No other receiver on the team has more than 190 receiving yards.
Though both Spruce and Liufau played solidly last week, connecting for a touchdown in the victory over Oregon State, it still remains to be seen whether they can find the rhythm that they found successful for most of last year. This looks to be a promising matchup for the UCLA cornerback corps, which played a stellar game against Cal last Thursday, holding the team to 24 points.
Where the passing attack has struggled, the Buffalo running game has done a decent job picking up the slack. Its main strength has been its efficiency – despite ranking near the middle of the Pac-12 with 191.3 yards per game, the Buffaloes are tied for second with 19 rushing touchdowns.
Sophomore Phillip Lindsay leads the ground attack, with 478 yards and five touchdowns; his explosive backup Christian Powell has contributed four touchdowns. And of course, there's the threat of Liufau running in the red zone. However, they have done this behind an offensive line whose run-blocking has not improved much since last year, when they were No. 95 in the country in adjusted line yards.
Both on the ground and through the air, however, there is nothing very threatening about this mediocre Colorado offense. It will have to regain the heights it reached against Arizona if the Buffaloes hope to hang with freshman quarterback Josh Rosen and Co.
Defense
Base formation: 3-4
Blitz tendency: Moderate
Strength: Forcing turnovers
Weakness: Stopping the run game
X factor: Cornerback Chidobe Awuzie
A week after it racked up nearly 600 offensive yards, UCLA will face yet another weak defense in Colorado. This is a unit that is one of the worst in the Pac-12, having given up an average of 35 points per game in conference play so far this year.
Defensive coordinator Jim Leavitt's unit primarily plays man coverage out of the 3-4, though it frequently rotates to a 4-2-5, as evidenced in Colorado's game against Oregon.
The Buffaloes are decent in pass coverage, ranked No. 3 in the Pac-12. The team's cornerback corps, long a sore spot for the team, has markedly improved this year. Junior Chidobe Awuzie has been the Buffaloes' best defensive back, leading the team with seven passes defended and two interceptions. Look for Awuzie to be complemented by a rotating host of corners, with senior Ken Crawley being the most experienced.
It is against the run where Colorado really struggles. The Buffaloes have one of the worst units in college football, currently ranked last in the Pac-12. The defense has given up 1676 yards and 11 touchdowns on the ground this year; opponents are averaging 209.5 rush yards per game against the team.
The team's undersized front-seven is largely to blame; the unit is optimized for speed, not strength. Look for the Bruins' strong stable of backs, bolstered by redshirt junior Paul Perkins' likely return, to attack the Buffaloes up the middle.
Awuzie has been the Buffaloes' best defender this year, leading the team in every major defensive category. His impact has been felt across the field, from blitzing to his pass coverage. His late interception last week sealed the game against Oregon State, notching Colorado's first conference win in nearly two years. Accounting for him will be Rosen's biggest challenge this coming week.
Compiled by Anay Dattawadkar, Bruin Sports staff.