Overlooked Outings: John Johnson lays down coverage in UCLA football victory over Cal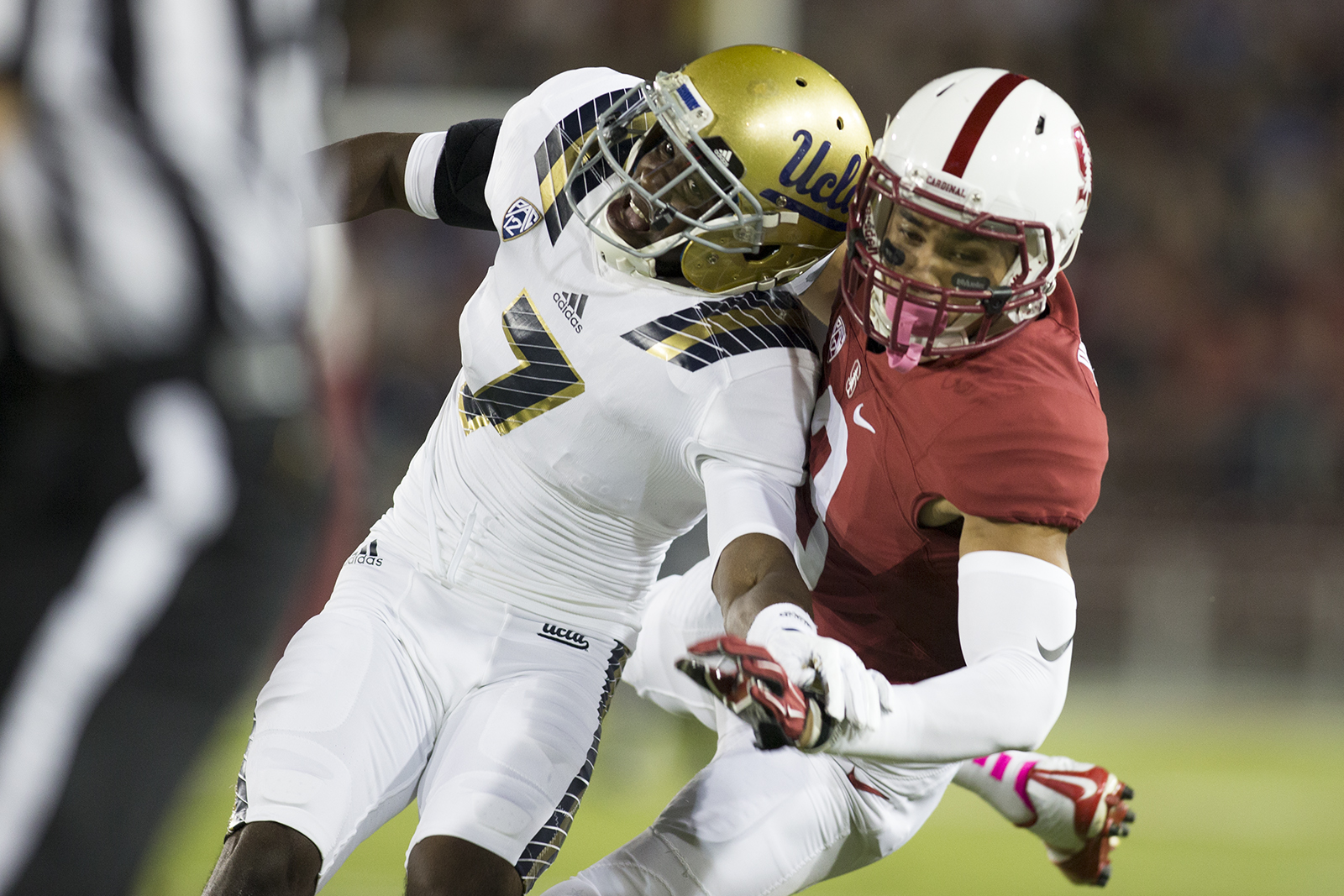 Cornerback John Johnson allowed only one catch for nine yards, breaking up two more passes against Cal. The redshirt sophomore played much of the game isolated on the perimeter. (Aubrey Yeo/Daily Bruin senior staff)
Football is a game where the stats aren't foolproof. There aren't ways to quantify how well an offensive lineman or defensive lineman controls the line of scrimmage, and there aren't ways to truly measure how well a defensive back plays in man coverage.
This week, Daily Bruin Sports takes a look at redshirt sophomore cornerback John Johnson and his overlooked performance against California last Thursday.
Lost in the offensive fireworks on Thursday night amid freshman quarterback Josh Rosen's record-breaking performance was the play of the UCLA defense.
Facing one of the nation's best passers in high-flying quarterback Jared Goff, the unit was airtight when it mattered, holding the Bears to 16 points in the game's first three quarters.
"I thought we did a great job with the secondary today, kept hanging in with the pass rush, kept changing up a lot of things to keep them off balance," defensive coordinator Tom Bradley said after the game. "We accomplished what we wanted to."
The standout defensive player on the night was redshirt sophomore cornerback John Johnson.
He played much of the game isolated on the perimeter, without significant linebacker or safety support.
Throughout, he held strong, allowing only one catch for nine yards and breaking up two more passes.
"We put him out there, and he held up very well in man-to-man situations, playing a lot of press coverage," said coach Jim Mora. "Cal has great receivers, and those guys are ballers. And Johnny did a nice job (staying) on top of them."
Mora said Johnson's performance was even more impressive given the cornerback's history of injury. After entering as a highly touted recruit, Johnson has missed both of the past two seasons due to shoulder injuries. In 2013, he separated his right shoulder early in August, forcing him to have season-ending surgery. The next year, he again injured his shoulder, missing the entirety of the 2014 campaign.
"When you have two shoulder surgeries, that's mentally and (physically tough): A physical component because you're trying to recover (and) mental because your human nature is to question things," Mora said. "It wears on you emotionally."
Finally casting the injury woes behind this year, Johnson has played his role in keeping an injury-riddled secondary afloat. He has appeared in six of the team's games so far this year, mainly coming in as a supporting corner. He had plied his trade in relative anonymity until his breakout performance Thursday night.
"(It's) encouraging, because he can do it, and it's exciting because of the hard work he's put in and the adversity he's had to overcome," Mora said. "I'm so excited for Johnny."
Compiled by Anay Dattawadkar, Bruin Sports senior staff.