UK artist uses photos as recovery, education on compulsive disorder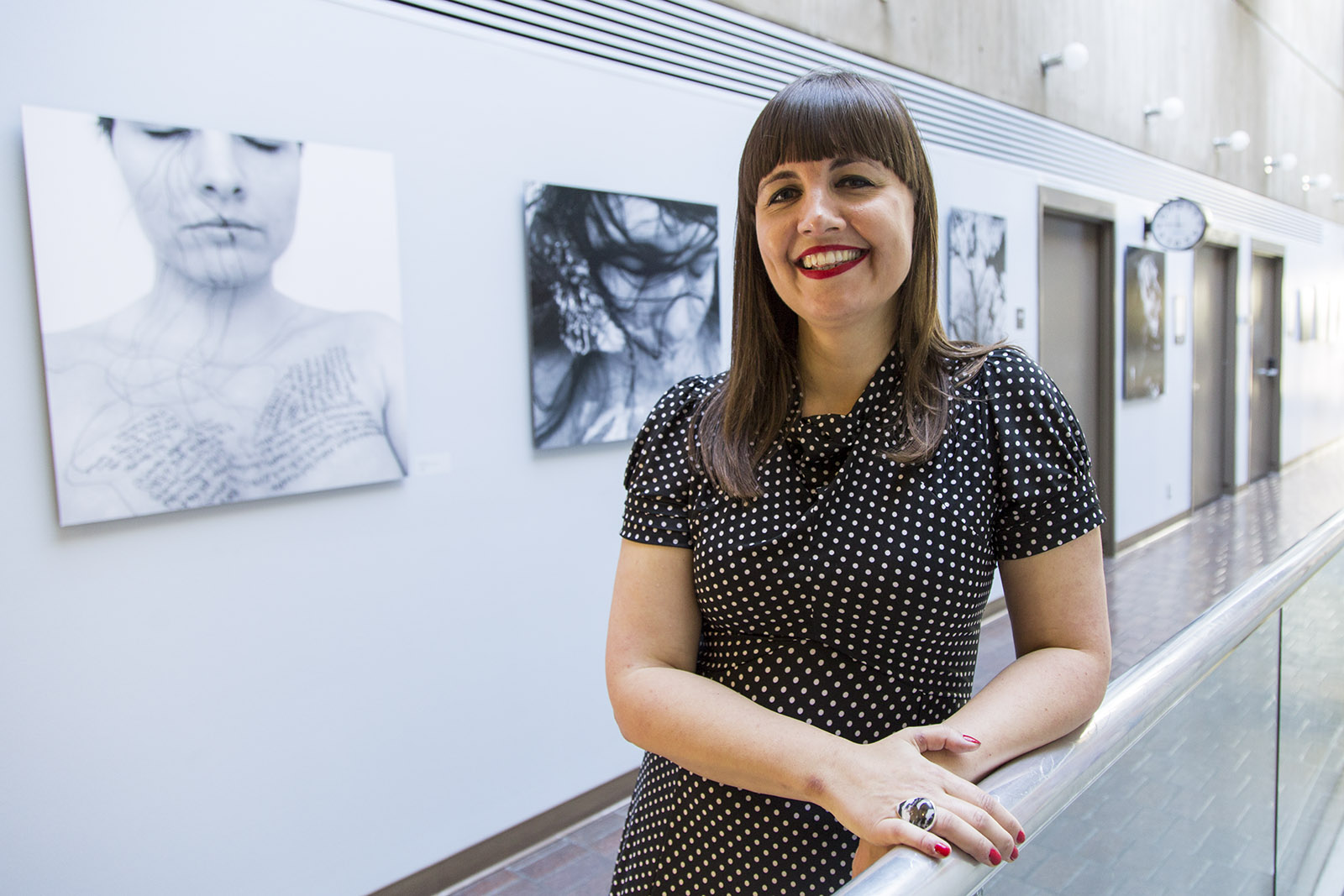 Liz Atkin, a visual artist from the U.K., came to the David Geffen School of Medicine to talk about her experiences with mental illness with medical students. (Owen Emerson/Daily Bruin senior staff)
In Liz Atkin's self-portrait, her black tears ran down her face and trailed onto her chest, transforming into scribbles that expressed her anxious feelings. The photograph, which is displayed in the David Geffen School of Medicine, is one in a series illustrating her experience with a compulsive skin picking disorder.
Atkin developed the disorder, called dermatillomania, when she was 8 years old. When she was 37 years old, she began using visual art and photography to recover from depression.
"I had patterns of behavior where I would get undressed in the evening, sit on the side of the bathtub and pick my skin until 3 a.m.," said Atkin, a visual artist from the United Kingdom. "I realized when I make artwork, I work with my hands in the same way."
About two years ago, she became a spokesperson for dermatillomania, visiting mental health centers in the U.K. to talk about her experience. On Monday, Atkin visited the David Geffen School of Medicine to share her story with students and explain how she uses art to battle her illness.
Atkin's earlier photos in the chronological series, "Curdled," are colored in dark hues – she submersed herself into oil-like liquids and water for the portraits. Later photographs include brighter and wider shots.
Ted Meyer, the artist in residence at the David Geffen School of Medicine, curates art exhibits about once per quarter to coincide with first- and second-year medical students' curricula. Meyer said he previously created artwork to help him with his own illness. After he recovered, he decided it was time to help others with art.
"I want the medical students to understand patients aren't (defined by) their illnesses," Meyer said. "It can also be a motivator to do good things, such as be better artists. I don't want them to just see patients as their symptoms."
Atkin opened the event Monday by explaining her disorder to the students. She said she used to feel as if insects were crawling all over her skin, and her anxiety took over all aspects of her life.
"At one point, I wasn't making any art," Atkin said. "I was so unwell I would take baths for hours because it was the only thing that would surround me that wasn't the depression."
Ashely Williams, a graduate medical student, said she noticed the art on her way to class. When she was looking at the photographs on the wall, she wasn't expecting to hear a story about anxiety, she added.
"They evoked more intense emotion and pain (than I expected)," she said.
Meyer works with Margaret Stuber, assistant dean of students affairs for career development and well-being, to coordinate the curriculum for students in the medical school. Stuber said one segment of the students' curriculum covers various psychiatric disorders and how they manifest in the brain and the body. Students review disorders like depression, anxiety and developmental disorders.
Meyer said he chose Atkin to present at this installment because he thinks she has a strong narrative about how she used art to create a path toward recovery.
"I think it's remarkable that (Atkin) has had these anxiety problems, but she's become a spokesperson for other people with similar health problems," Meyer said. "She has gotten to where her art is a testament that you can have an illness like she has and make something positive from it."
Past exhibits featured artists who had infectious diseases like syphilis, HIV or other sexually transmitted infections. Meyer's own artwork was the first installment five years ago, including portraits and paintings of people with medical scars.
Atkin's artwork depicts close-up photos of herself covered in different textured materials like latex, paint and soil. She said she usually works without a tripod, holding the camera close to her and different parts of her face and body.
About 50 students attended her event to learn more about mental illness and the photographs displayed on the walls.
"I think the art shows patients' emotions and a dynamic view of their experiences," said Williams, who attended the event.
Stuber said she and Meyer decided to host the gallery in the Learning Resource Center because students often attend classes in the center.
"The goal is to have students understand different aspects of what the patients experience," Stuber said. "We spend a lot of time trying to have the medical students understand what actually happens in the body physiologically, but we also want them to understand how it affects patients personally."
Stuber said she thinks the exhibits make students better qualitative observers of patients' physical characteristics during diagnoses, so students don't solely focus on quantitative measurements like weight and blood pressure.
Alice Brown, a graduate medical student, said she thinks the art exhibit program helped her understand what patients go through when handling chronic illnesses. She said she thinks it helps her and other medical students empathize with patients and learn about the symptoms they experience.
"As medical students, we deal with the serious aspects of medicine," she said. "We're not exposed to art (on a daily basis)."
Atkin said she plans to meet with top mental illness experts in Los Angeles to better understand how she can educate others.
"I never thought I would be sharing such a personal part of my life with students in Los Angeles," Atkin said. "For me, coming to UCLA is a journey of recovery."
Reyes is the Daily Bruin's News editor and an Editorial Board member. Previously, she was the Science & Health editor covering research, the UCLA health system and graduate school news. She also writes Arts & Entertainment stories and photographs for the Bruin.
Reyes is the Daily Bruin's News editor and an Editorial Board member. Previously, she was the Science & Health editor covering research, the UCLA health system and graduate school news. She also writes Arts & Entertainment stories and photographs for the Bruin.