Men's soccer plays to draw in Stanford rematch, falls to Cal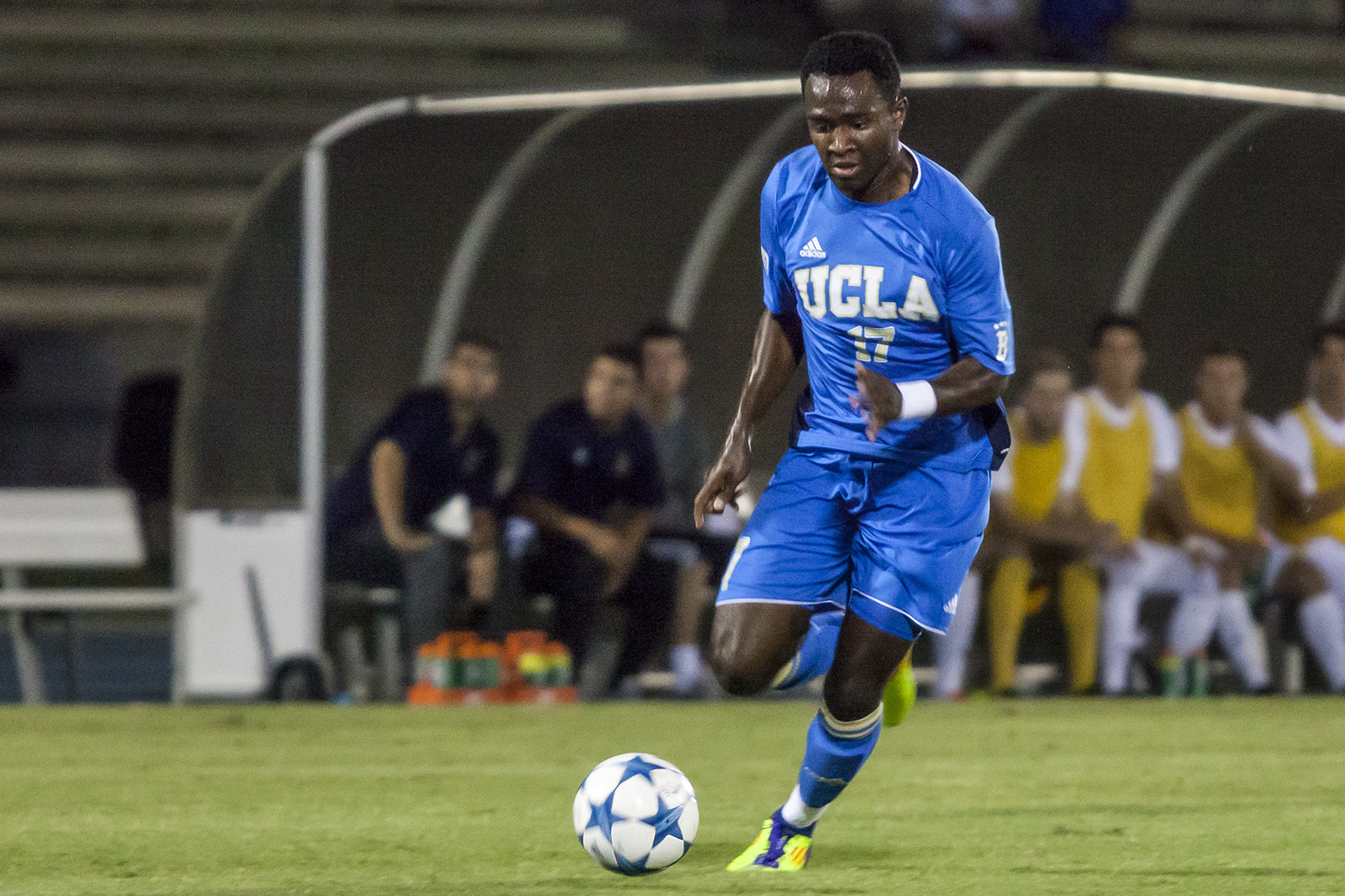 Sophomore forward Seyi Adekoya scored in the 66th minute to give the Bruins a 2-1 lead against the No. 3 ranked Cardinal. UCLA conceded a goal four minutes later to end the lead. (Hannah Ye/Daily Bruin senior staff)
A pair of games over the weekend were supposed to offer redemption and rejoicing for the men's soccer team.
Friday night was a second chance for an upset after unranked UCLA lost a nail-biter to No. 3 Stanford on Oct. 16. Sunday afternoon, on the other hand, appeared to be an opportunity for the Bruins to demolish the unranked California Golden Bears for the second time in as many weeks.
Neither game went quite the way the Bruins might have hoped, as they emerged from the weekend without a win.
A 2-2 tie against Stanford (11-1-2, 4-0-2 Pac-12) provided a small form of redemption for UCLA (7-7-1, 3-3-1) but the rejoicing would have to wait. Capitalizing on defensive lapses and an ill-timed red card, the Bears (7-5-2, 2-3-2) raced past the visiting Bruins 4-3 on Sunday – a stark change of pace from the embarrassing 6-0 loss that UCLA handed Cal a week ago.
The turning point of Sunday's game came in the 56th minute, with both teams tied at 2-2 and fighting for control over the early back-and-forth attacks.
As the home team sped past the Bruin defense for a two-man breakaway, redshirt junior goalkeeper Juan Cervantes came sliding out at the last second. The Cal player managed to tip the shot just before getting tripped up, but it was too weak and the Bruins easily cleared it.
Cervantes was assessed a foul, a red card and an early exit from a crucial Pac-12 showdown. Freshman Cole Martinez replaced the veteran and promptly gave up the penalty kick. Within five minutes, the Bruins were down yet another goal. UCLA would net one goal but its comeback attempt fell short.
While UCLA has been a far more dangerous team in the second half of its games this season, both weekend games saw early action from the visitors. The Bruins took a 1-1 tie and 2-1 lead into halftime against Stanford and Cal respectively, but neither was good enough to get the win.
Friday's Stanford game was highlighted by goals from sophomore forwards Abu Danladi and Seyi Adekoya. Adekoya's 66th-minute goal came in transition, teed up perfectly by Danladi's stealthy maneuvering against a trio of Cardinal defenders.
Despite the offensive effort and a 2-1 lead in the second half, the Bruins couldn't manage to close out the game.
"Last week we had a good performance against Stanford and tonight was even better. I'm really disappointed for our guys because they gave everything and deserved more," said UCLA coach Jorge Salcedo in an interview with UCLA Athletics. "Stanford is having a great season and we stood toe-to-toe with them over two games and could have won both. In the end, we didn't, but we can hold our heads high and move forward."
The Bruins will now have to move forward without their starting goalie for another game. Cervantes' red card will hold him out of the team's matchup at No. 5 Akron (10-2-1) next weekend.
The Akron game is UCLA's final nonconference game of the regular season, and one of just four games remaining as the team aims for an NCAA Tournament bid.
Compiled by Tanner Walters, Bruin Sports senior staff.