Afrikan Student Union releases demands for UCLA administration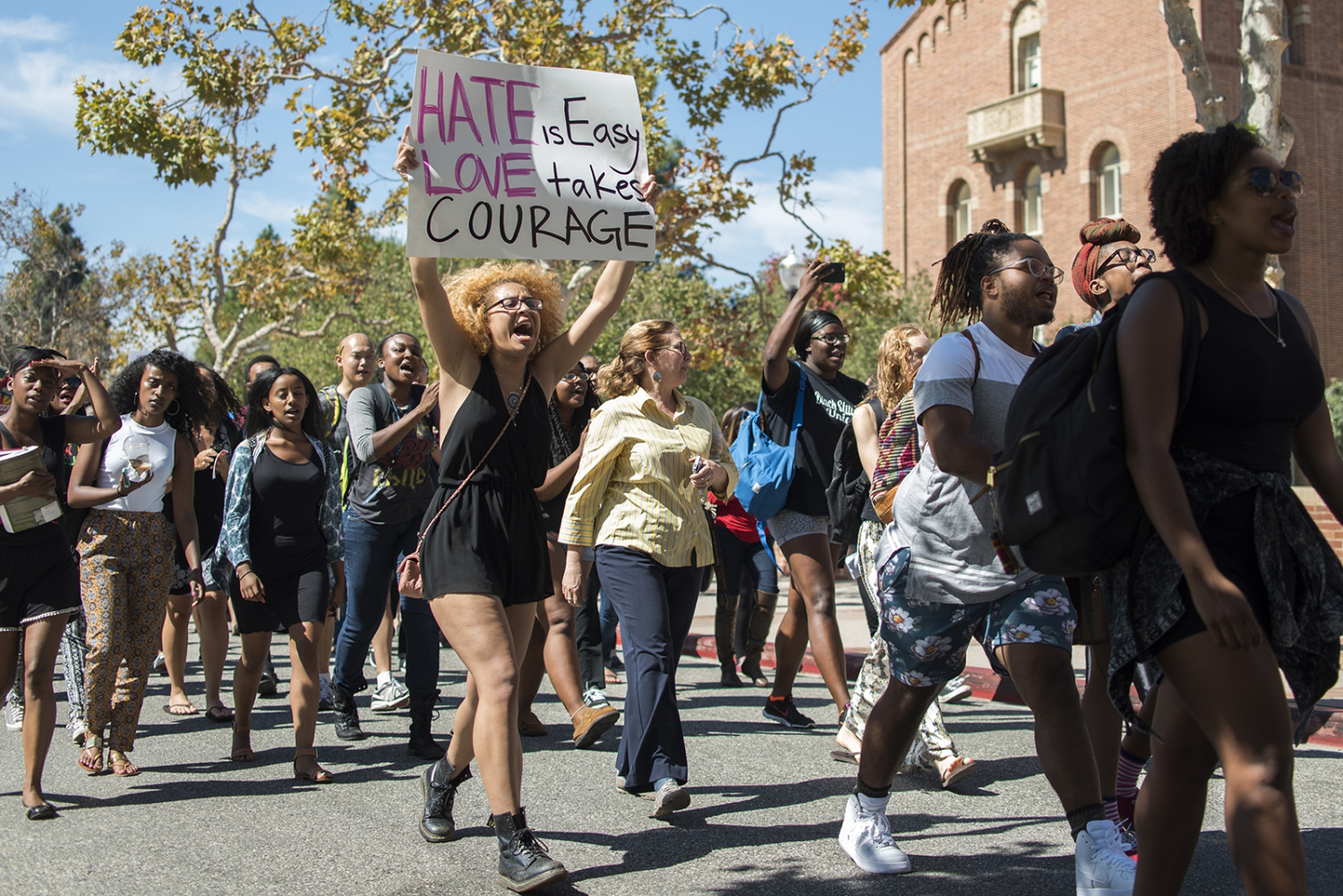 Students protested on Oct. 8 in response to the "Kanye Western"-themed raid. (Daniel Alcazar/Daily Bruin senior staff)
The Afrikan Student Union demanded additional funding and support for black students Thursday in response to the "Kanye Western"-themed raid hosted by the Sigma Phi Epsilon fraternity and Alpha Phi sorority on Oct. 6.
"Time and time again, we see UCLA administration pushing our issues under the rug," ASU said in the written statement published in NOMMO Newsmagazine. "UCLA continues to fail students of color, by not responding, or taking any steps towards the improvement of campus climate."
ASU demanded 10 changes from UCLA administrators, including annual funding for black student programming and a $30 million endowment to financially support black students, similar to the $20 million scholarship fund UC Berkeley is fundraising for.
In the statement, ASU also called for more black faculty members and black admissions officers, as well as a UCLA Afro-house where black students can live off-campus more cheaply than in a Westwood apartment, like UC Berkeley's Student Cooperative's African-American Theme House.
The organization also demanded funding for programs that support students of color, such as the Early Academic Outreach Program, which helps prepare students from underserved schools for college, as well as a UCLA community school in a predominately black area of Los Angeles.
Guests who attended the "Kanye Western"-themed raid dressed in baggy clothes, plumped lips and padded bottoms, or as "Kardashians." Photos from the raid also showed attendees with their foreheads covered in charcoal, which many students called racist. In response, other students said the charcoal was intended to represent Kanye West's song "Gold Digger."
Janina Montero, vice chancellor of student affairs, said in a written response to ASU that UCLA is working to prevent culturally insensitive behavior on campus without impeding First Amendment rights.
"While we recognize the need to do more and better on these issues, we should resist the claim that nothing has been done and no steps have been taken to address climate concerns," Montero said.
In response to ASU's list of demands, Montero said the Graduate School of Education and Information Studies is working with Horace Mann High School, the Los Angeles Union School District and the Los Angeles Superintendent of Schools to create a K-12 Horace Mann Community School in South Los Angeles. UCLA will also establish a preschool to serve local neighborhood families to help prepare students for the school, she added.
Montero said she is speaking with UC Berkeley administrators to learn more about Afro-house and the possibility of building one at UCLA.
She added UCLA already has multiple anti-discrimination policies in place, and Jerry Kang, vice chancellor of equity, diversity and inclusion, is willing to work with students to revise them.
Compiled by Jillian Frankel, Bruin senior staff.