Offensive outburst fuels UCLA's upset victory over No. 20 Cal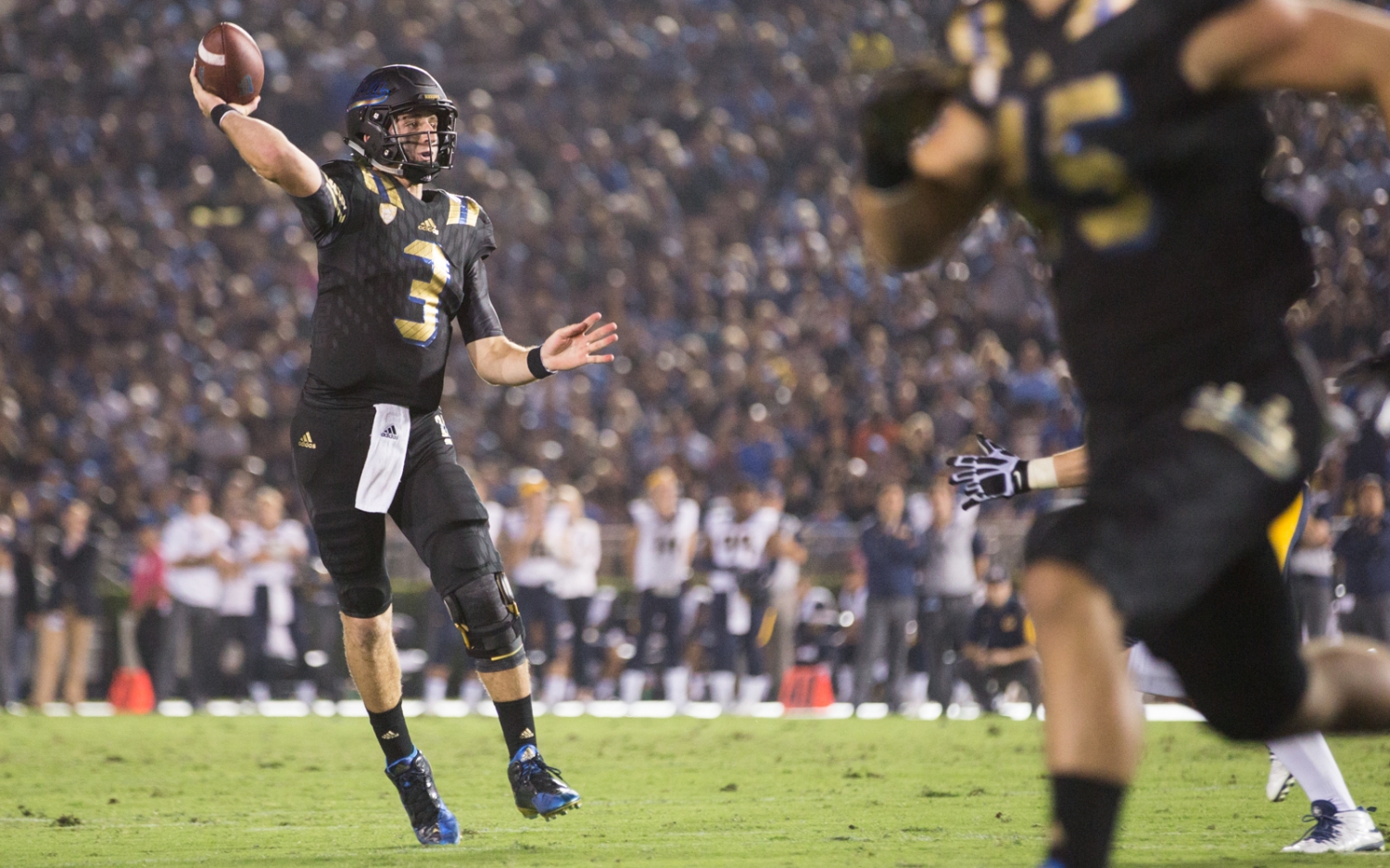 Freshman quarterback Josh Rosen threw for just shy of 400 yards and three touchdowns in Thursday's 40-24 romp over the visiting Golden Bears. (Austin Yu/Daily Bruin senior staff)
After two weeks of misery, facing one of the hottest quarterbacks in college football, it seemed like UCLA was primed for another week of disappointment. Instead, it performed brilliantly, dominating in all facets of the game en route to a 40-24 victory over California.
In a game where Golden Bear quarterback Jared Goff was mostly silent, it was the Bruin offense that lit up the night. From start to finish, it was nearly unstoppable, hardly fazed by the hapless Cal defense, scoring on its first seven possessions en route to 573 total yards.
"Every time we win, it's a step forward," said freshman quarterback Josh Rosen. "And after three weeks without a win, it was so great to come out and set things right again. The cards fell in our favor, and we really executed today."
Rosen was at his best, completing 72.3 percent of his 47 attempts as he littered the field with completions to seven different receivers. The numbers were stellar, but the manner in which Rosen racked them up was just as impressive. He displayed remarkable composure in the pocket, moving around ably to extend plays and zipping pinpoint passes downfield. His movement and vision complemented the strong offensive line play in front of him – Cal only sacked Rosen once in the game.
"He's phenomenal, he's just a guy that gets better every week," said junior wide receiver Thomas Duarte. "He's doing things differently, and just taking control of the offense like we want him to. You just can't faze Josh."
Perhaps just as impressive as the plays Rosen made, though, were the ones he didn't. Rosen had a few risky throws and decisions, but he showed little of the reckless gunslinging that led to interceptions and got him in trouble early in the season. Instead, he regularly threw the ball out of bounds or tucked it when plays broke down. This was most notably highlighted on several plays near the goal line, where Rosen opted for incompletions rather than force a pass – something he did not do earlier in the year.
"(Rosen) doesn't throw those balls back across his body into coverage (anymore)," said coach Jim Mora. "He's learned to make better decisions in the open field. As (he's) gained success (he's) gained confidence."
Positives abounded outside of Rosen's performance, too. Wideouts Duarte and senior Devin Fuller were integral, combining for 17 catches, 241 yards and three touchdowns. Freshman running back Soso Jamabo continued his rise, notching 79 yards and a touchdown on the ground. The offensive line was nearly impenetrable. And of course, there was Fairbairn and his long-distance kick.
It was a night when the Bruins marched on and on, one where they stayed the course on their season. But not all was joyful tonight, as three more Bruins fell to injury this game, junior linebacker Isaako Savaiinaea, senior running back Paul Perkins and Fuller leaving the field hurt.
When asked how the players' condition looked, Mora replied with a simple "not good."
As has happened so many times this season, even
on a night they clicked in every facet, the Bruins' joy had a bitter aftertaste.