Fidel Castro's daughter discusses experiences in communist Cuba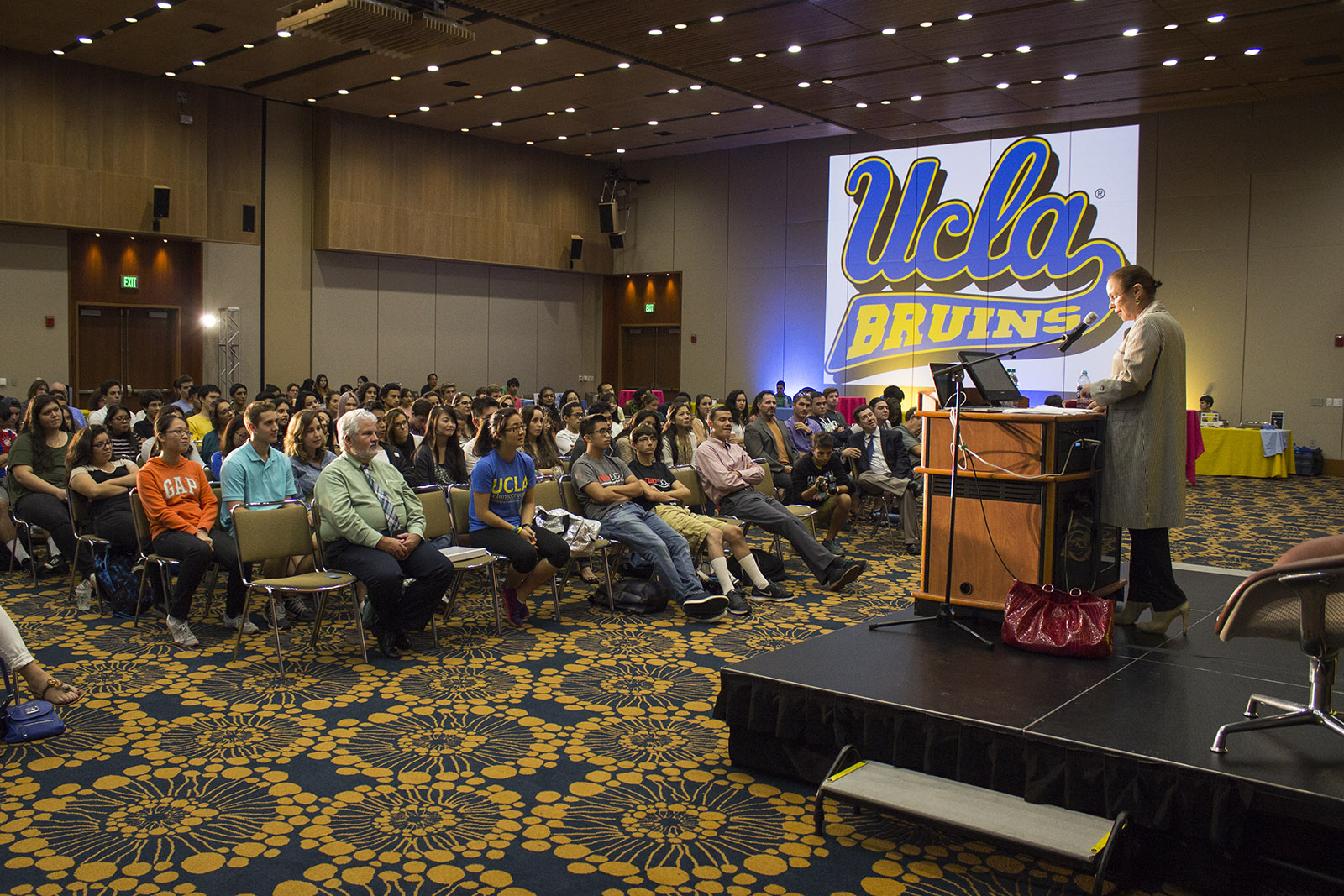 Fidel Castro's daughter, Alina Fernández, spoke about her parents' love story and the Cuban revolution on Wednesday. (Alyssa Dorn/Daily Bruin)
Fidel Castro's daughter told tales about the Cuban revolution and shared her parents' love story with more than 100 UCLA community members Wednesday evening.
Alina Fernández Revuelta, 59, was the keynote speaker for a leadership conference in Carnesale Commons on Wednesday night. She was born in Cuba in 1956 to a Havana socialite and a rising revolutionary.
Her parents met before the Cuban revolution, and her mother, Natalia Revuelta Clews, initially helped Castro plan a coup against Fulgencio Batista's dictatorship in 1952. After the revolt, Castro fled to the mountains – and was sent to jail.
Castro's relationship with her mother deepened through letters they exchanged while he was in prison, but he was married to another woman at the time.
Their affair remained secret until Castro mixed up letters addressed to the two women.
"You can learn two things from this story," Fernández said. "First, men can still cheat in jail. And second, if you want to get divorced, this is a good way to do it."
Fernández was conceived soon after Castro's release and divorce. When she was 3 years old, Castro came to Cuba to speak to his constituents and lay out his plans to build a communist regime.
In coming months, those who worked in privatized industries were exiled from the island. Revuelta's husband, a private physician, fled Cuba with his daughter, Fernández's sister.
"I was told (they) were traitors," Fernández said. "Cubans called them 'worms.'"
The Cuban government took over almost every aspect of her daily life, she said. Christmas was not socially acceptable to celebrate, because it was considered a capitalist holiday. Castro later executed dissenters.
Free education and medical services abounded, but individual salaries plummeted and the black market boomed. Everyone earned $10 per month, regardless of educational achievement or professional training.
Fernández began rebelling against the Cuban government in the 1980s. When the Soviet Union fell in 1991, Fernández decided she wanted to flee.
"In Cuba, when you think differently, you become the enemy," she said.
In 1993, she smuggled herself into the United States, disguised as a Spanish tourist. Her daughter joined her a few days later, and they built a new life in the U.S., where she still lives today.
Since her escape 22 years ago, Fernández has only returned to Cuba once – last year, before her mother died.
"I was relieved to find a new Cuba," she said.
She said she saw people now accepted gay and lesbian individuals, who were put into camps during Castro's regime.
Among those in the audience on Wednesday night were UCLA alumna Vivian Credido and her daughter Lauren Credido, a fourth-year geography and environmental studies student.
Vivian Credido said Fernández's story was a personal one for her because she came to the U.S. from Cuba with her family when she was 4 and a half.
"My father is a month younger than Fidel," she added. "We came to the U.S. as worms, just like she said."
Lauren Credido said Fernández's story resonated with her because it reminded her of the ones she heard from her family growing up.
The Credidos still have family ties in Cuba. Vivian Credido said her cousin, a highly educated oncologist, makes less money than those who work as prostitutes.
After hearing Fernández speak, Vivian Credido said she became more driven to return to Cuba.
Fernández said information flow to the island increased through the Internet as some restrictions of the embargo between Cuba and the U.S. have been lifted earlier this year, but it still comes at a high cost.
"Expectations are changing and generations are changing," she said. "And progress is what people want."