Apartment complex with Le Pain Quotidien opens on Gayley, Lindbrook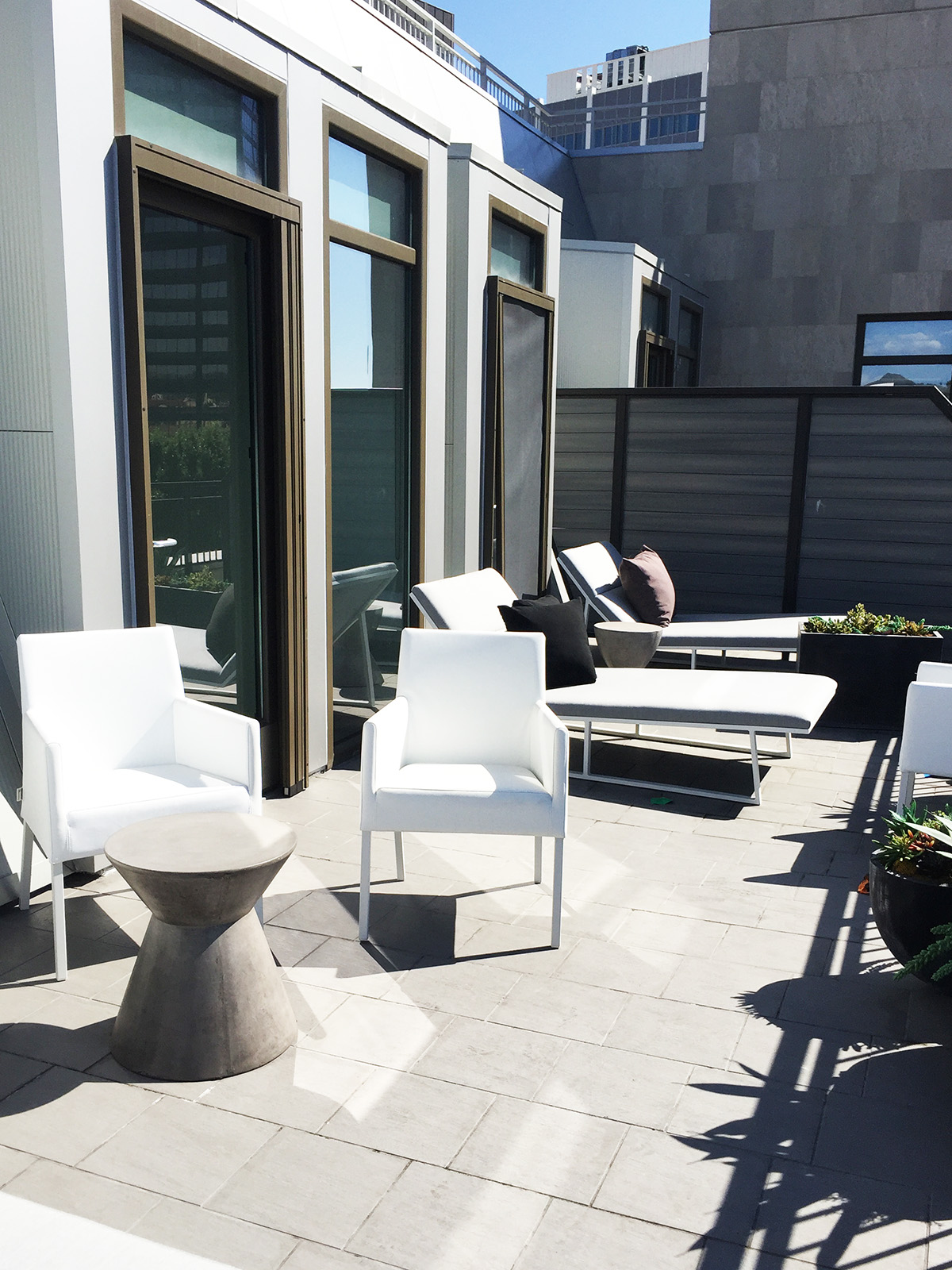 An apartment building on the corner of Gayley Avenue and Lindbrook Drive opened last week. (Sierra DeSousa/Daily Bruin)
An apartment building that will include a restaurant and an underground parking structure opened last week on the corner of Gayley Avenue and Lindbrook Drive.
The complex, which is geared toward upper-middle class clientele, will include Le Pain Quotidien, a bakery-restaurant chain previously located on Broxton Avenue, on its ground floor, and an underground parking structure available to residents and restaurant patrons.
The building, which cost $53 million to build, has 34 apartments, including studios, one-bedrooms, two-bedrooms and two penthouses. The apartments include a washer and dryer and a stainless steel refrigerator, dishwasher and oven, but are otherwise unfurnished.
A 750 square-foot apartments costs about $3,400 per month, said Raine Phillips, a leasing consultant from Moss and Company Property Management, the company in charge of leasing the apartments. She added the rates are higher than other apartments in the area because they are not intended for UCLA students.
Phillips said she expects to lease the apartments to UCLA alumni, doctors, visiting professors and curators from the Hammer Museum.
Andrew Thomas, executive director of the Westwood Village Improvement Association, also known as BID, said he is excited about the business the new apartment building will bring to the Village.
"Because the retail rates are out of reach for your average student, we expect the apartments to attract new people to the area," he said. "It's a considerable investment in an area that really needs it."
The building also has a common area with a kitchen, complimentary WiFi and a patio area that residents will be able to reserve for events or parties. The roof features a small pool and fire pit with a view of UCLA and Westwood Village.
Phillips added the architecture firm Nadel Architects had a hard time designing the building because of the positioning and small size of the land. She added interior designer Leslie Wilson of Bricolage Design chose unique art pieces for the lobby and common areas, and decorated a wall with John Lennon quotes.
"We wanted to offer an urban oasis with an open and modern theme," said property manager Alexandra Trudeau.
Trudeau said she will offer the first 10 tenants a free gym membership to Equinox, a gym on Wilshire Boulevard, and one month of free rent.
Le Pain will move into one of two vacant storefronts in the building in two weeks, Trudeau said. All residents will be offered room service from Le Pain Quotidien.
Jay Wainwright, Le Pain's chief development officer, said the restaurant is moving out of its Broxton location because the new location is nearly twice the size of the current space.
"Guests at our new Gayley location can look forward to a space with more outdoor seating and a more efficient retail area," he said.
Trudeau said Lemonade, a restaurant chain that serves prepared dishes and beverages, originally planned to move into the other commercial space. She added she was unsure why the restaurant no longer plans to move into Westwood. Lemonade officials did not respond to requests for comment.
Angela Kim, a fourth-year biochemistry and political science student, said she thinks the apartments should be more affordable because the location is convenient for students.
"If you're building a new apartment building so close to campus, you should keep the large student population in mind," she said.
However, Haley Vanderford, a second-year biology student, said she thinks an upscale, modern building will be a good addition to Westwood Village.
"Although I definitely think a certain percentage of our students would be able to afford the cost, I don't believe every building in the Village needs to cater to UCLA students," she said. "A more expensive apartment building would be good for other members of the community."
Sierra deSousa is currently a news reporter covering Westwood, transportation and Los Angeles. She has also covered the University of California.
Sierra deSousa is currently a news reporter covering Westwood, transportation and Los Angeles. She has also covered the University of California.