Napolitano creates joint committee on sexual assault involving faculty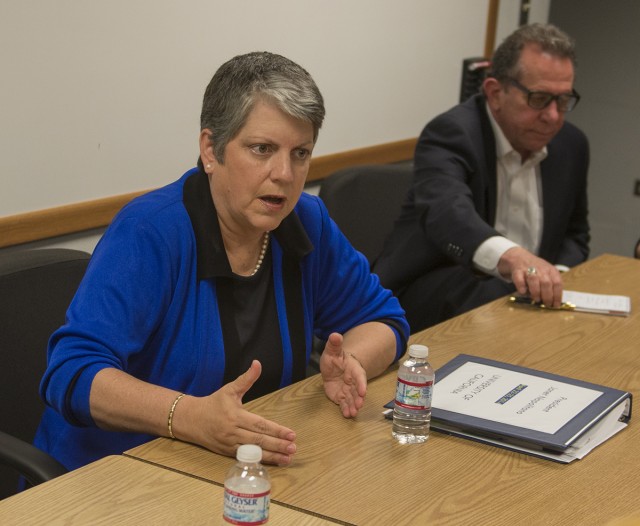 University of California President Janet Napolitano announced Thursday the formation of a joint committee intended to recommend sexual assault policy changes. (Daily Bruin file photo)
University of California President Janet Napolitano announced Thursday the formation of a joint committee intended to recommend sexual assault policy changes for cases involving faculty members, after UC Berkeley professor Geoff Marcy resigned following sexual assault charges.
Marcy resigned from UC Berkeley on Wednesday after an internal investigation showed he violated the university's sexual harassment policy multiple times between 2001 and 2010.
Four of his former students filed formal complaints against Marcy, alleging he kissed them, groped them and inappropriately touched them under their clothes.
In a letter to all UC chancellors and regents, Napolitano said the joint committee will focus on reviewing whether policies and procedures for reporting cases of sexual assault, harassment and violence are clear to all members of the University. Napolitano formed the committee under the President's Task Force on Preventing and Responding to Sexual Violence and Sexual Assault.
The committee will be co-chaired by Sheryl Vacca, head of the current Task Force, and Dan Hare, chair of the systemwide Academic Senate. Napolitano established the task force June 2014 to address sexual assault issues on UC campuses.
The committee is composed of members of faculty and students and will present recommendations to Napolitano by Feb. 29, 2016.
Compiled by Shreya Maskara, Bruin senior staff.