SJP rallies as part of International Day of Action for Palestine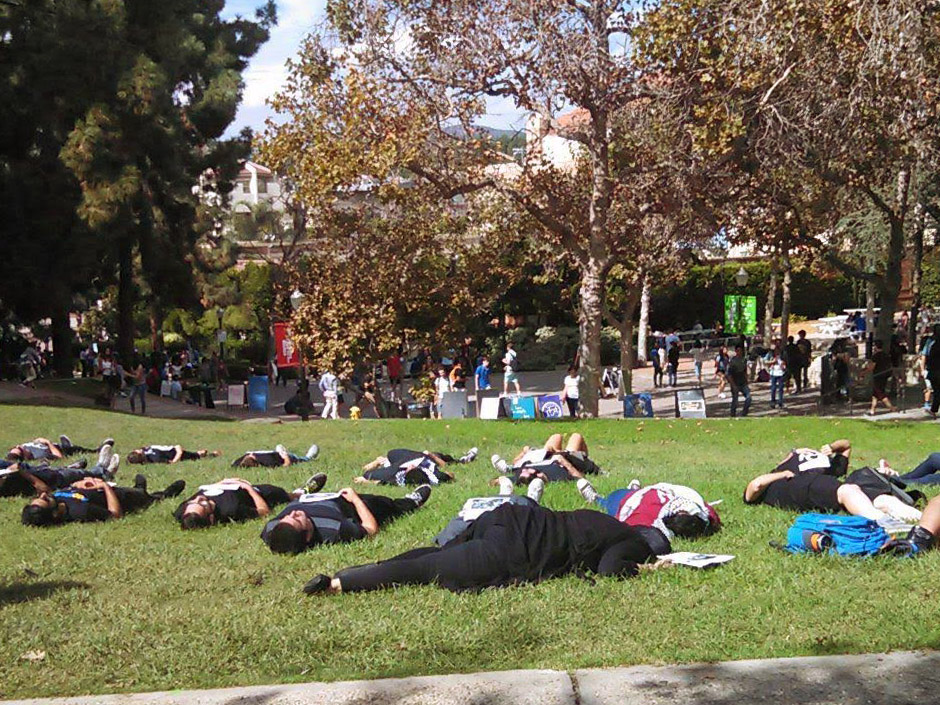 Members of Students for Justice in Palestine lay on the ground outside of Kerckhoff and held images of Palestinian victims over their faces or chests. (Aram Ghoogasian/Daily Bruin staff)
The original version of this article stated that students read names of Palestinians. In fact, student read names of Palestinians and Israelis who have been killed.
Several dozen students from the organization Students for Justice in Palestine at UCLA held a rally outside Kerckhoff Hall on Wednesday, as part of the International Day of Action for Palestine, an annual event at university campuses across the world.
The event took place a day after multiple terrorist attacks in Jerusalem and central Israel left three Israelis dead and more than 20 wounded, according to the Washington Post.
The students, who led chants and recited poetry, aimed to raise awareness about the Palestinian occupation, said Safwan Ibrahim, SJP president and a fifth-year comparative literature student.
The Israeli-Palestinian conflict includes the regional dispute over the occupation of the West Bank by the Israeli military and the Israeli blockade of the Gaza Strip, among other issues.
During the rally, students read names of Palestinians who have been killed in the conflict. One by one, students lay on the ground holding the images of the victims over their faces or chests.
"The event humanizes what's going on (in Palestine)," said Ani Der Grigorian, outreach co-director for SJP and a fourth-year anthropology and international development studies student. "There are children dying because they're living under occupation (by Israeli military forces)."
"These are not individual moments of violence, but we see them as all being related to the root cause, that Palestinians are not treated as human beings in their own homeland," Ibrahim said about the attacks. "When there is no justice, there is no peace."
Further down Bruin Walk, Bruins for Israel set up an impromptu booth collecting signatures in support of Israel in the wake of the recent attacks.
"We didn't feel it was appropriate for us to have a protest, but we wanted to have a presence," said Matan Neuman, director of public relations for Bruins for Israel. "We wanted people to know we were standing up for what we believe in, rather than students thinking that nothing was being said."
Ibrahim said he hoped the SJP rally would inform UCLA students about the oppression Palestinians face.
"We wanted to show our support for not only Palestinians living in occupation, but Palestinians living in exile," Ibrahim said. "So much of our narrative has been erased in the media, and our goal is to amplify their voices."
Der Grigorian said she thinks speaking out about controversial issues such as the Palestinian occupation takes a psychological toll on activists who face constant attacks from opposers.
"There are Palestinian students on this campus who have a direct connection to Palestine, and are unable to go back," Der Grigorian said. "It's something that affects the UCLA campus directly, and shouldn't be overlooked."