Cross country runner shows dedication, races after Olympic dreams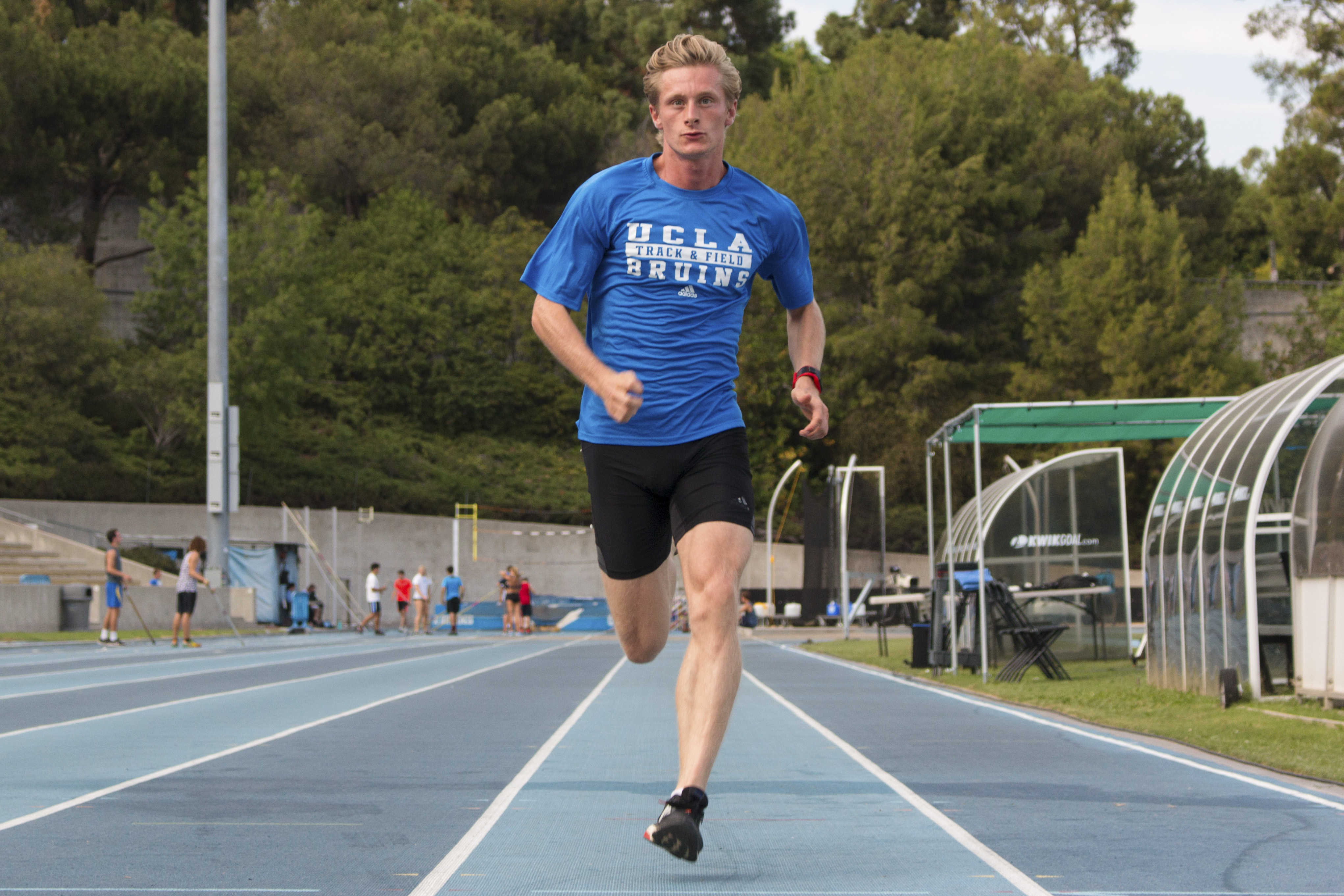 Junior cross country and track runner Ferdinand Edman hopes to compete in the 1500-meter at next summer's Olympic Games for his home country of Norway. Edman was set back in the spring by a stress fracture in his tibia, which forced him to miss the outdoor track season. (Jessica Zhou/Daily Bruin)
Another Sunday, another smile.
Nolan Dickson knows it's coming.
For now, he and Ferdinand Edman are at the back of the pack. But it won't be long before Edman changes that.
"He's been doing it literally every single Sunday run for as long as I can remember," Dickson said. "Once we're warmed up, he'll do this really, really quick acceleration and he'll look back at you and he'll smile and he'll expect you to just keep running with him."
Soon, Edman turns the cross country team's training run through the Santa Monica mountains into his own personal game of cat and mouse, darting to the front of the group and daring his teammates to keep up.
"The entire time, he's putting an acceleration on me and then I'm slowly catching back up to him. Then I catch back up to him and he'll look at me and he'll smile and he'll do it again," said Dickson, a junior. "Honestly, it's pretty annoying, but it's like his trademark."
***
Edman's athletic career began in mountains a long way from Santa Monica.
With a competitive alpine skier for a father, the Norwegian native first hit the slopes at 2 years old and began competing by the time he was 6.
"I used to be a little crazy as a kid," Edman said. "When competition was involved, I was all in."
When Edman was around 5 or 6 years old, his uncle challenged him to a race.
"We were skiing a pretty steep slope and obviously him being a lot heavier than me and me being 5 or 6 years old, he beat me pretty easily," Edman said.
The story doesn't end there.
"By the end of the hill, (my uncle) had to start slowing down obviously," Edman said. "But I just kept going. … They have a net, you know, and I just went right into it and I think I almost broke my nose. The only thing I said, after they took me to the hospital, was 'I won. I won.'"
That desire to win would soon steer him toward a new sport.
Around the time he began to ski competitively, Edman started running during the offseason. At first, it was just to stay in shape. But he soon realized he was better at running than he was at skiing.
"I liked winning, and I was better than everybody else at (running)," Edman said. "So yeah, I liked it pretty much right away."
***
Before each cross country season, coach Forest Braden meets with each runner individually to talk about training schedules.
Most runners cede much of the control to Braden. Edman, however, came to his meeting this summer with a detailed training plan for himself, designed with the goal of reaching next summer's Olympic Games in the 1500-meter.
"He was incredibly meticulous with his plan, with his goals," Braden said. "He could have put it up on a PowerPoint and talked about it for 45 minutes, he had everything really detailed and meticulous."
Edman is no stranger to creating his own training regimen.
After joining the Norwegian junior national team at 16, Edman attended a convention where he learned enough to become his own coach.
"(The federation) gathered some of the best people in the country and some of the best coaches," Edman explained. "We had presentations about training, about how the body works, about altitude training, about blood, about muscles."
Throughout the end of high school, he competed with the Sturla IF club team but he coached himself, a setup that produced great results.
He was named the Best Norwegian Junior Distance Runner in 2011 and 2012, and finished fourth at the 2012 European Junior Cross Country Championships. His success earned him a scholarship offer at UCLA, where he would face the challenge of adapting to a team environment.
After arriving in Westwood, Edman found himself under the tutelage of UCLA middle-distance coach and American 800-meter record holder Johnny Gray, in a system built around the team, rather than the individual.
"Coming over here, you come with guys that are used to the high school system, where the team is almost bigger than yourself," Edman said. "Suddenly you're basically told 'Don't think, just do what you're told.'"
It was hard for Edman to buy in. He was used to understanding the purpose behind every aspect of his training.
With Gray since departed to the University of Central Florida, Braden has catered to Edman's needs. It's paid off – Braden believes the Norwegian can reach his Olympic goal.
"He's got the talent, he's got the engine. He's just an aerobic monster," Braden said. "If he can just get a year of perfect training for him, he can go on the track and hit that Olympic standard."
***
The worst race of Edman's life came at an inopportune time.
A quarter of the way through last year's national meet, he began to feel intense side aches.
"During a competition, you know it's going to be painful," Edman said. "You know it's going to hurt."
But this was different. For the first time in his life, he had to walk in order to finish.
"It was just terrible," Edman said. "You do all this training and then when it comes to race day, your body's just not on."
It was especially frustrating considering how well Edman had run last season. Heading into nationals, Edman placed 13th at the West Regional Championships and 18th at the Pac-12 championship.
"He was in All-American shape last year, he was running as good as anybody in that top 40 and he could have definitely snuck in there," Braden said.
Edman hoped he'd be able to bounce back with a strong outdoor track season. After all, he is more suited to track than cross country.
But the setbacks kept coming. Edman sustained a stress fracture in his tibia in March, robbing him of his outdoor track season.
For the first time, Edman was forced to think about what running meant to him.
"You take it as a given that you can run every day, it's a given that you can go to practice," Edman said. "When all that's just taken away from you and you're not the one controlling it, it's just tough."
Dickson, who also injured himself last spring, said Edman was more affected by having to sit out.
"When Ferdinand doesn't have his running, I can just tell that he was just more uncomfortable and he was restless," Dickson said. "I would say he wasn't feeling good at all."
At first, the injury was discouraging. No longer.
"It actually kind of had an opposite effect on me," Edman said. "It made me really, really want to go work hard. I understood that I'm not doing this just because I'm doing it, I'm doing this because I really, really want to do this."
***
"You ain't getting any/Younger, younger, younger/Are you?"
Edman's favorite song is fellow Norwegian Kygo's remix of "Younger." The chorus particularly resonates with the runner.
"I don't think those songs are very deep, but I can actually find a meaning from that one," Edman said. "You're not getting younger, you're getting older every day and if you're not doing something about it today, then it's not going to happen."
For now, Edman has dedicated his life to making it happen.
"When I wake up in the morning, my priority is just, what I can do today to improve as much as possible," Edman said. "I'm not a religious person, but it's almost my religion."
Edman only spends about two hours each day actually running. But the rest of his day revolves around running: strengthening, stretching, recovering.
"His preparation is unmatched," Braden said. "His discipline, his focus on detail, his training, the amount of work he's able to put in is pretty impressive."
For all his discipline, Edman thinks he has only about a 20 percent chance of reaching next summer's Olympics.
"It's very hard to do while you're in school. At least in distance, there's basically nobody doing it," Edman said.
"But I'll try to be that one."
Cummings joined the Bruin as a freshman in 2014 and contributed until he graduated in 2018. He was an assistant Sports editor for the 2015-2016 academic year and spent time on the football, men's basketball, baseball, cross country, women's volleyball and men's tennis beats.
Cummings joined the Bruin as a freshman in 2014 and contributed until he graduated in 2018. He was an assistant Sports editor for the 2015-2016 academic year and spent time on the football, men's basketball, baseball, cross country, women's volleyball and men's tennis beats.