Entrepreneurship resources grow for UCLA undergraduate students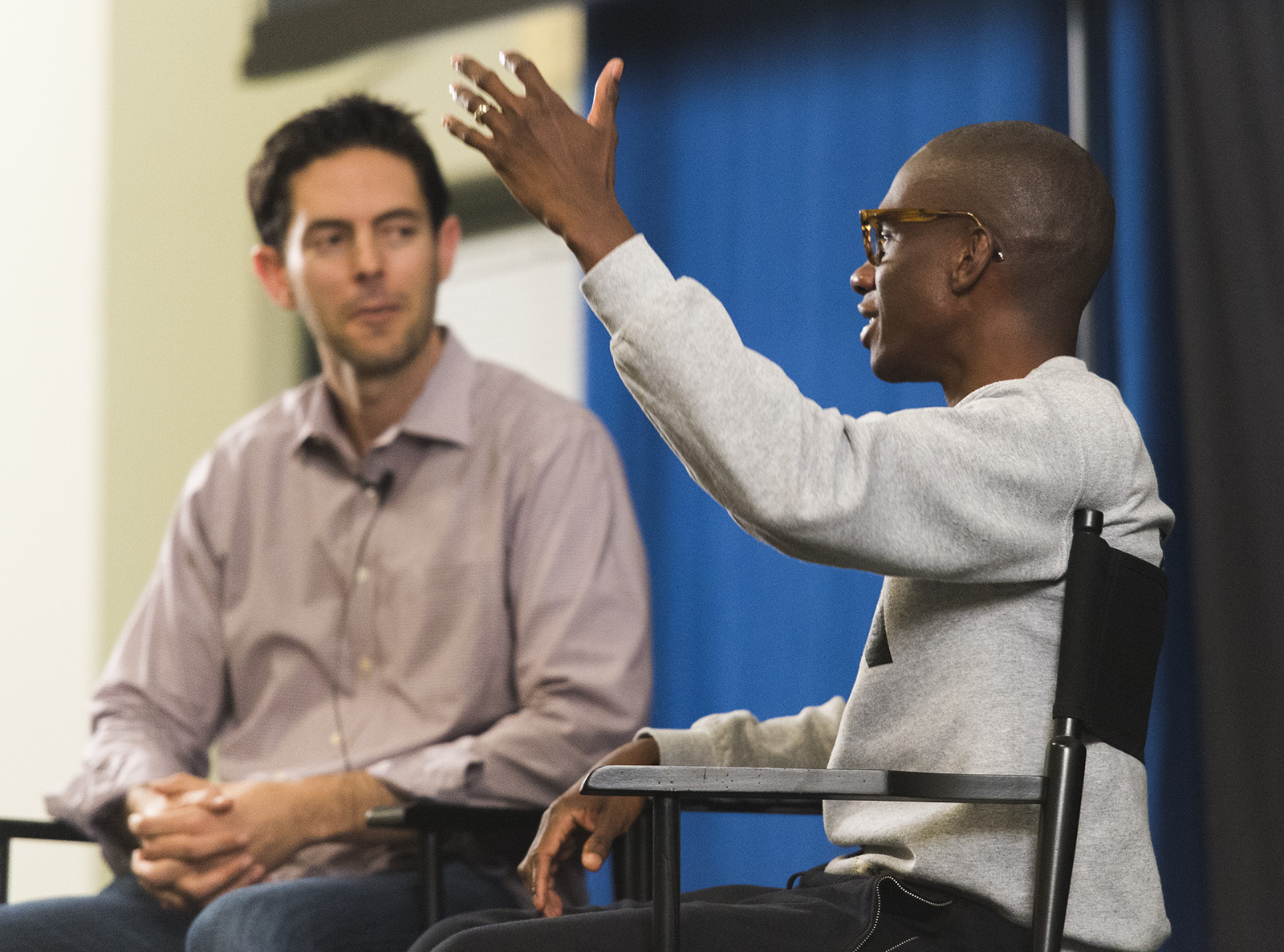 Troy Carter, Shark Tank judge and founder of Smashd Labs speaks at an event for Innovation Week. (Max Himmelrich/Daily Bruin staff)
Brian Shedd changed out of a T-shirt and jeans into business casual clothes to sneak into entrepreneurship events when he was an engineering graduate student in 2006. At the time, Shedd was interested in entrepreneurship, but couldn't find the resources to learn more about it.
"I got on (the Entrepreneurship Association's) mailing list, found out about events and hung out until people realized I wasn't supposed to be there," he said. "Engineering students stand out in a room full of business students."
Years later, the entrepreneurship environment for UCLA students has changed dramatically, providing several resources and entrepreneurial student groups for undergraduate students and non-business students.
Student groups and resources emerge to support entrepreneurial activity
Shedd, who now works in the Office of Intellectual Property and Industry Sponsored Research, or OIP, said there was an explosion of entrepreneurial student groups and activity once StartUp UCLA, which provides consulting resources and space for startups, was founded in 2012.
"From (around 2006 to 2008) I was really looking to engage in entrepreneurship on campus, but there weren't a lot of resources at the time," he said. "The Entrepreneurship Association was the main entrepreneurship group on campus, but they were closed to non-Anderson students."
StartUp UCLA has since been involved in many events and collaborations, such as this week's Innovation Week. On Wednesday, StartUp UCLA hosted a speaker presentation by Troy Carter, a judge on Shark Tank and Lady Gaga's former manager. Carter now has his own accelerator program, Smashd Labs, which oversees a startup, Enrou, founded by UCLA alumnae.
Deanna Evans, executive director of entrepreneurial programs, said StartUp UCLA provides entrepreneurial resources for everyone in the community, including undergraduate and graduate students and alumni. After receiving funding from Blackstone Launchpad, a national entrepreneurship program, StartUp UCLA was able to shift from a summer accelerator to a year-round service. Evans said the organization, located in Covel Commons, provides consultations, workshops and internships.
Rodrigo Jimenez, a UCLA alumnus who now provides venture consulting to startups in the organization, said StartUp UCLA focuses on investing in students and alumni rather than their businesses. Jimenez added the organization teaches students important skills in entrepreneurship and give them the resources to start their businesses, regardless of whether they become successful.
"It's not just for people with crazy ideas (to start a business), it's for everyone interested in business and entrepreneurship," Jimenez said. "We have workshops for people to learn fundamental business (skills), because UCLA doesn't have a business major for undergraduate students."
Student businesses flourish
Over the last few years, several UCLA students have started successful businesses including Koala Tea, a boba restaurant, and Box Camp, a storage company for UCLA and UC Santa Barbara students. While some received support from different campus resources, others said it was difficult to find a community of entrepreneurs that could help them find success.
In 2013, UCLA alumnus David Mangold leased a food truck and founded Koala Tea. Two years later, Koala Tea underwent renovations and settled into a brick and mortar restaurant in Westwood Village.
Mangold said he felt a need for a community of entrepreneurs while he was creating his business at UCLA. He added he knew students on campus were involved in entrepreneurial activities and startups, but there wasn't a space where they could meet and collaborate. With this in mind, Mangold helped found Bruin Entrepreneurs.
During his fourth year, Mangold met a group of people with similar goals and helped them start the organization, which now hosts major events like LA Hacks. Bruin Entrepreneurs also gives students a space to talk about their ideas and meet like-minded people, he said.
"There weren't a lot of resources here when I started, but I am amazed by how much the community has grown in the last few years," he said.
Like Shedd, Mangold remembers being rejected by entrepreneurship programs at the Anderson School of management and initially by StartUp UCLA. Now, Bruin Entrepreneurs and StartUp UCLA work together in Bruincubate, a network of entrepreneurship student groups and resources that collaborate with one another.
"All these things happened at once – LA Hacks, StartUp UCLA, the entrepreneurship minor – it snowballed after that," he said.
Several students said they think undergraduate students were already interested in entrepreneurship, but the culture recently changed to push students to pursue starting a business as a more serious endeavor.
"We're in this culture where everyone wants to do something special and contribute something unique to the world," Mangold said. "Starting your own company is the epitome of that and the American dream. It's all about you, your hard work and your creativity to build something successful."
Keith Yoder, a third-year sociology student, started his business Box Camp, originally known as Bruin Bins, his freshman year. Now, Yoder said his company has expanded to UC Santa Barbara and plans to expand to other campuses.
Faculty join the trend toward startup companies
Recently, the number of researchers and faculty who start companies based on their research has also increased. The OIP has gained new traction as a resource for new startups, said Shedd, who is an OIP technology transfer officer.
OIP, which has been managing the university's intellectual property since 1990, has been more involved in providing faculty with resources to start their own companies, he said. When faculty members invent something in a UCLA lab or based on UCLA research, the office patents the product and licenses the patent to outside companies. Outside companies can then develop products based on the technology, Shedd said.
OIP was involved in patenting products such as the nicotine patch and a device that can remove blood clots from the brain.
In 2012, OIP began the New Ventures team, which aims to advance UCLA's startup companies relating to life, physical and computer sciences. The team works with faculty, graduate students, postdoctoral students and more than 100 startups.
Dino Di Carlo, a bioengineering professor, has been developing startups based on his research since he began teaching at UCLA in 2008.
Di Carlo said there used to be a separation between academics and startups.
"You see literature done 50 years ago but never make it to the next level to help people," he said. "There is a gap between what is done and making practical things to help people, but it takes more investment, time and effort."
Di Carlo has helped create several businesses including CytoVale, Vortex Biosciences and Tempo Therapeutics, which all sell products that aid in different health issues. For example, Tempo Therapeutics is in the process of developing a gel to heal woulds quicker with less scarring, he said.
DiCarlo said he thinks one of the reasons for the recent interest in turning research into products was the 2008 recession.
"After that point, people began looking toward academics and institutions like UCLA to be job creators and innovators," he said.
Administration responds to growing student interest
Last year, the administration took note of students' interests and began to support undergraduate students interested in entrepreneurship.
"The growing interest among undergraduate students is tremendous," said Al Osborne, senior associate dean of the Anderson School of Management. "In response, the Anderson School was able to work with the College of Letters and Science to create the undergraduate minor in entrepreneurship."
Osborne said the minor's curriculum was well received in its first year.
"(Humanities and social science) majors need to know they can be successful in business too," he said. "By having this minor available to students in the college, I think we make an important point about a value on liberal arts education and complementing that with business."
Previously, the Entrepreneurship Association and the Price Center for Entrepreneurship and Innovation, two major resources for business students, did not collaborate with undergraduate students, Osborne said.
The Anderson School of Management will also announce a new venture accelerator, similar to StartUp UCLA, that will be a year-round program available to students and alumni involved with startups, Osborne said.
Osborne added he thinks the innovation and startups students are involved with will lead to big social changes, because many startups have a social impact focus.
"You can save the world, make life better for people and have an impact if you do the right thing," he said.
Reyes is the Daily Bruin's News editor and an Editorial Board member. Previously, she was the Science & Health editor covering research, the UCLA health system and graduate school news. She also writes Arts & Entertainment stories and photographs for the Bruin.
Reyes is the Daily Bruin's News editor and an Editorial Board member. Previously, she was the Science & Health editor covering research, the UCLA health system and graduate school news. She also writes Arts & Entertainment stories and photographs for the Bruin.